I am an ardent lover of eggs, in any form(except raw..:D) and my desire to make new varieties of omelets never dies!. Obviously, when I saw this recipe - '

Rolled French - Style Omelet

' in Puck's book "
Wolf Gang Puck Makes It Easy
", I was extremely delighted and the pics accompanied were awesome and drooling!...:)
Let me first share some Puck's tips about this recipe straight from his book -
1. Omelets should be made to order, which is why this recipe serves only one.
2. It's easiest to make an omelet in a heavy, nonstick omelet pan.
3. If your omelet pan does not have a nonstick coating, heat a tablespoon of olive oil in the pan before adding the butter.
4. A perfect omelet should be soft and creamy inside. To assure this, don't use a pan that is too large.
Now, coming to the recipe...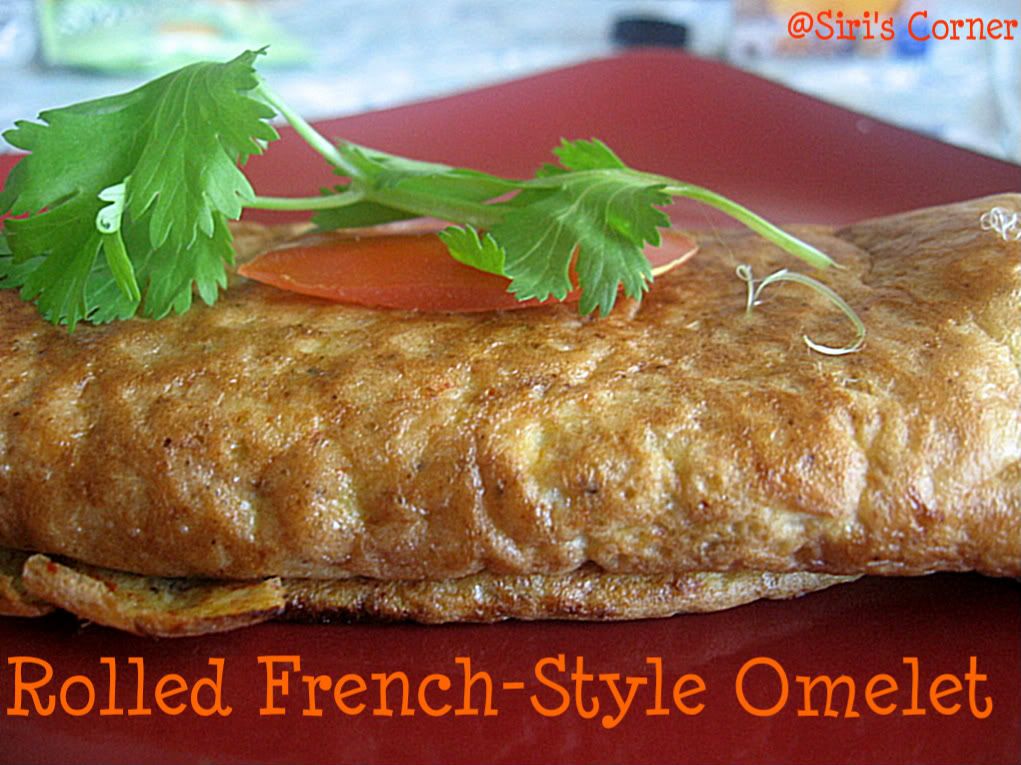 Ingredients:
2 to 3 large eggs
1/8 tsp kosher salt (I used normal salt)
Freshly ground pepper
1 tbsp Olive oil, if using an omelet pan without a nonstick coating
1 tbsp unsalted butter
Any filling. (I made a simple filling - Onion, Tomato, Peppers and some herbs with little salt and pepper.)
Note: the variations for filling part are numerous. one can add mushrooms, any kind of meat etc.
Preparation:
1. Heat an 8-inch or 10-inch omelet pan over medium-high heat.
2. While the pan is heating, break the eggs into a mixing bowl, add the salt and a pinch of pepper, and use a wire whisk to beat the eggs until lightly frothy.
3. If using a pan without a nonstick coating, when you can feel that the pan is hot, by carefully holding your hand an inch or so above its surface, add the olive oil. Once the oil is hot enough to swirl easily, carefully tilt and swivel the pan to coat the bottom well.
4. Add the butter to the pan. When the butter begins to foam, tilt and swirl the pan to evenly distribute it. Immediately add the eggs. Let them sit for about 10 seconds.
5. Grasp the pan by its handle (using a potholder if necessary to protect your hand) and move the pan forward and backward over the flame while stirring the eggs with a fork or wooden spoon so that the still-liquid egg slips beneath the cooked egg. (I was feeling like a real chef doing this step..:DD)
6. After 15 to 30 seconds, when the eggs are cooled on the bottom but still fairly moist on top, tilt the pan to about a 45-degree angle by raising the handle so that the cooked eggs fall and gather near the opposite end. Top the eggs with any prepared filling at this time. Hold the far edge of the pan over a heated serving plate and continue tipping the handle up so that the omelet folds over on itself, enclosing the filling, and rolls out of the pan onto the plate. Serve immediately!
This my entry to Kalyn's
Weekend Herb Blogging
, this week guest hosted by Anh of
Food Lover's Journey
.
*****************************************************************************************************************
Now, coming to some more fun stuff where you have a chance to win some cool prizes. All you need is the knack of solving a simple riddle. the game is '

Open Sesame

'..:D
Here are some rules of the game. For more details:
Click here
.
Rule 1

) We are going to present you with 4 Boxes:
which has an hidden ingredient - an ingredient which could be in the category of Vegetables, Fruits, Grains or Spice.
Rule 2

) Lets think grains in a broader sense - Not just rice but , whole grains and sub products of grains ( like cracked wheat product of wheat, corn flour - product of corn etc )
Rule 3

) You can make any random selection of the boxes which would contain one of the above mentioned ingredients (only 1 box per person). Send a 'Private Message' (PM) to me (Siri), with your choice of box and I would send you a riddle which will help you to crack what the ingredient. Last Date to send your PMs is - 7th May 2008 12:00 AM EST.



Edit

: A '

Private Message

' (a.k.a PM) allows the registered forum members to communicate privately. To get to know how to send one, please refer the forum..:)
Rule 4

) Then, You have 10 days to crack the code and send in your answers by PM to me( i.e By 17th May 2008 12:00 AM EST ).
If you need help, you will be sent further hints but that means lesser points Here is the points distribution:
No help - 25 points
1 hint - 20 points
2 hints - 15 points
3 hints -10 points
Once we confirm that you have the ingredient right, you will be given a green signal to prepare a super duper recipe from it. :)
Rule 5

) Recipe along with the puzzle will have to be posted in the last week of every month with a link back to the forum thread. Also, post the entry URL of your entry in the forum to complete the loop. :)
Rule 6

) Next comes the poll where all of us get to vote for their favorite recipe under each of the categories and based on the same come the

4 winners

. (They can expect 50 points each along with a Prize!)
Rule 7

) Yes, not only the prizes but points help too since every 6 months there is a count of total points which get that person another Prize. Yohooooooooo!
Rule 8

) Lets be a sport and crack the code by ourselves or ask family members. NO fellow blogger's help allowed!!



Note:

Non-bloggers can also participate. All they need to do is once they solve the riddle, send me in the recipe, I will post them on my blog at the end of this month! ...:))

So, Are you ready for the first edition of

Open Sesame

. Lets get started then! Hop on to the forum and send me your choice of box!
Chao for now folks and Have a fun-filled weekend ahead!

Related posts:
Straight Out of Puck's Oven # 1: Couscous Salad
Straight Out of Puck's Oven # 2: Twice Fried Rice


Siri