Anne (with an 'e')

is a skinny orphan girl with fiery red hair & loads of imagination who arrives at Green Gables from an orphanage to be adopted by middle aged siblings Matthew and Marilla Cuthbert. Though they were expecting a boy, they decide to keep her with some reservations and soon fell in love with her quirkiness.
Whats your name? - if you ask Anne; She would reply - "

Will you please call me Cordelia? please as the name sounds so romantic"

. and thats how our Anne is.
L. M. Montgomery

is the author of this month's book

'Anne of Green Gables'

who is known for a writing style involving lovely prosy descriptions especially about the beauty of nature at Green Gabless and Anne's daydreams. Her characters, are so unique in themselves and lovable (Anne, Marilla, Mathew, Mr. & Mrs. Allan, Miss Stacy, Diana, Mrs.Lynde etc) that one instantly fall in love with them.
Anne is very fond of her little 'tea parties' and am sure she would love to have the cookies I made for her and for her friends. :)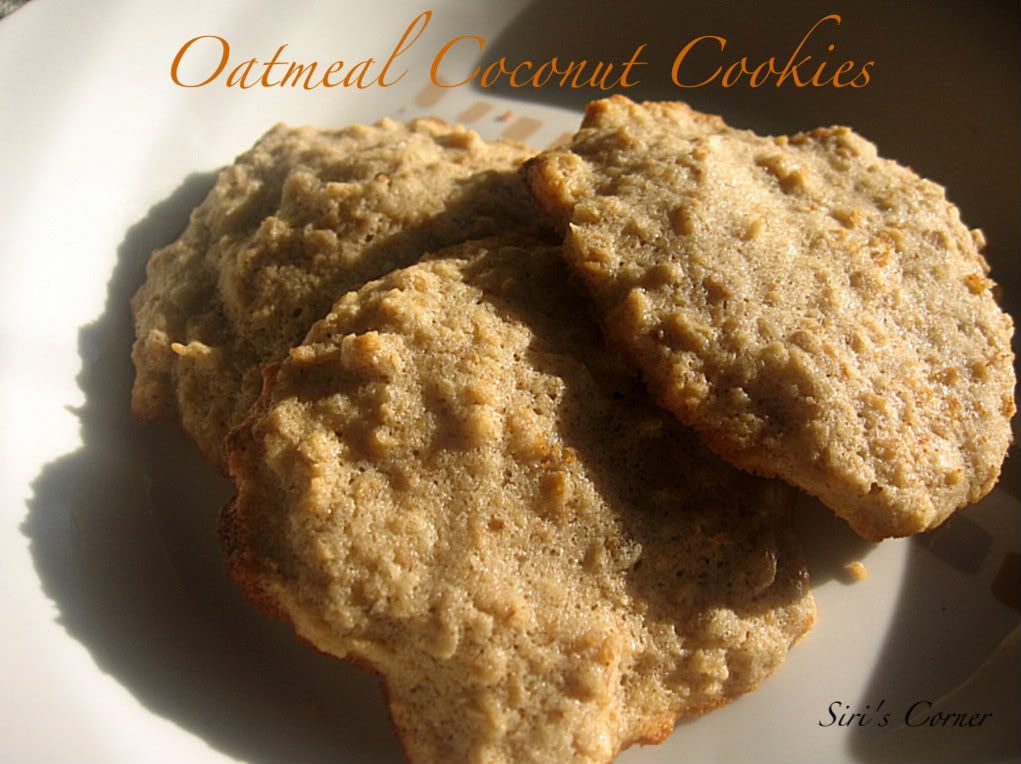 Ingredients:
2 cups All purpose flour
1 cup (unflavored) Oats
1.5 cups Sugar
2 eggs
1 tsp Baking Soda
1 tsp Baking powder
1/4 tsp Salt
1 cup Butter, at room temperature
1 tsp Vanilla extract
1 cup coconut flakes
Method:
Step 1: Preheat oven for 375 F
Step 2: Combine the dry ingredients first - flour, baking powder, baking soda and salt.
Step 3: In a separate bowl, mix in butter with sugar till creamy texture. Blend in eggs and vanilla extract. Beat in flour mixture with oats and coconut flakes.
Step 4: Drop some mixture on a greased baking sheet and slightly flatten them. Bake to 8-10 mins. Cool them on wire racks and Store in a tight container.
For the month of January, we are reading Roald Dahl's 'Charlie & The Chocolate Factory'. If you would like to come join us, please leave a comment here or drop me an email.
Do check what others made for Anne:
Simran: A Cake for Anne
Happy Holidays.
Cheers,
Siri