This recipe is from '
Culinary Mexico: Authentic Recipes and Traditions
' by Daniel Hoyer, discovered during one of my *
peek-a-boo
* sessions at
Barnes and Nobles
this weekend. I instantly fell in love with this dish and since
A.W.E.D: Mexican
is on, I had a nice pretext to try this and satiate my craving for some deep-frying-goodies..:))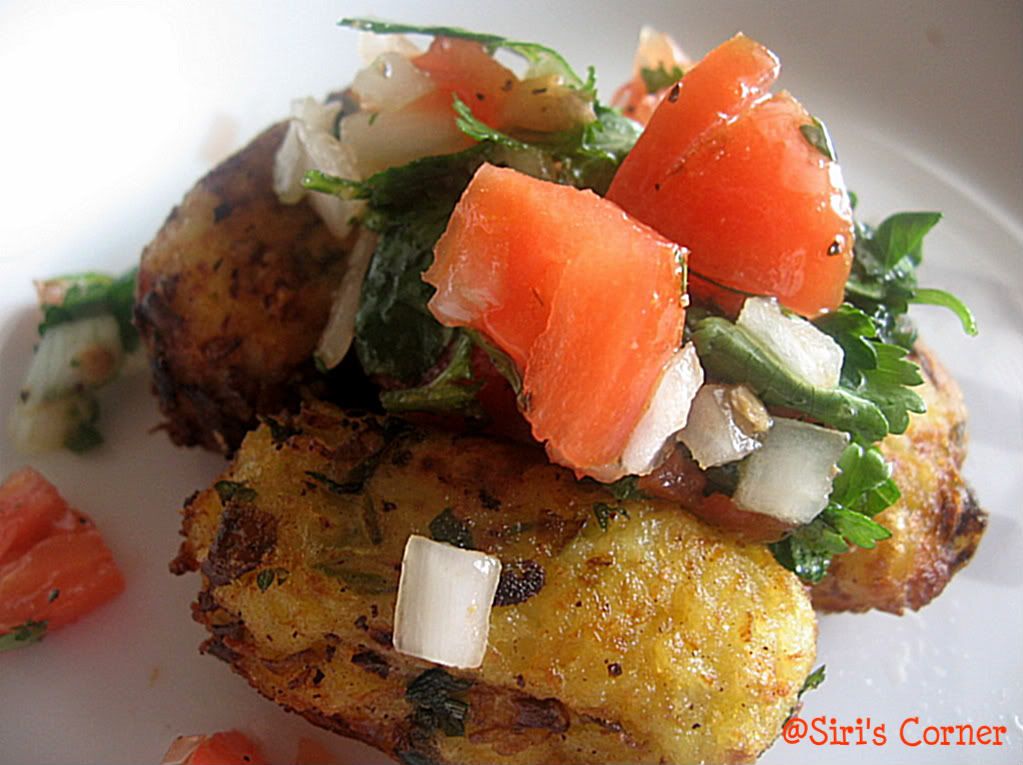 Author's Note:
Served throughout Oaxaca and in Mexico City,

Bocadillos

are Oaxaca's answer to the latke. More commonly made with onions and eggs and served with hot salsa, this recipe, as served at the Oaxaca restaurant 'La Fonda de Santo Domingo is more of a dessert or sweet snack that uses cheese as a binder. Bocadillos make a great dessert, a snack with Cafe de Olla, Mexican Chocolate Caliente, or even as a breakfast or brunch item with eggs.


Savory Bocadillos (Potato Fritters)
I made the savory version added with some green chillies and chopped onion & cilantro..:D
Here is the original recipe as per the book:
Ingredients:
3 large potatoes, boiled with skin on
1/2 cup Panela/Ricotta or Monterey Jack Cheese. (I used Ricotta.)
1 tbsp all-purpose flour
Salt - to taste
1/2 cup flour for dredging
Vegetable Oil for frying
1/2 cup powdered sugar (optional- if serving as a dessert)
Preparation:
1. Peel the potatoes while still warm, then mash them with the cheese, flour and salt.
2. Shape the mixture into small, round or oval patties.
3. Dredge in the flour, removing any excess.
4. Heat enough vegetable oil in a skillet and fry these patties until golden on both sides.
5. Drain well and Serve immediately.
Note: If served as a dessert, dust some powdered sugar over the warm bocadillos. Maple syrup, fruit syrup (or) honey would go well too.
Casera Sauce:
There are many variations of the authentic Casera Sauce..I chose the simplest of all..:D
Adapted from
here
.
Ingredients:
2 large ripe tomatoes - chopped
1/2 cup finely chopped onion
2 jalapeno peppers - seed removed, finely chopped
1/4 cup finely chopped cilantro
1 tablespoon olive oil
1 salt & freshly ground black pepper
Preparation:
Mix all the ingredients in a shallow bowl and let it set for sometime.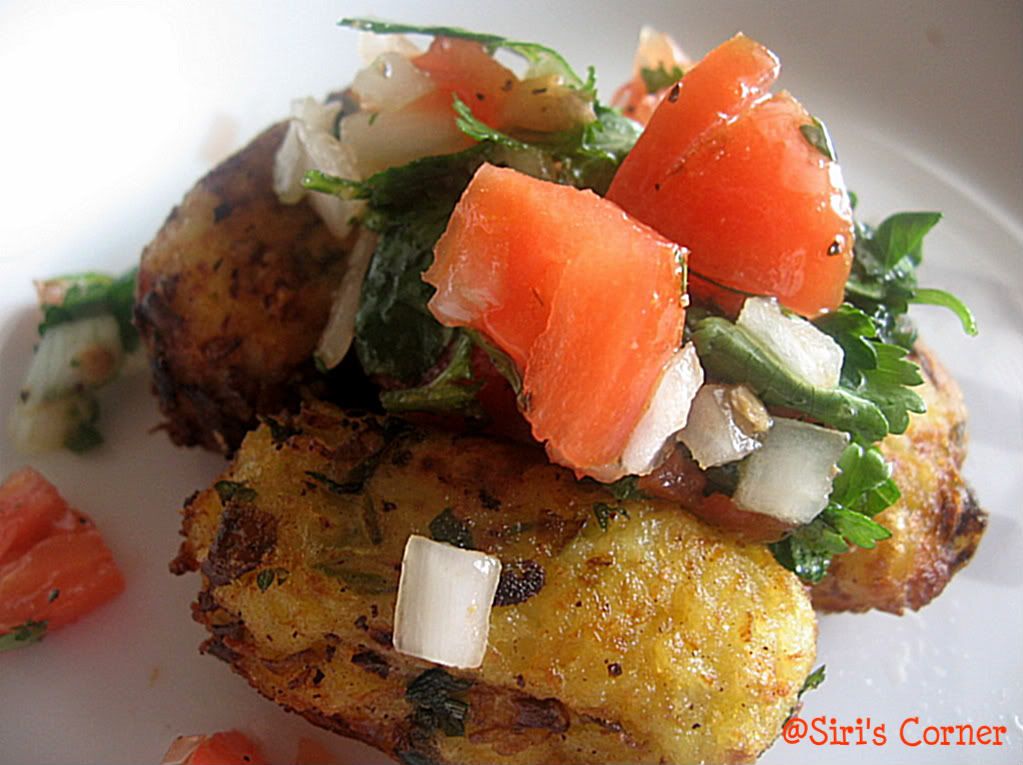 Enjoi!
[UPDATED 8/12/2010] - I am sending this as an entry to Alka's LYRO:Potato event.
Siri