Source: Evan CarMichael
I am totally loving this
Puck's series
of mine. Amazingly, every recipe of
his
, is a hit in my household...:)
This week, am back with some '
Chinois Pancakes
' , which are super duper easy to make and I am so sure you will end up making some too!..:)
In Puck's words:
These pancakes are designed as the accompaniment to Chinese Duck with Plum Sauce. But, there's no reason why you can't serve them with all kinds of things - roast chicken, grilled meat or even steaks. Be adventurous! Have Fun!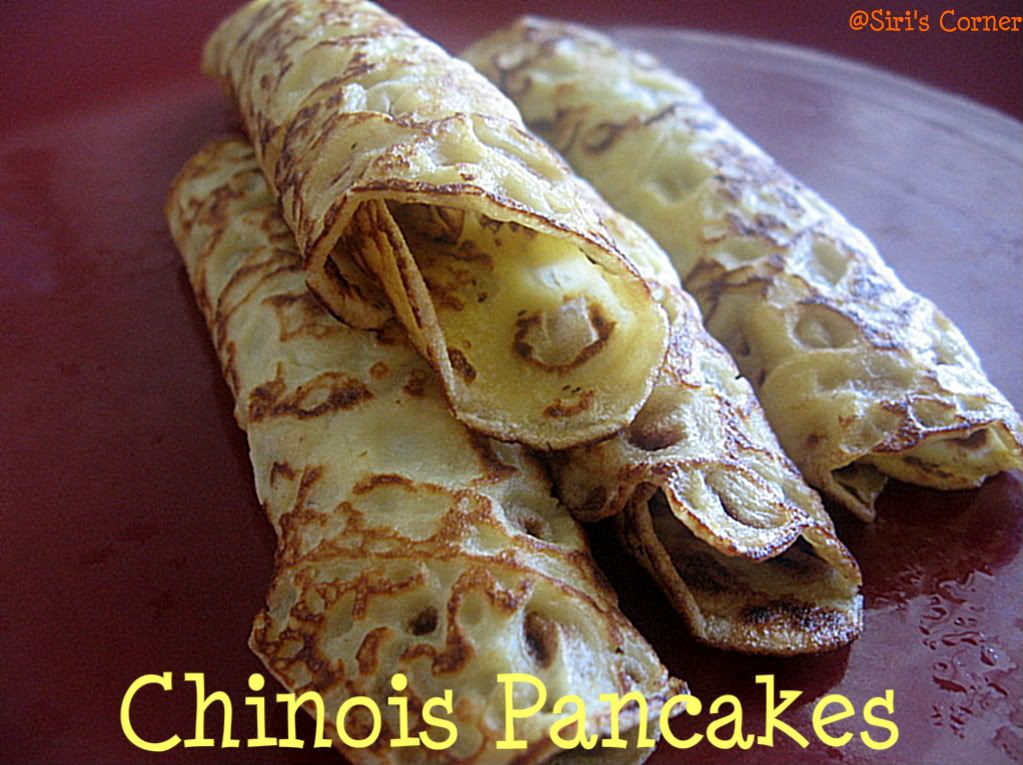 Adapted from
here
.
Makes 6 pancakes
Ingredients:
1/2 cup All-purpose flour
1 egg
Salt - to taste
1 tbsp Olive oil(Recommended: Sesame Oil)
3/4 cup milk
2 tsp minced fresh ginger
1 clove garlic, minced
1 scallion, thinly sliced
1 teaspoon unsalted butter
Variation: I substituted scallions with finely chopped Onion, rinsed in water (to reduce the strong flavor).. :D
Preparation:
1. In a small bowl, combine the flour, salt, egg and oil. Whisk in the milk, then unless your batter is completely lump free, strain into another bowl. (The batter should be the consistency of heavy cream). If the batter is too thick, add water, 1 tablespoon at a time, until you get the desired consistency.
2. Stir in the ginger, garlic and onions.
3. Heat the butter in a non-stick pan over moderate heat. Add 2 tbsp of batter, then swirl the pan to coat the bottom with batter. Cook the pancake over high heat until golden brown. Turn it over and brown the other side. Remove from the pan and keep warm. Repeat the process until all the batter is used.
Verdict:
the taste of these savory pancakes was just awesome and all the 6 pancakes were gone in no time. I had to prepare a fresh batch of pancake batter to satiate my hunger..:))..and am very much sure, these will be on our menu again!

Off these go to Kalyn's Weekend Herb Blogging (WHB), this week guest hosted by Laurie of Mediterranean Cooking in Alaska.

More of Puck's Recipes:


Related posts:
Straight Out of Puck's Oven # 1: Couscous Salad
Straight Out of Puck's Oven # 2: Twice Fried Rice
Straight Out of Puck's Over # 3: Rolled French - Style Omelet

Siri