Bread making is such a satisfying process and it dates back to Roman times. Historians say that the kind of bread eaten by Romans is determined by their social class. There were basically three varieties: 'plebeian' black bread, made from barely sifted flour; 'second', made from slightly refined flour; and 'white bread', eaten only by the rich. Hmmm, that was one interesting trivia.
Personally for me, its an awesome experience to have a fresh baked bread for breakfast/lunch or dinner and the best part is - it could be eaten with anything and everything. Even, just a simple dip - Olive oil & minced garlic will do...:)
..coming to today's recipe is for Zorra's '
Bread Baking Daily
', this month hosted by
Temperence
with a classic theme '

Bread + Cheese

'...:) Yummy!!
Cheddar Cheese Bread
You need:
2 cups All purpose flour
2 eggs
2 tsp Instant Yeast
2 tbsp Olive oil (or 1 stick of Butter)
1/2 cup Buttermilk
1/2 tbsp Baking powder
1/2 tsp Baking Soda
1 tsp Sugar
1 tsp Salt
3/4 cup Cheddar Cheese
How to make:
Step 1: Heat oil and buttermilk until luke warm. (apprx 105-110 deg F)
Step 2: In a mixing bowl, add the dry ingredients first - flour, yeast, sugar, baking powder, baking soda, 1/2 cup cheese and salt. Slowly mix in whisked eggs and then (oil + buttermilk) mixture.
Step 3: Knead for 8-10 mins to form a smooth dough. Shape into a desired shape and place it in a greased bowl, cover with a plastic wrap and leave for rising, approx 45 mins.
Step 4: Preheat oven for 375 F. Shift the dough into a loaf pan and bake for 20 mins.
Sprinkle the remaining cheese and bake until cheese melts.
Step 5: Cool it on a wire rack and Serve!!!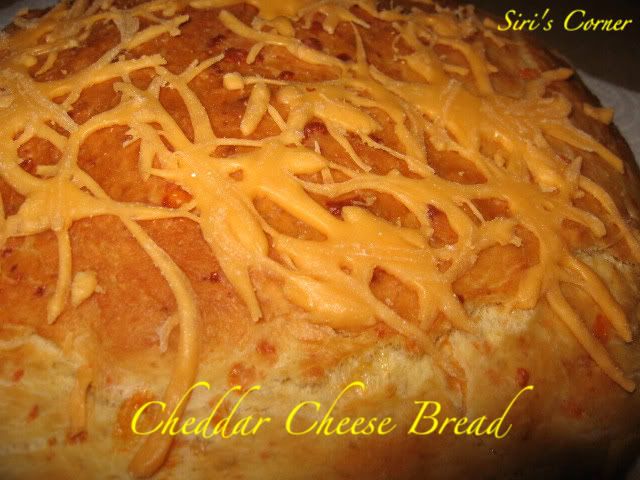 Enjoi..!!
Have a great weekend ahead.
- Siri