Life is precious and priceless, but one thing thats even more important is

Love

...

true love

.. Lucky are those who treasure it for life....:)
A short story...
There was a blind boy who hated himself just because he was blind, he hated everyone, except his loving girlfriend, she was always there for him, he said that if he could only see the world, he would marry his girlfriend.. .
One day, someone donated a pair of eyes to him and then he could see everything, including his girlfriend.
His girlfriend asked him, 'Now that you can see the world, will you marry me?'
The boy was shocked when he saw that his girlfriend was blind too, and refused to marry her.
His girlfriend walked away in tears, and later wrote a letter to him saying, 'Just take care of my eyes dear.' (She had donated her eyes to him)
Only few remember what life was before, and who's always been there ever...
What make our lives complete is such self-forgetful love and compassion and a feeling that you are 'someone special' ...to....someone special!
.. and I am lucky to find such true love and this is 'his' recipe..:D.. 'S' knows my liking (just as my love for Eggs!) for any kind of 'Tomato Chutneys' and he made this for me last weekend..:)
...do I have to say I felt special (Yah! for a chutney.. hehehe!) and it tasted yummilicious!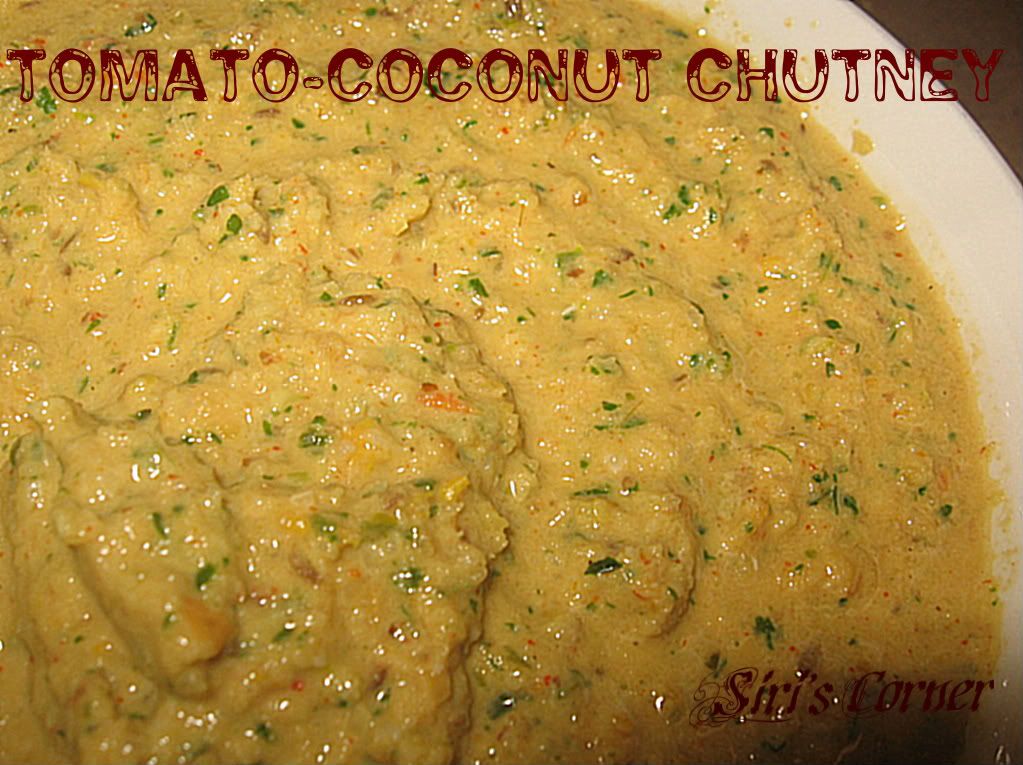 Tomato Coconut Chutney
--------------------------------
Ingredients:
2 Tomatoes (cut into chunks)
3-4 tbsp shredded Coconut
1 medium sized Onion, chopped
2 cloves of Garlic, minced
2-3 Green chillies
Salt to taste
a bunch of fresh Coriander leaves (more the better!)
1 tbsp Oil
1 tsp Urad dal
1 tsp Cumin seeds
2 Red Chillies
a pinch of Hing
Preparation:
1. Heat oil in a wok, add in urad dal, cumin seeds, red chillies and hing. When they start to crackle add garlic and onions. Saute for 2-3 minutes until soft and tender.
2. Now add chunks of tomatoes, green chillies with fresh coriander and cook for 7-8 minutes on medium-low. When they are mushy and pulpy, add shredded coconut and mix well.
3. Season with salt and turmeric. Turn off the heat and grind the contents until smooth, to chutney like consistency, adding water if needed.
This can be served with hot rice or even as a yummy spread!.. I top this on toasted bread and relish every bite of it..Yum Yum Yummy!!..:D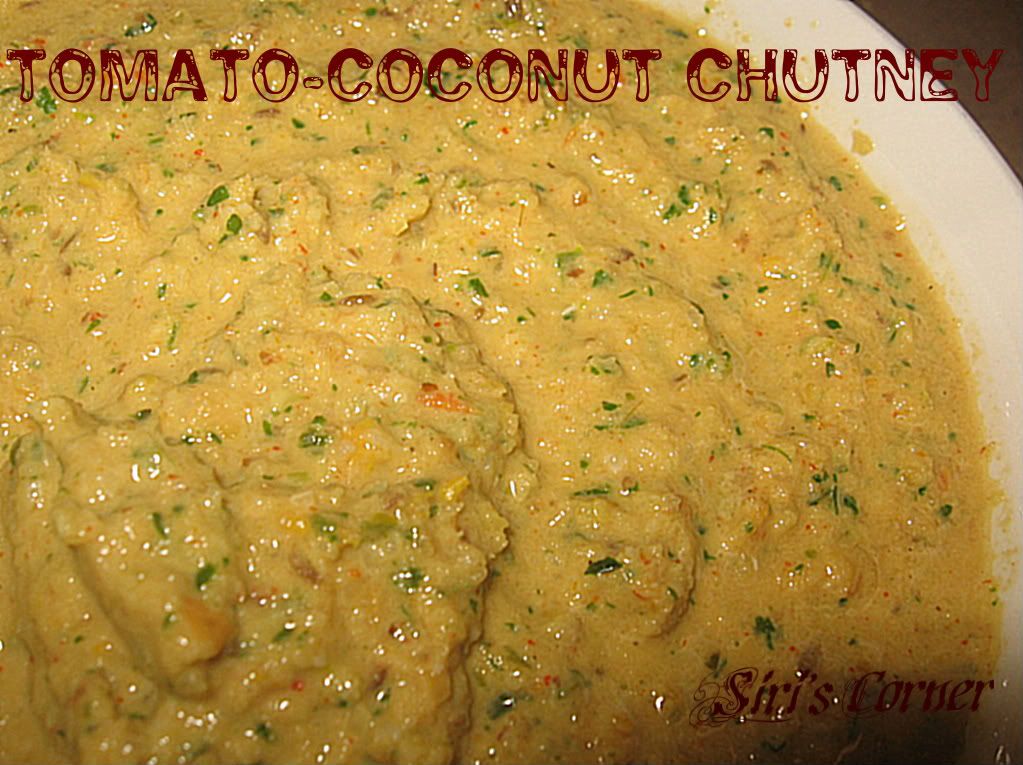 Being an ardent lover of fresh fruits and vegetables, I am sending this colorful chutney to Abby's '
Vegetables, Beautiful vegetables 2008
' event, celebrating the national vegetarian week (19th to 25th May) in UK.
-------------------------------------------------------------------------------------------------
These days, its raining awards in the blog-o-sphere and I am no exception..:D
notyet100
gave me

'You make my day'

award. Thanks dear.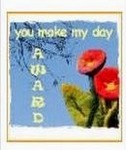 Each of my blog readers '

make my day

' by their lovely and supportive comments. Thanks to one and all and I pass on this award to a dear friend of mine, who with her contagious smile truly make my day......complete and worthy!
Swati
and
Ranji,
my co-marathon runners thought I was a

Rocking

!... Thanks dearies and I seriously lost count who received what. So, I dedicate this to all of my fellow bloggers who painstakingly cook, patiently take some drool worthy pictures and blog about them !..:D

Happy Food Blogging folks!
Recipe Marathon Menu: Day 6 .. still going strong.. yeh yeh!
Arundathi made some utterly delicious
Raspberry and Blueberry Muffins
..
The Mela Queen whipped up
Onion chapathis
today!
Lakshmi blogs about how good Kashayam is..
Raaga made yummy looking Vegetable Focaccia.
Divya is up with Cauliflower-Peas Poriyal.
Ranji whipped up some Simple Jhovan
Want some Mint Coriander Chutney - Hop on to Swati's blog then!
Bhags made Baked Chapathi today!
Dhivs made some crunchy munchy Vegetable Chips!
*****************************************************************************************************************
Tried &Test # 7:
Srivalli's
Onion Tomato Sandwiches
My mama used to make just these yummy yet simple sandwiches when we were little and when Srivalli blogged about these, I felt very nostalgic as it reminded me of my mom and her tomato onion toasts!. (Oh ya, thats what my mama used to call them!..Love You and Miss You mom. )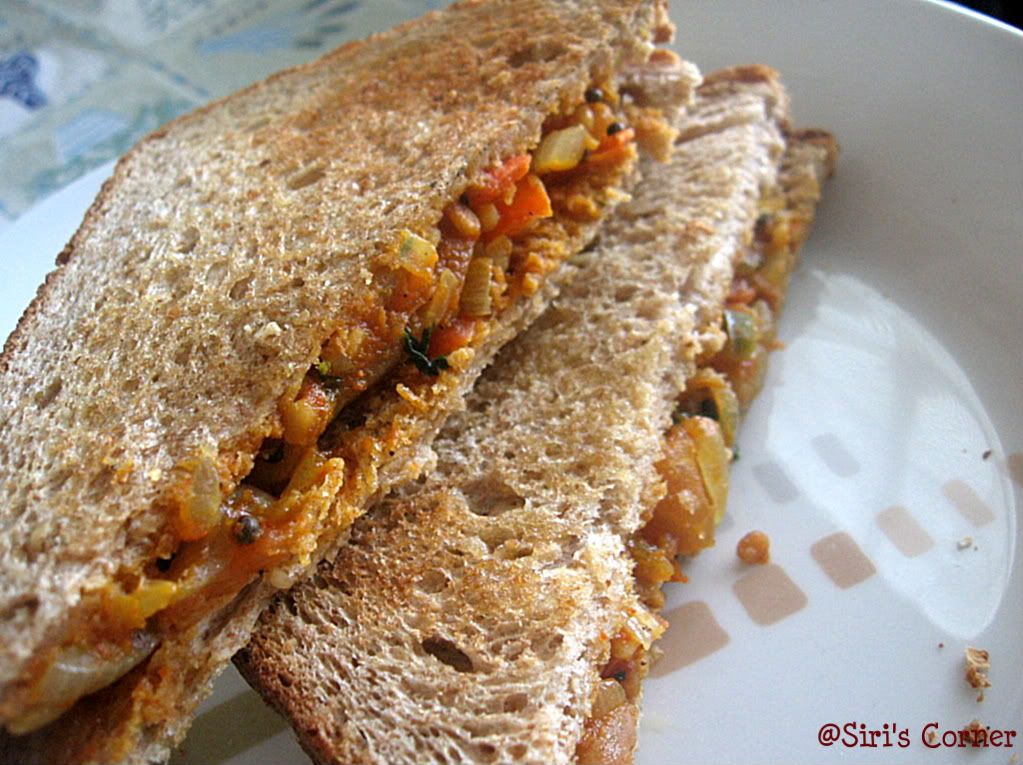 Chao for now and Have a great Thursday!
Siri