'Tacos' are popular mexican snacks and '

Frijoles Meneados

' is considered an ideal side dish for them. It has a dip like consistency, ideal for scooping out with tacos..:D It tastes divine and exceptionally tasty when served warm. Now that Dhivya chose in a Mexican fiesta for her AWED event, Frijole dip is a must make from me..:D Hope you all like it as much as I did!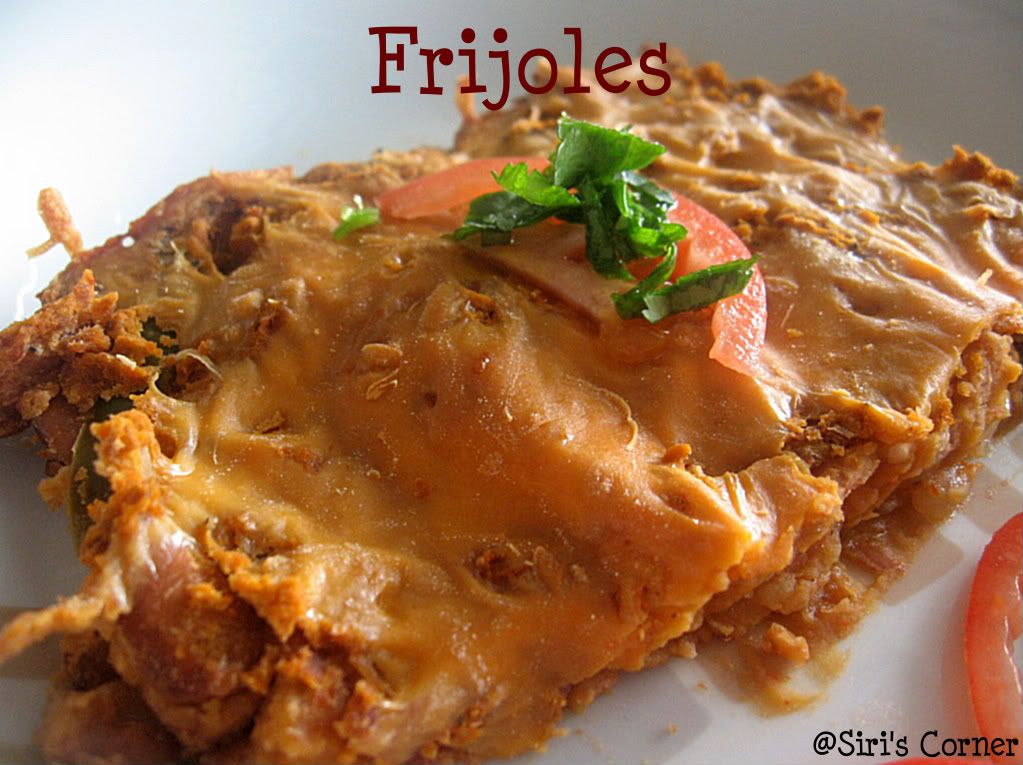 Frijoles spread out on a plate, ready for serving!
Ingredients:
1 can Pinto beans
1/2 cup Fat-Free shredded Cheddar Cheese (one can use normal cheese too!)
1 tsp chopped Garlic
Salt and Black Pepper
2 tbsp chopped Onion
2 tbsp Butter
1 tsp chopped Green Chillies
Note: If using normal dry beans, then
Soak pinto beans overnight in 1 quart of water.
Place beans into a large saucepan, and add water to cover. Bring to a boil, then simmer over medium-low heat until beans are tender, about 1 to 2 hours.

Preparation:

1.
Mash the pinto beans with a potato masher or with hand (as I did!)

2. Heat butter in a skillet, add in garlic, chopped onion and green chillies. Saute until golden brown. Add the mashed beans and cook for couple of minutes.

3. Season with salt and pepper.

4. Preheat oven for 375 deg. Spread the bean mixture in a baking dish and sprinkle some cheddar cheese over it.

5. Bake for 10-15minutes, until cheese melts..Serve hot!

Off this goes to Dhivya's
A.W.E.D event
with a Mexican theme..:)

Reminder for Open Sesame - Did u select your BOX yet..?

Enjoi!!
-Siri