I must say, it has been a blissful 15 day

Recipe Marathon

and with some amazing friends - it was even more satisfying and fun!!..


....Srivalli, usually used to be the first one to create a thread for that day and then the race began..with each one of us sending our yummy dishes over to link them up on our blogs!
... and the long funny Memes, Chats about who cooked what, how ....
Oh boy!. I am gonna miss all those!... wish this marathon could continue forever... but, thats not the case and Today is the day to bid adieu for our marathon...:(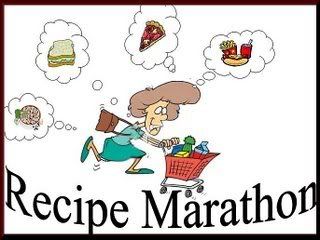 So, to make this moment extra special, I wanted to make an exotic dish for my friends, which I happen to see during my peek-ka-boo sessions at B&N where I instantly fell in love with it!




Narigisi Kofte

is ideally a meat dish, made with minced lamb and eggs. but, I re-created a veggie version of it, substituting with 'Potato' and am so happy that it turned out divine!


....So, here I present to you all,

Meatless Nargisi Kofte

to mark the end of first edition of Recipe Marathon!.. and Congratulations to all my 9 marathon runners for successfully completing it!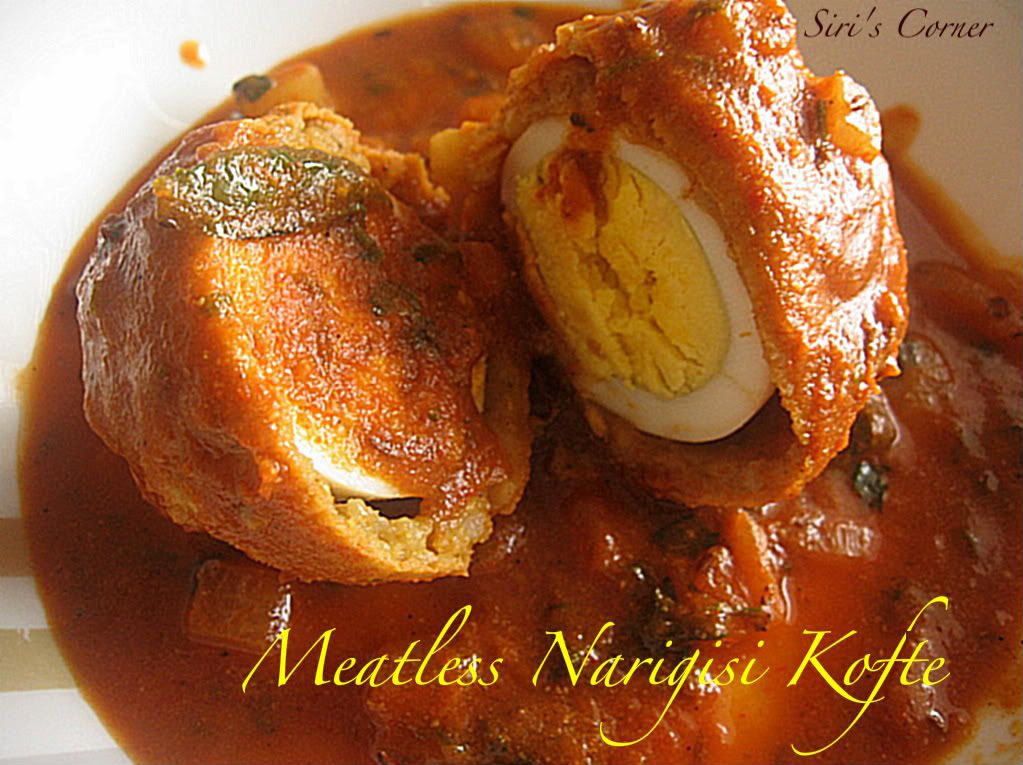 Adapted from
'The Food of India - a journey for food lovers'
Ingredients:
For Koftas:
3 whole Eggs, boiled, peeled

2 medium Potatoes, boiled, peeled, mashed

Salt to taste

1 clove Garlic, minced

1/4 tsp Turmeric

1 tsp Rice Flour

1 tsp Red Chilli powder

1 tsp Garam Masala

2 eggs, beaten
Rice flour - for dusting

Oil - for shallow frying
For Gravy:


2 Tomatoes, blanced, peeled, finely chopped

1 small Onion, finely chopped

1 clove Garlic, minced

1/2 inch ginger, peeled, minced

1/2 tsp Turmeric

1 tsp Red Chilli powder

Salt to taste

a pinch of Sugar
1 cup water

1 tsp Garam Masala
1/2 cup Milk (or Yogurt)


Preparation:


1. To prepare koftas, in a bowl, mix - mashed potatoes, garlic, salt, turmeric, red chilli powder, rice flour, garam masala and 1 egg, well beaten. Mix the contents well into a dough consistency.


2. Take one egg and a portion of the potato mix. Wrap the potato mix around the egg and smooth with your hands to form an even "casing" around the egg till it is fully covered. Repeat for all the remaining hardboiled eggs. Place all in a plate.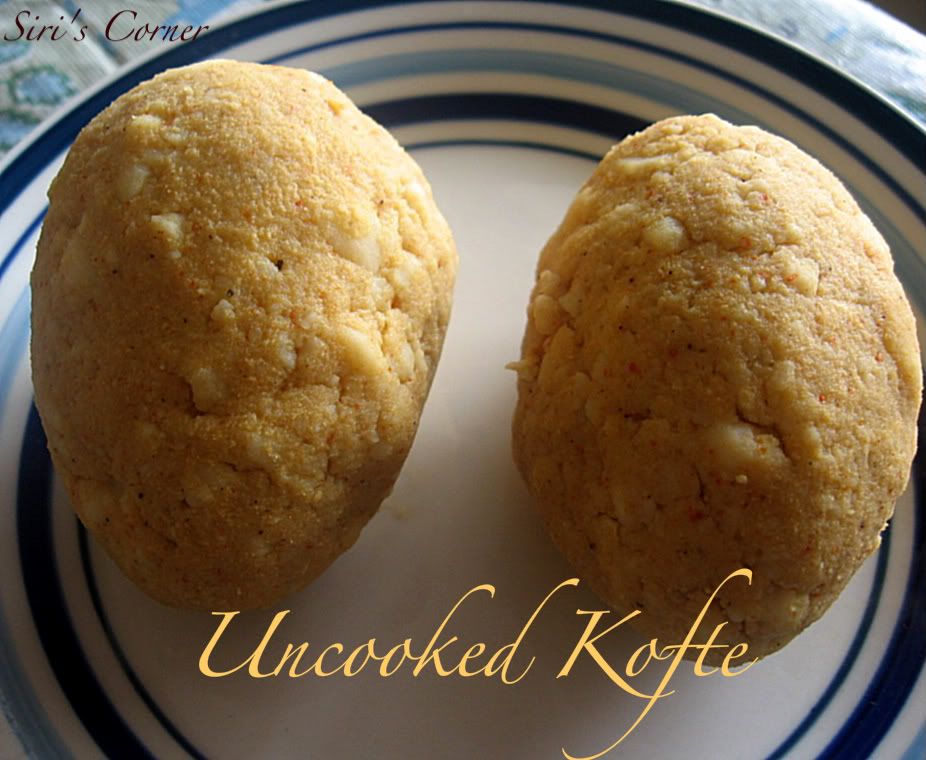 3. Sprinkle all coated eggs with a fine dusting of rice flour.Heat the oil for deep frying in a deep pan. Whisk the last remaining egg in a bowl and dip each aloo coated egg in some of this whisked egg, gently shake off excess and deep fry till golden. When done, drain and place on paper towels.


4. To prepare the gravy: Heat oil in a deep pan and add the chopped onions. Fry till light golden in color. then add the minced ginger and garlic. Fry for 2-3 minutes and add the blanched tomatoes and all the spice powders including the garam masala. Mix well. Fry till the oil begins to separate from the masala.


5. Add milk and 1/2 a cup of water to the masala. Cook for 2 more minutes.


6. Now add the prepared Koftas to the gravy and fold gently to coat on all sides. Cook for 1 more minute and turn off the fire. Slice the eggs in half horizontally and Serve hot!


Recipe Marathon - Finale Menu:

----------------------------------


1. Srivalli of
Cooking 4 all Seasons
2. Bhags of
Crazy Curry
3. Ranji of
Ranji's Kitchen Corner
4. Raaga of
The Singing Chef
5. Lakshmi of
The Yum Blog
6. Dhivya of Culinary Bazaar
7. Swati of
Chat Khor
8. Divya Vikram of
Dil Se
9. Arundathi of
Arundathi's Food Blog
.
A mega roundup for the entire

Recipe Marathon

is being planned and will be posted soon!!

*****************************************************************************************************************
Reminder:

A.W.E.D: Middle Eastern is still on..till June 15th 2008! and I am eagerly waiting for your entries!..:D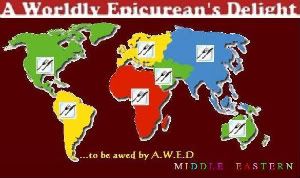 -------------------------------------------------------------------------------------------------
[EDIT] Voting for
Open Sesame - May edition
began today!! and will end on June 5th 2008.
Do cast in votes for your favorites here..
Box 1:
http://dininghall.reciplicity.com/viewtopic.php?t=111
Box 3:
http://dininghall.reciplicity.com/viewtopic.php?t=112
Note: To vote, you need to log into the forum first. Thanks.
Chao for now folks.


Siri