From earth sprang herbs, from herbs food,
from food seed,
from seed man.
Man thus consists of the essence of food.

From food are all creatures produced, by food do they grow..

The self consists of food, of breath, of mind, of understanding, of bliss...


- the Upanishads (circa 1000B.C)
Food is one such thing which binds us all, and
A Worldly Epicurean's Delight (A.W.E.D
), an event initiated by Dhivya of
Culinary bazaar
celebrates a world cuisine every month and this time, she passes on the baton to me. Thanks sweety!


.. and In this edition of
AWED
, lets take a trip into a far-off kitchen to discover some unique recipes -
the Middle Eastern way
...:)
"The words 'Middle East' can conjure up visions of hot sand, bright blue skies full of sun and the distant outline of camel caravans trekking across a horizon hazy with heat. To many people, the Middle east is a distant, unfamiliar and somewhat mysterious region with a history of violence and turmoil. The region does indeed boast a long, intricate, sometimes violent history balanced with a vibrant modern culture. To many a hungry traveler, reader or local, the Middle East is the home of some of the world's most delicious cooking. "


- an excerpt from
Cooking The Middle Eastern Way: Culturally Authentic Foods Including

Low-Fat And Vegetarian Recipes by Alison Behnke


I recently grabbed this tiny book (unlike any other cookbook, which are typically 100+ pages) from my local library and found extremely fascinating. Instantly I decided to have '
Middle Eastern Cooking
' as the next theme for A.W.E.D.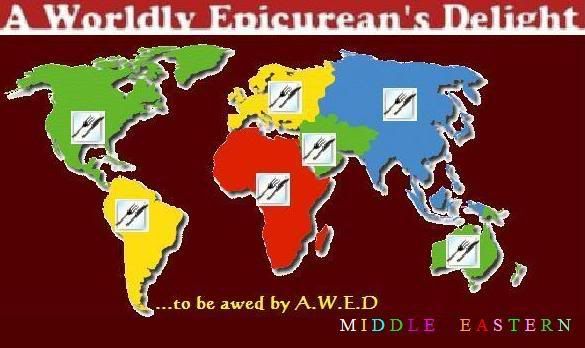 Middle Eastern cuisine
is basically a blend of many cuisines right from Armenia to Turkey. A comprehensive list of recipes -
appetizers (a.k.a 'Mezze') to pickles ('Mekhalel') to sauces ('Markat') and spice blends
can be found here
.


Please do note that all the entries must be made the
Vegetarian way
. One can always mention the non vegetarian ingredients which are normally added to the ingredients list to let everyone know of the non-vegetarian substitutions which one can make, but the recipe on the whole should be a Vegetarian.
From hearty Egyptian bean dishes to simple pilaf's of Armenia, this region's cuisine offers something to please every palate. and I am sure you would whip up some yummy recipes that would whet anybody's tummy!..:)


Here are some simple guidelines for the event:


1) Make any dish – be it Appetizer, Main Course or Dessert - Vegetarian/Vegan and post the same in your blog and link back to the announcement and also to
Dhivya's blog
. Feel free to use the logo.


2) Multiple entries are most welcome !.


3) Take a snap of your yummy dish and send it across with a size of 300 X 300 pixels.
4) Send me your
Name
,
Recipe
,
Recipe
URL
,
Photo
and
Location
to :
i.am.awed@gmail.com
( thats i(dot)am(dot)awed(at)gmail(dot)com )


5) Last date for the entries are
June 15th 2008.


6) Non-bloggers can also participate by sending their entries with the same details to the above email address.


Let the party begin then ...Shall we !!


Hope you would shower your love and support to this new edition of AWED, as much as you did for AWED:Mexican.
*************************************************************************************
Recipe Marathon:


From 17th to 31 May 2008
So, are you all set for the
Recipe Marathon
starting tomorrow..:). Here is list of those enthusiastic bloggers friends who are joining us...:)
1. Srivalli of
Cooking 4 all Seasons
2. Bhags of
Crazy Curry
3. Ranji of
Ranji's Kitchen Corner
4. Raaga of
The Singing Chef
5. Lakshmi of The Yum Blog
6. Dhivya of Culinary Bazaar
7. Siri of Siri's Corner
8. Swati of Chatkhor
9. Arundathi of My Food Blog
10. Divya Vikram of Dil Se..

Note: Currently these are the only participants for this edition of Recipe Marathon. Thanks and we look forward for your participation in our next edition...:)

*****************************************************************************************************************


Tried & Test Recipes # 2:

Srivalli's Bendakaya Sambhar (Okra Sambhar)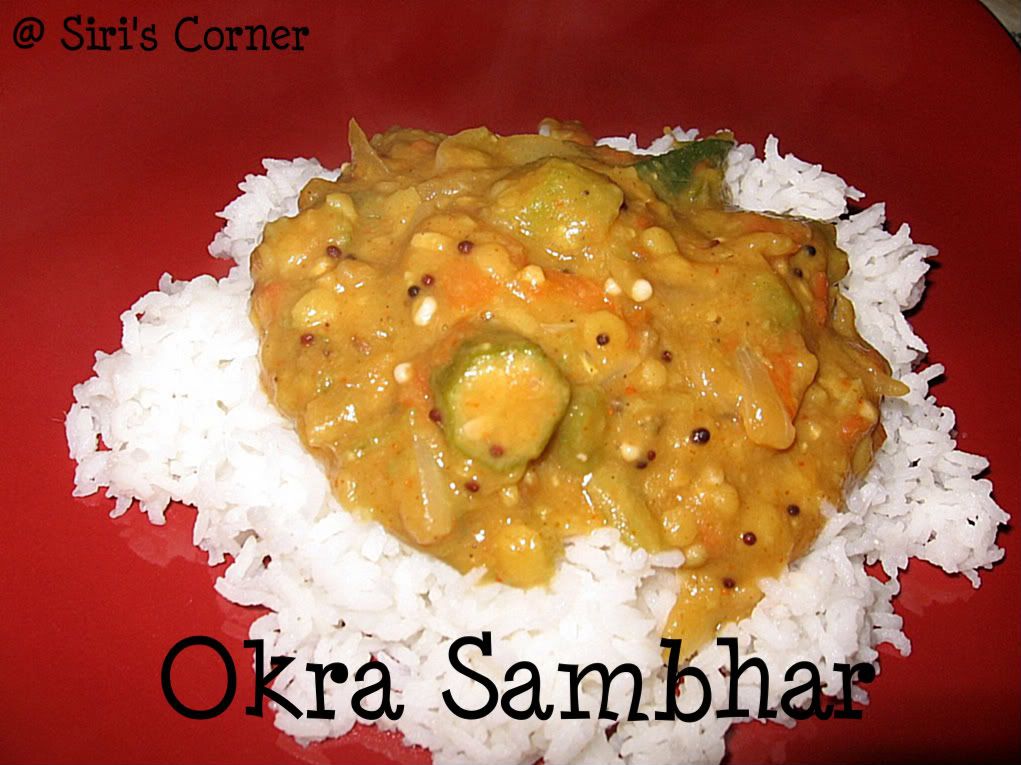 take care and Have a great weekend ahead!
Siri