Scene:

'S' comes home from work and smells the aroma of some yummy peas pulao right from the door.
S: Whats cooking dear? I can smell something awesome.
Me: Nothing special da! Just some peas pulao and raita.
S: Wow, sounds interesting.
Me: (frowning..) Ya, it OK!
S: Why, what happened ?
Me: I am so bored of my cooking that I am craving for something.... hmmm.. something spicy like a vegetable or egg biryani and some awesome creamy palak paneer! Chalo lets get it from Biryani House. Please Please...:)
S: Oh dear, I am so tired today, can't move my leg. I was so busy at work, U can't even imagine.
Me: Sad face :((((
S: (in a consoling and patafying tone..) U are such an awesome cook, u even maintain a food blog, why don't you blog-hop for a while dear. I am sure you would get something yummy and we can prepare here at home.
Me: (even more sadder face...) .. Hmmmm...I am craving for that egg biryani where they just mix such spicy boiled egg masala with white rice. I want that ! I want that! ..:(
S: Oh, thats so simple to make, just make some masala , put some boiled eggs and then mix left over rice... What say! I think that would be delicious...:))
Me: ( Tadah! idea... ) I know how to make a simple egg biryani for myself.. and I am sure it would be yummy.. ( runs towards kitchen!)
S: A Happy soul becoz he is not dragged out to drive to a restaurant in this cold chilly weather...!
This is what happened two days, when I made to super simple Egg biryani, which I always crave for. I had this for the first time in Palace Heights, a five star hotel back in Hyderabad. and it was so yummy that I still remember the taste, the table I sat and even the color of the plate in which it was served. Phew! I guess, its becoz I enjoied it sooo much...:) hehehe..
and the best part is - my version of Egg biryani needs no grinding and can be made with just 5 to 6 everyday used ingredients.
So, sending this off to EasyCrafts's '
Powerless Event
'...:))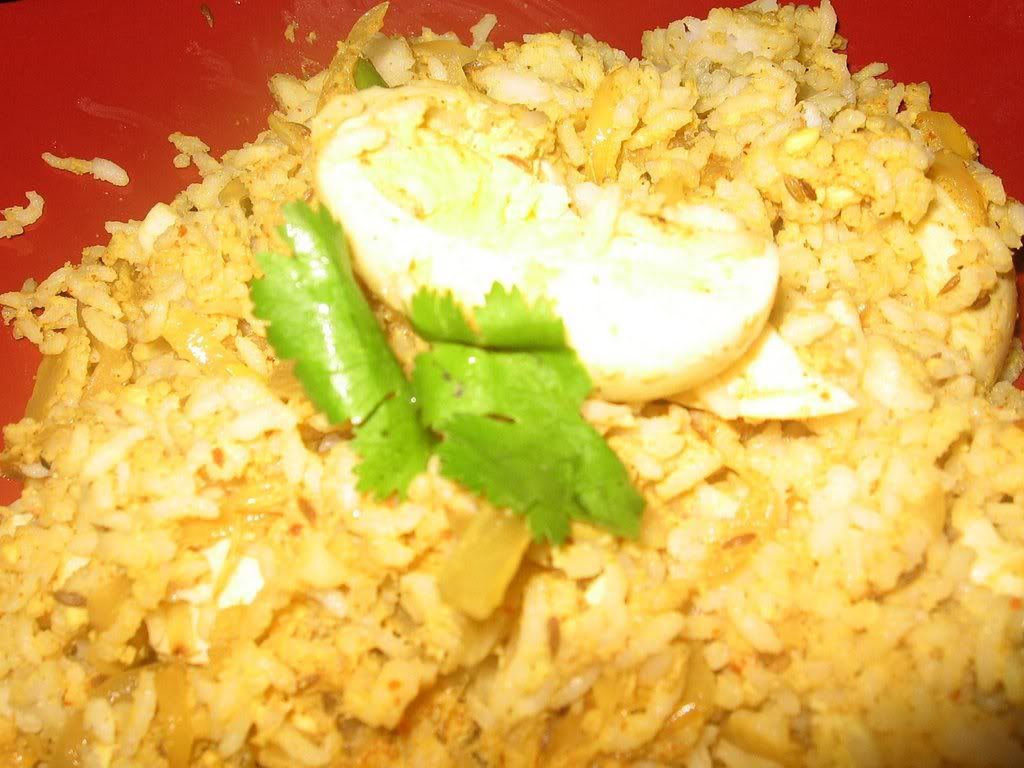 Ingredients:
2 cups Cooked rice
3 boiled Eggs
1 medium Onion ( chopped into fine strips)
2 bay leaves
3 tbsp grated Coconut
1/4 tbsp Turmeric
1/2 tbsp Cumin seeds
1/2 Ginger Garlic paste
Salt - to taste
1 tbsp Biryani Pulao Masala
1/2 tbsp Red Chilli powder
1 tbsp Butter or Oil
How to make:
1. Heat the butter or oil with bay leaves in a flat skillet and add cumin seeds till they splutter.
2. Then add chopped onions and ginger garlic paste. Cook for few minutes.
3. Season with salt, turmeric, red chilli powder and biryani pulao masala. Cook for about 5 to 6 minutes on Med-Low heat.
4. Then finally add grated coconut, don't cook for more than 3 minutes.
5. Turn off the heat and add cut boiled egg pieces. Mix gently.
6. Add hot rice to this spicy egg mixture. Don't mix completely to give that restaurant style look and taste to the biryani!!
I enjoied this simple biryani so much that I made it again today and ate with yesterday's leftover
Baingan-Ka-Bhartha
!
Yumm-O..:))
Also, sending this yummy Egg Biryani to Cate's
ARF Tuesday
event.
--------------------------------------------------------------------------------------
This post marks the end of my 15 day
NaBloPoMo
challenge. Yuppeee. I did it, I did it.!!! ( drum roll please...........)
It was so much fun thinking what to post every single day which actually made me search for interesting articles on leading newspapers suitable to my blog. Last but not the least, thanks to all my dear blogger friends who appreciated every post and expressed their opinions on each and every single post!!
Thank You Dearies!!
~ Siri
Technorati Tags: