This got me thinking.. I mean

'real thinking'

! .
...what should I do?..
mango shaped cookies?..
mango scented candles?..
something with beads .. (Oh no! I am pathetic at stitching too!)..
..finally, I ended up drawing these..
....few illustrations with crayons inspired from a travel magazine which I happen to browse through some time back!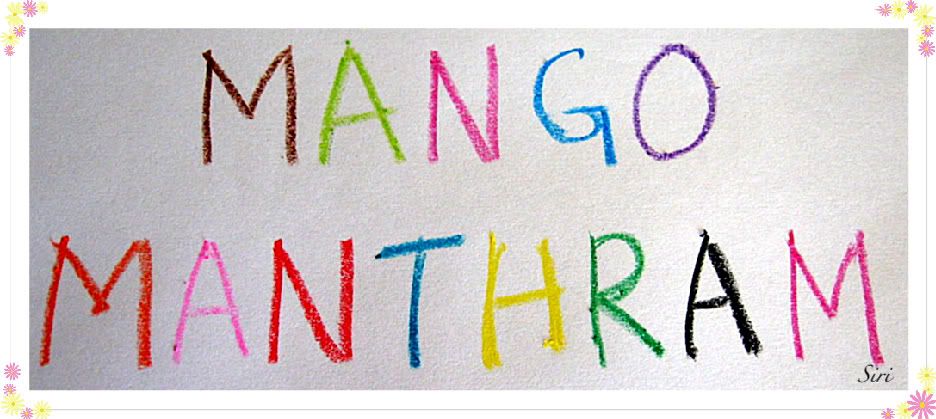 Off these go to Indira's Food Art series with
'Mango Manthram'
as the theme. A special thank you to

Indira

for taking me back to my good old school days and making me realize that I can still sketch! Yeh Yeh Yeh!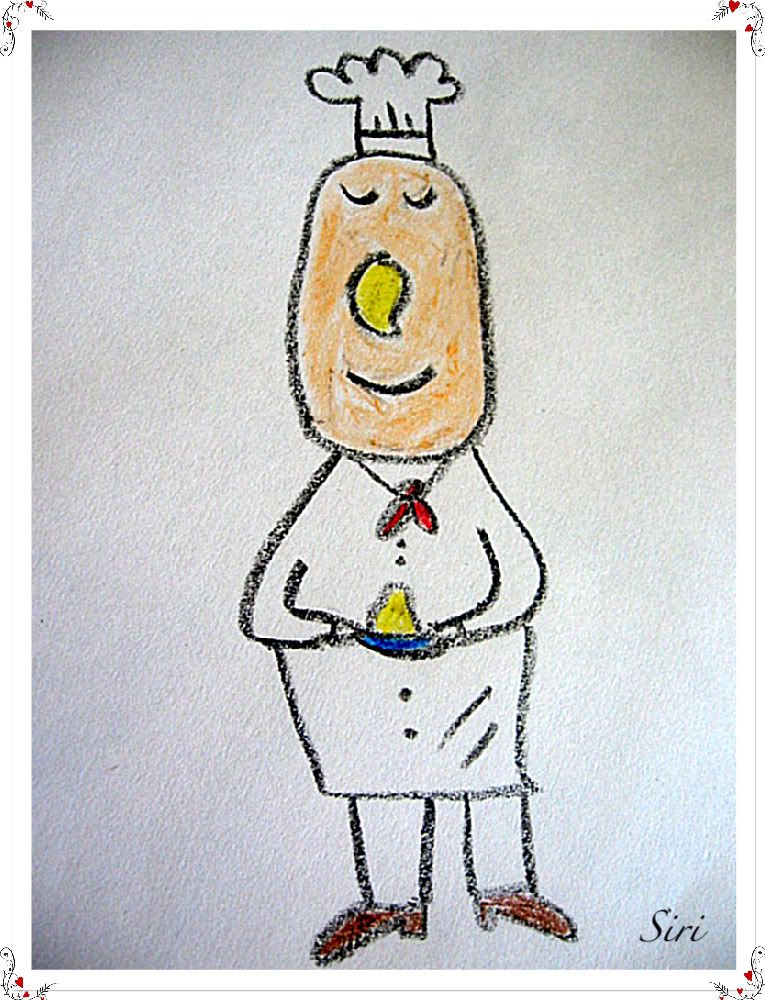 Mango Maama(i)
Mango(Leaves) Ballerina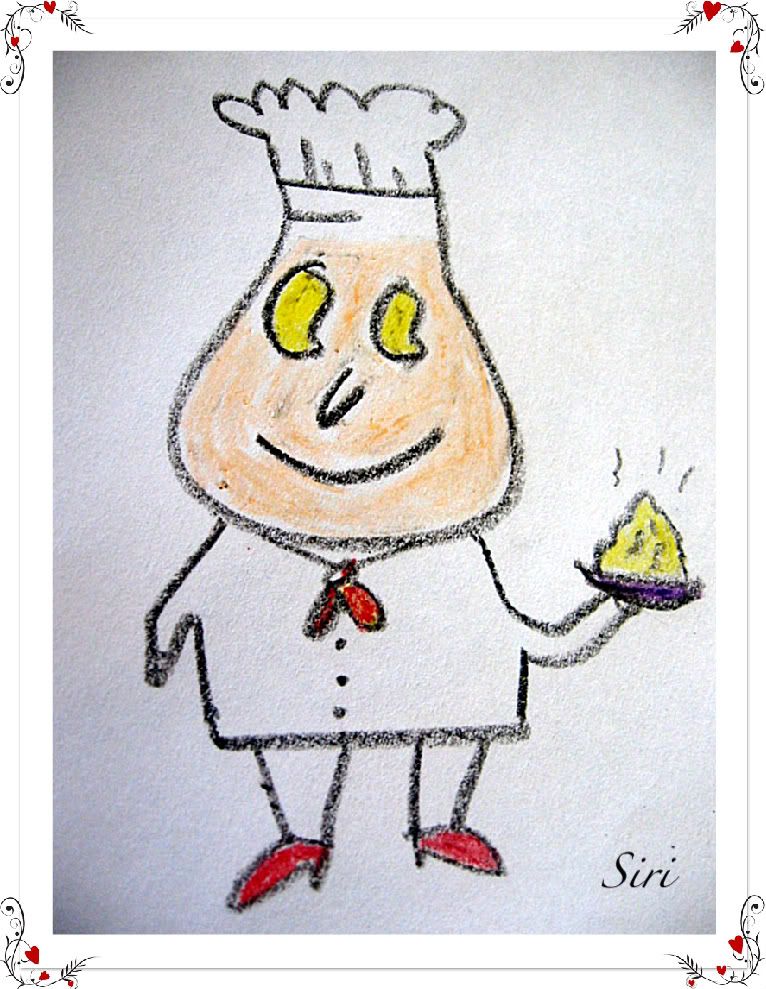 Chotu Motu Mango Bhaiyya
Mango Juggler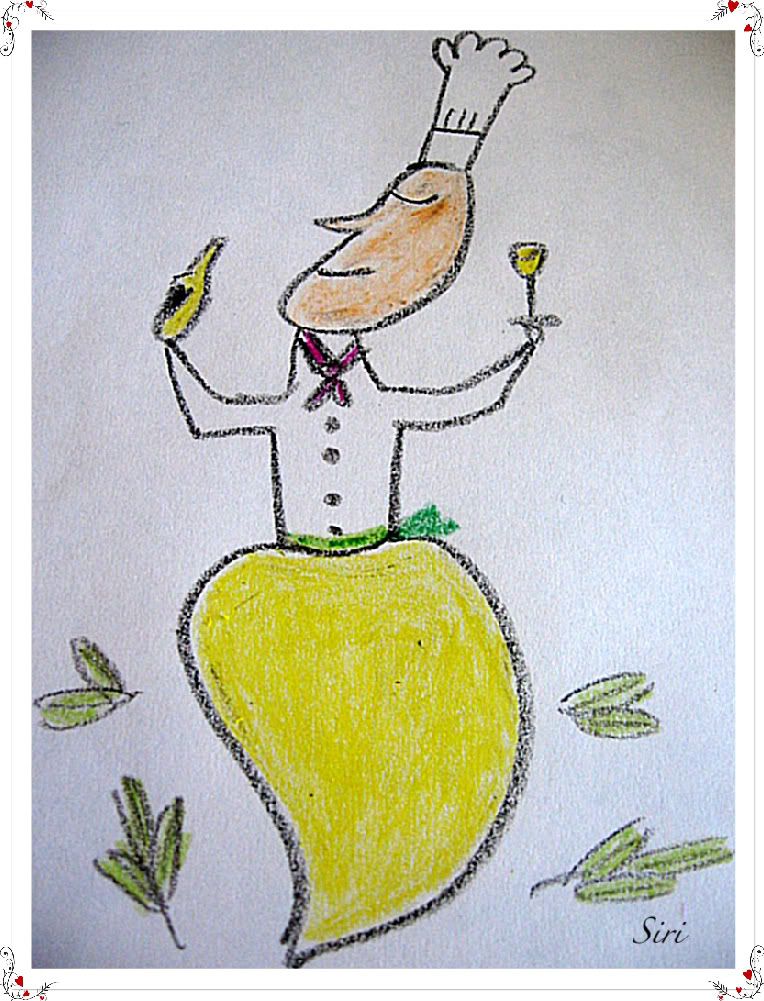 Mr.Mango Mermaid
Though, I love all of these, my favorite is

'Mango Ballerina'

..:D.. which one is ur favorite..? I am just curious to know which one get maximum votes..*wink*...!!

*****************************************************************************************************************
[EDIT]: For

Recipe Marathon

, I am supposed to blog about a 'recipe' today - a different variation of

Cabbage Poriyal.

U ask whats special with this dish?.. It has some unique ingredients which makes it spicier than usual bland variety.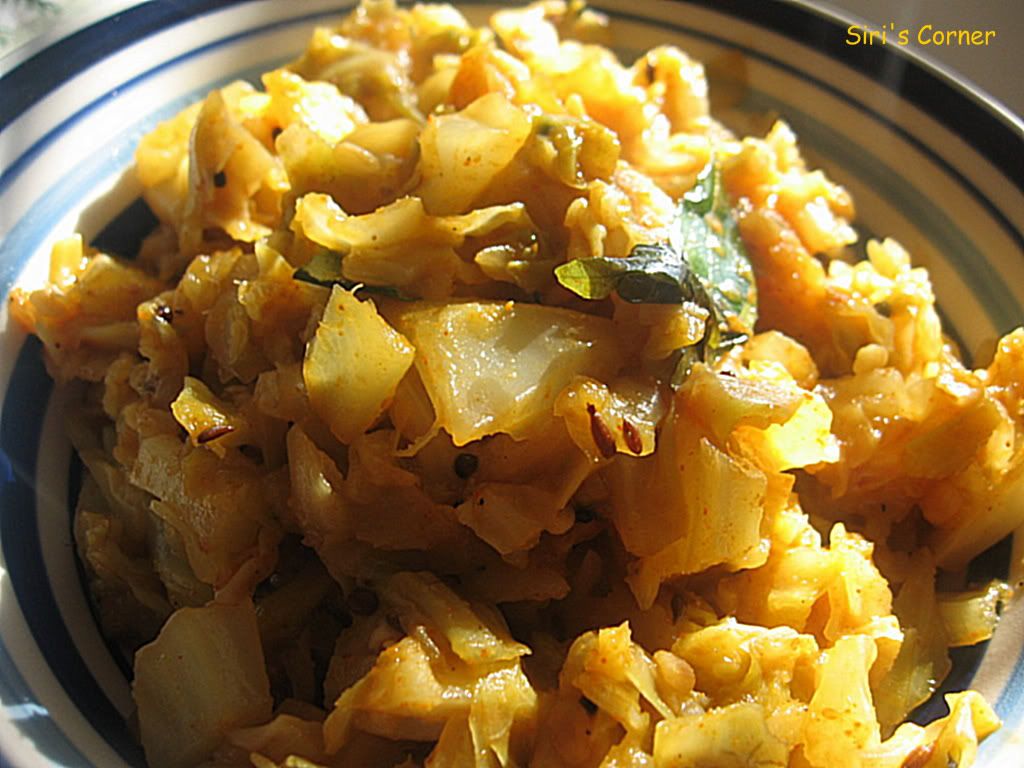 Preparation:
Heat some oil in a wok, add in our usual tadka (Urad dal + Mustard seeds + Cumin seeds + Red Chillies), with some curry leaves. Let the, splutter and then add in boiled cabbage. Season with turmeric, salt, red chilli powder,

sambhar powder, rasam powder and
kandipodi.
Mix the contents well and cook for about 5-6 minutes. Serve hot.
Recipe Marathon: Day 13 - Menu
----------------------------------------

Arundathi made some yummy
Mooli and Aloo Parathas
today!
Laks whipped up cool and refreshing
Mor Kootu
. best for these hot summers!
Srivalli is upto some Chicken Masti!
Ranji made a yummy Chocolate Chip Banana bread.
Swati cooked up a combo of Aloo and Parwal.
Bhags says 'Go Healthy' today with her 'Oats bars'.
Divya made a yummy looking curry with Black eyed beans.
Dhivya whip up some cool Brown Rice patties with her leftovers.
Raaga made spaghetti with bechamel sauce.

Have a fun day ahead!


Siri