Monday evening 4pm
Two little kiddos jump from their school bus and run into the house. They freshen up and sit in front of the TV.......;)
As the clock ticks

towards 4:30pm

, the two little devils are involved in a crazy battle as to who gets the larger portion of the hot goodies that their mama would be getting in a short while from now!
U ask what? any guesses what they are......
...................Its a packet filled with some hot

Egg Puffs

..:D and this used to happen for almost 3 times a week for many many years... and we still fight!...:)
This is undoubtedly one of my fondest memories that I would cherish...and Off these yummy Egg puffs goes to Sarah's 'Tastes to Remember' event.
Egg Puffs with Spicy Onion Masala
------------------------------------------
Ingredients:
1 Puff Pastry sheet, thawed for atleast 30 minutes
4 hard boiled Eggs, cut into halves, lengthwise
For Onion Masala
1 tbsp Oil
1 medium Onion, cut into thin slices
Salt to taste
1 clove Garlic, minced
1 tsp Cumin seeds
1/2 tsp Garam Masala
1/8 tsp Turmeric
1 tsp Red Chilli powder
fresh Cilantro leaves
Preparation:
1. To prepare Onion Masala, heat oil in a pan, toss garlic, cumin seeds and onion, saute until golden brown. Then add salt, turmeric, garam masala and red chilli powder. Mix well and finally add the cilantro leaves. Keep aside.
2. Cut the thawed puff pastry into 6 squares each approximately about 3.5 inches wide by 5 inches long.
3. Place a spoonful of onion masala in the middle and then an halved egg, cut side down.
4. Fold the two ends of th strip, so that it encloses the egg (as shown in the pic). Seal the edges by applying very little water.
5. Preheat oven for 375 deg and Bake these for about 10-15 minutes. Serve hot with ketchup!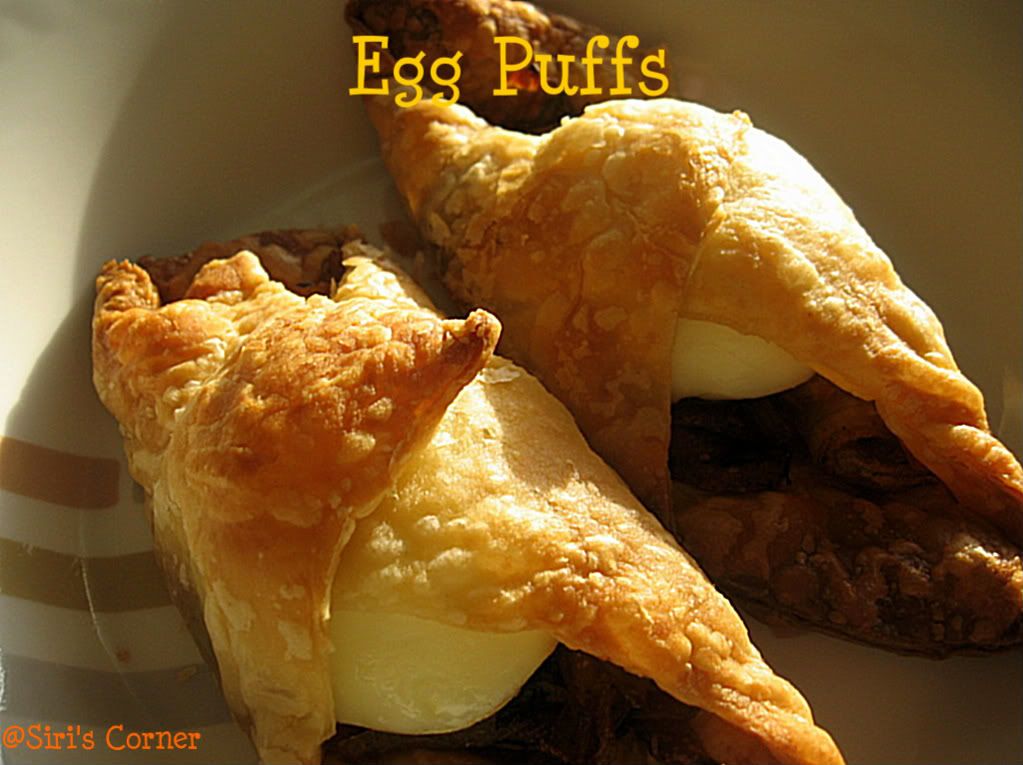 Wanna what are my fellow marathon runners are upto.. here is today's Menu:
Lakshmi cooked up
Mint Rice
for us.
Srivalli continues with her famous
Lunch Box Series
..
Arundathi made some yummy looking
wontons
.
When imaginations go wild, you can make
just this.
Its pizza time folks.. hmm for a change lets have
Papdi Pizza
by Ranji.
Raaga whipped up some yummy Methi Mutter Malai!
Divya made sumthing sweet today - Rava Kesari.
Bhags is hooked to the family of Eggplant and made a yummy curry out of it.
Momos/Dimsums Steamed Veggies - never heard of it?. Swati made that today. check it out!
*****************************************************************************************************************
Tried & Tested # 8:
Suganya's Arisi Upma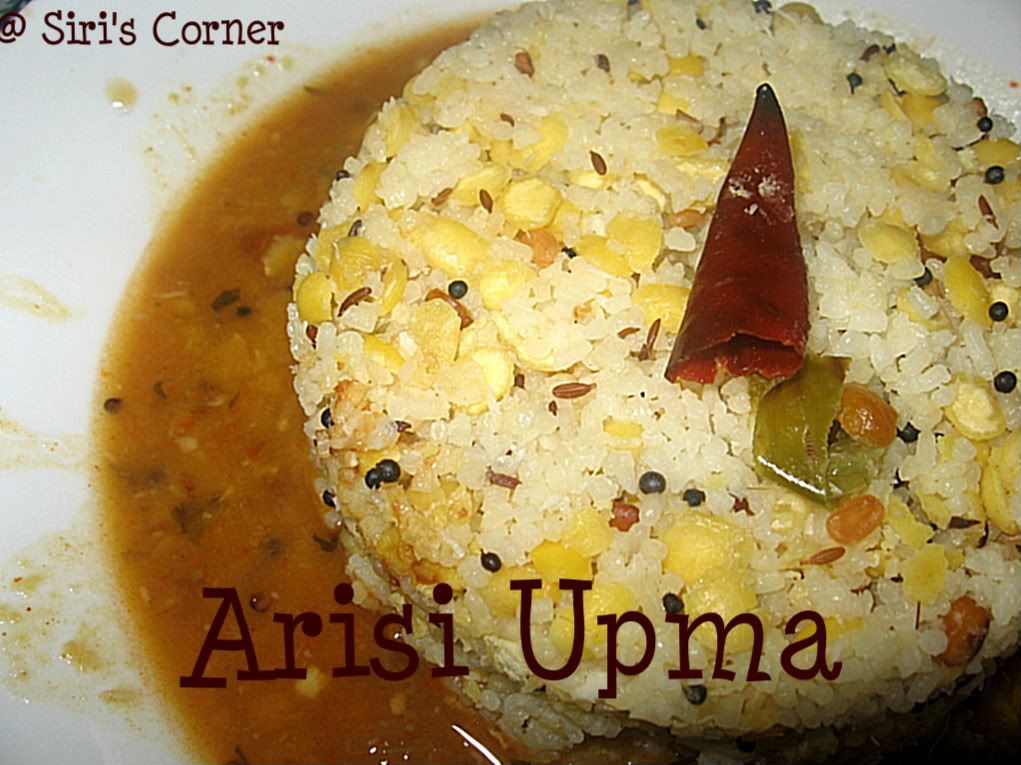 Have a great Friday ahead folks!
Siri