Dhivs
: You really love Eggs, don't you? (a.k.a: Are you not sick of these egg recipes? huh?)
Me: *devilish smile* No way!!..I will not rest until I make all possible egg recipes, from every cuisine..;) hehehahaha!
... and Here I am with a classic, piquant Mexican breakfast -
"Huevos Rancheros"
: meaning 'eggs ranch-style' or 'eggs country-style' in Spanish. To me, its bean mixture spread on a tortilla topped with a fried egg..! It a simple, delectable blend of Mexican flavors which serves as a great breakfast entree.
Adapted from here
Ingredients:
1 tbsp Vegetable oil
1 medium Onion, finely chopped
2 cloves of Garlic, crushed
1 tbsp Hot sauce (Recommended: Chipotle Sauce)
1 tsp ground Cumin
1 can Tomatoes in juice, drained and chopped
1 can Red Kidney beans, rinsed and drained (Recommended: Black Beans)
Fresh Cilantro leaves, chopped
Salt to taste
1 tbsp Butter
4 large eggs
4 Wheat Tortillas, warmed (Recommended: Corn Tortillas)
P.S: Here some yummy
home-made Whole Wheat Tortillas
Preparation:
1. In saucepan, heat oil on medium until hot. Add onion and garlic, and cook until beginning to brown. Stir in hot sauce and cumin; cook for 30 seconds, stirring.
2. Add tomatoes; cover and cook 3 minutes to blend flavors, stirring occasionally. Stir in beans, half of cilantro, and season with salt; heat through, about 3 minutes, stirring occasionally.
3. Meanwhile, in a nonstick skillet, melt butter on medium heat. Crack eggs, 1 at a time, and drop into skillet. Sprinkle little salt over them. Cover skillet and cook eggs 4 to 5 minutes or until whites are set and yolks thicken.
4. Place tortillas on 4 dinner plates; top each with some bean mixture and 1 fried egg. Sprinkle some dry herbs. (oregano and rosemary) for extra flavor.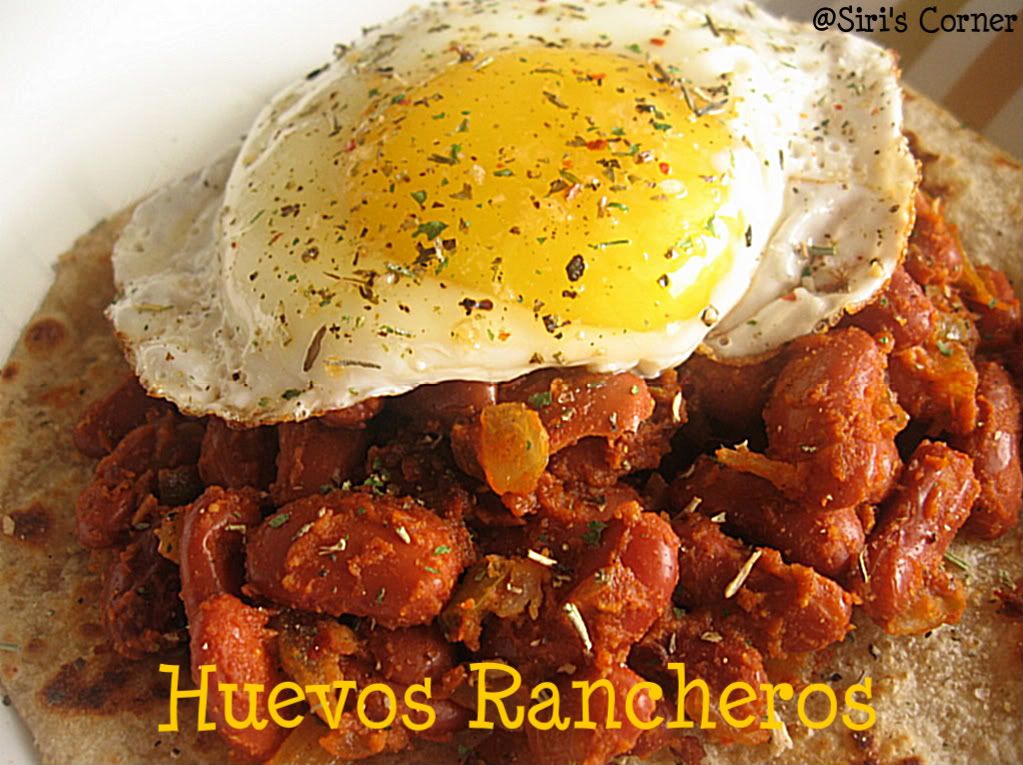 This is my final entry to dear Dhivya's
AWED: Mexican
event.
______________________________________________________________________________________
Now for some more fun stuff!
Dhivya
and me have conceptualized a
Recipe Marathon
this month: a non stop recipe blogging from 17th of May to 31st of May 2008. Yohooo!! I will update the post with the logo soon..:)
Some simple rules of how to participate in this Marathon with us..
1. Post a recipe everyday from

17th to 31st of May 2008.



2. Mention the word: Recipe Marathon in your post.

3. We will let you know who all are into this Marathon by 17th... All you have to do is link their sites with your day's posts , so that we all know what our fellow buddies blogged about that particular day!. ( or u can simply copy the links from our posts ;) makes ur life easier )

4. I will put your recipe link into the Dining Hall forum under the specific category it fits in..
The idea behind this Recipe Marathon, is 100% pure fun. and Hope you all will have loads of masti with us in this marathon! Looking forward for your participation. :D

____________________________________________________________________________________

From today , I plan to have an add-on for each of my posts. These are some yummy recipes that have been tested by YOU and tried & thoroughly enjoyed by ME



Your Recipe Through My Lens

: Ashwini's Gobi Ka Kheema.


Enjoi!!
- Siri