We love Sandwiches and why not? A Sandwich could be an entire meal, ready to go anywhere - from lazy afternoon to picnics to poolside. From a quick weekend lunch to a daily routines, sandwiches are the easiest to make & take - the most portable meal there is..:)
The first sandwich was actually created by accident in 1762 - John Montagu, the 4th Earl of Sandwich was involved in a heated card game in which the stakes were high. So, he asked a servant to put some meat in between 2 slices of bread, so Montagu could eat his meal without getting his hands and cards dirty!.. thats one interesting anecdote for our Sandwich.. Isn't it!
I made these yummy

Hash Brown Melt

sandwiches yesterday and the very mention of these is mouth watery. This is the best entree for a casual meal - every bite to relish and a memory to cherish..:)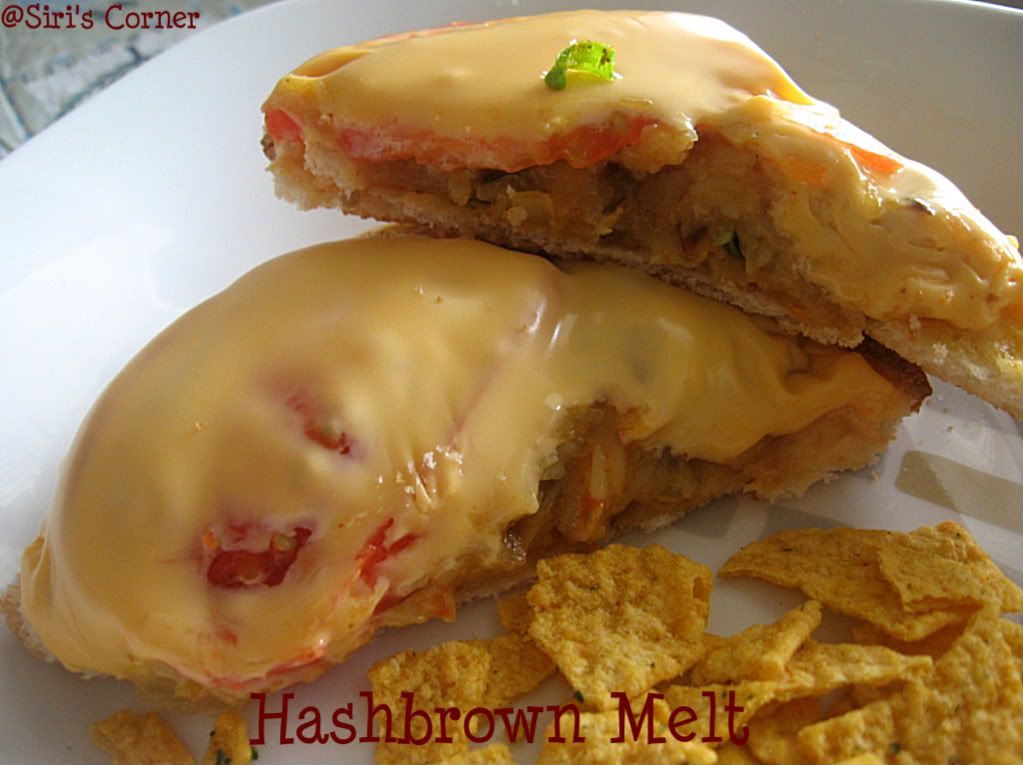 Adapted from
here
Ingredients:
4 slices of white Sandwich bread
2 medium Potatoes, boiled and shredded
2 cloves of Garlic, minced
1 tbsp of Butter (or) Oil
Salt & Pepper to taste
1 Tomato, sliced into circles
2 slices of American Cheese (I used Fat Free singles!)
1 tsp Cayenne Pepper (or) Red Chilli powder (can be adjusted to taste)
1 to 2 tbsp of Mayonnaise (any flavored spread like Parmesan-Garlic spread can be used)
Preparation:
1. In a wok, heat butter, add garlic and onions. Saute until soft. Then add shredded potato, salt & pepper with cayenne pepper. Mix the contents gently and cook for 4-5 minutes. Keep aside.
2. Preheat the oven to 350 deg. In a baking sheet, place 2 pieces of bread smeared with mayo on each. Top these with the hash brown filling. then with slices of tomato and finally with a slice of american cheese.
3. Place cheese side up on the sheet and bake for 4-5 minutes (or) just until the cheese is melted.
4. Serve open toped as I did (or) top with the remaining pieces of bread.
Variation:

You can add any kind of veggies like bell peppers to the hash brown filling and then top with cheese.
A sweet blogger friend of mine whom I got to know pretty recently (Thank to Dining Hall!) is Madhuram and she gave me a

Good Chat Blog Award

. I must say, she is one of the active members of Dining Hall and her constructive comments helped us a lot in making Dining Hall a better place. Thanks sweety....:)
... and I pass this award to some of my blogger friends with whom I chat a lot or would love to chat..:D. Though, Dhivs tops this list hands down, but Madhu was sweet enough to give her this award.
So, I pass this to :
Srivalli of
Cooking 4 all seasons
Sra of
When my soup came alive
Lathamma of
The Yum Blog
Uma of
Essence of Andhra
(I haven't chatted with Uma yet, but she became a dear friend in a very short time and would love to chat along sometime soon!)
Hope you liked my

Hash brown melt

sandwich and off this goes to Anupama's
Sandwich Festival
.
Coming up....recipes from my co-marathon runners.. Stay tuned!
Lakshmi fooled us all today!.. find out how..:D
Arundathi made this simple yet yummy Bell Peppery curry.
Srivalli goes non-vegetarian today - Andhra Mutton Pepper Fry.
Dhivs made these utterly delicious appetizer : Fried Herb Mozarella
Swati cooks up my fav veggie combo - Aloo n Gobhi, balle balle!
Entertain urself with some delectable Carrot rice from Divya.
Ranji made my favorite chips of all - Banana Chips..:)
Bhags completed the race with her 'triangularly yours'..:D
Raaga made a yummy Pizza style Sandwich.
*****************************************************************************************************************
Tried & Tested # 6:
Dhivya's Almondy Veggie Platter
Variation:

Instead of Szechuan sauce, I added some cayenne pepper and a tsp of Garam Masala!. I really liked the crunch that almonds gave to the veggies. Yumm!
Thats it for today folks. Have a great day ahead!
[UPDATED 8/12/2010] - I am sending this as an entry to Alka's LYRO:Potato event.
- Siri