Middle Eastern cuisine

is typically -

'Food of Many Nations'

and their food is not

fashionably trendy

like many other cuisines, rather mostly

influenced by their ancestral heritage

.
...If you ask me,

What has Middle East given us?
You would be equally surprised to know as I was that here, some 12,000 years ago hunters became farmers. Wheat was first cultivated, followed by barley, pistachios, figs, pomegranates, dates and other regional staples. Fermentation was discovered and used not just to make beer, but also to leaven bread. The barter system and the earliest writing systems were created here by the Sumerians. Commercial markets and commercial trade proliferated.
Thats the glory of Middle East and am glad that I chose '

Middle Eastern Cuisine

' as the theme for this month's A.W.E.D. It was originally started by my dear friend Dhivya of Culinary Bazaar.
This is my chance to explore more about the cuisine and their traditions...:).
Any meal would start with an appetizer known as 'Mezze' and following the tradition, I made a Middle Eastern appetizer:

'Fatayer Bisabanikh (Spinach Pastry) Sambosic'.
Adapted from
here
Ingredients:
1 Puff Pastry (thawed for atleast 30mins) (or) for an home-made dough:
1 cups of All-purpose flour
4 tbsp cup Olive Oil/Vegetable Oil
Pinch of Salt
For Spinach Filling:
2 cups of Spinach
1 medium Onion (finely chopped)
2 tbsp Olive Oil
1 tbsp Lemon Juice
Salt & Pepper to taste
Note: If you are not using a puff-pastry, Sift flour then mix with oil. Add remaining dough ingredients and mix well. Knead till dough is smooth.
Variation: One can add any kind of crumbled cheese to the Paneer filling to make the pastry more flavorful and wholesome..:)
Preparation:
1. Roll puff pastry/dough very thin and cut into circles.
2. Take some oil in a wok, Mix in all the filling ingredients. Saute for couple of minutes and Keep aside.

3. Now, put the filling mixture on each circle. Take each circle and close into the shape of three lines. Secure ends.
3. Preheat oven at 350 deg and Bake for 45 minutes, until brown.
4. Serve warm as an appetizer.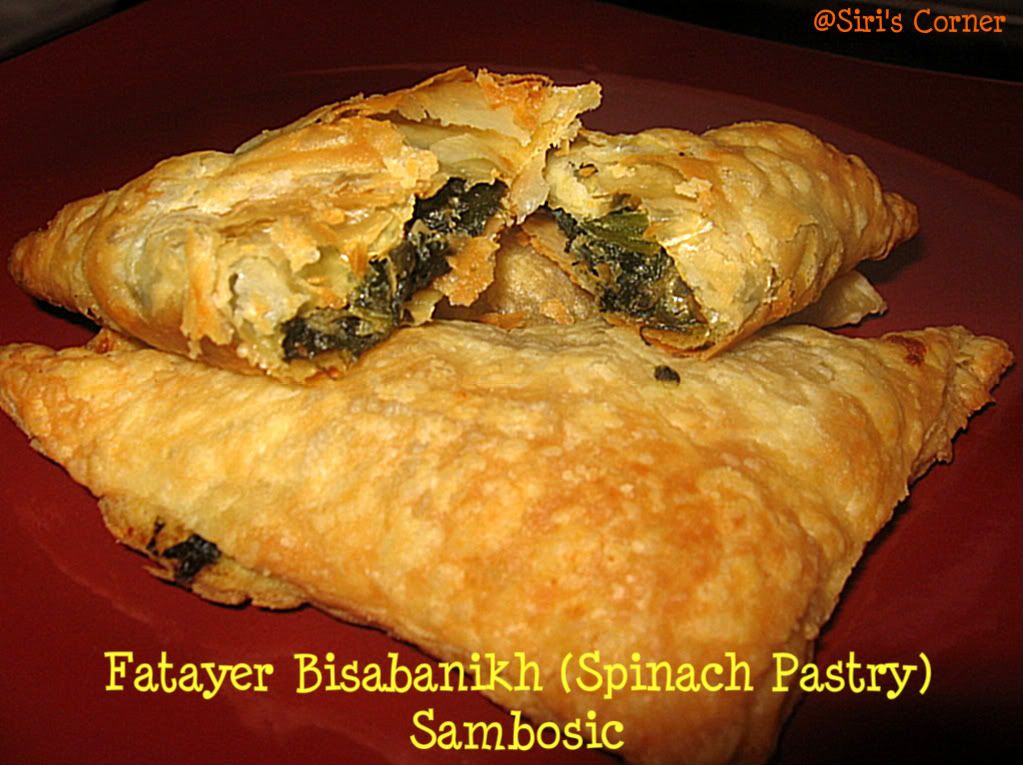 This is also my entry to
Meeta
's

Monthly Mingle

, this month guest hosted by dear Mansi with the current theme of
Appetizers and Hors'Doeuvre
s.
Hope you all liked my Spinach pastry and this is my Day 3 of ongoing Recipe Marathon.
I will update the post with my fellow marathon runners recipes later today.
Srivalli is running strong and is back with some hot, fiery Majjiga Mirapakaya/Dahi Mirchi today!
Ranji began her race with sumthing sweet - A Blueberry Muffin!!
Lakshmi is ready with some warm Onion Kulchas. If you want some.. hop on to her blog right away!
Tired of having normal rotis for lunch, then try these Spicy Rotis, made by Dhivya.
Arundathi is all excited about her Grape Jam, which she made for the first time. Yeh!
Swati made the most yummiest stuffed bell pepper with makhani gravy I came across. Check it out.
Divya now makes some yummy looking Sour Cream Corn Cranberry Muffins..:D
Bhags finished the race today by making Vegetable stock..
Raaga blogs about her love for Jackfruit, and hence Raw Jackfruit curry.
*****************************************************************************************************************
Tried & Tested # 4:

Nupur's Paneer Pilaf ( I used Tofu instead of Paneer)
Chao for now folks and Have a great Monday!
Siri