I have a crown yet I am not the king
You cut my crown and feet off with a fling
I carry lots of eggs, yet I nothing but a veggie
Even with all that I am thin and long not pudgy
I am green and I am gooey
If u don't pay attention, I will make your dish go mushy and chewy
I do good to your health and to you brain
Which is what your elders told you without refrain
Now its up to you to think and guess
To who I am ...Cos I am good too and no less.
...this was the riddle on

'veggie'

placed in

BOX 1

of our first edition of
Open Sesame contest
.
...and those who guessed it correct and earned a total of

25 points

are:
Kalai
Sailu
Divya Vikram
...

Congratulations dearies!!!

and Thanks for participating in

Open Sesame

..:D
Lets celebrate this moment with some yummy

Tali Hui Bhindi

... Shall we!!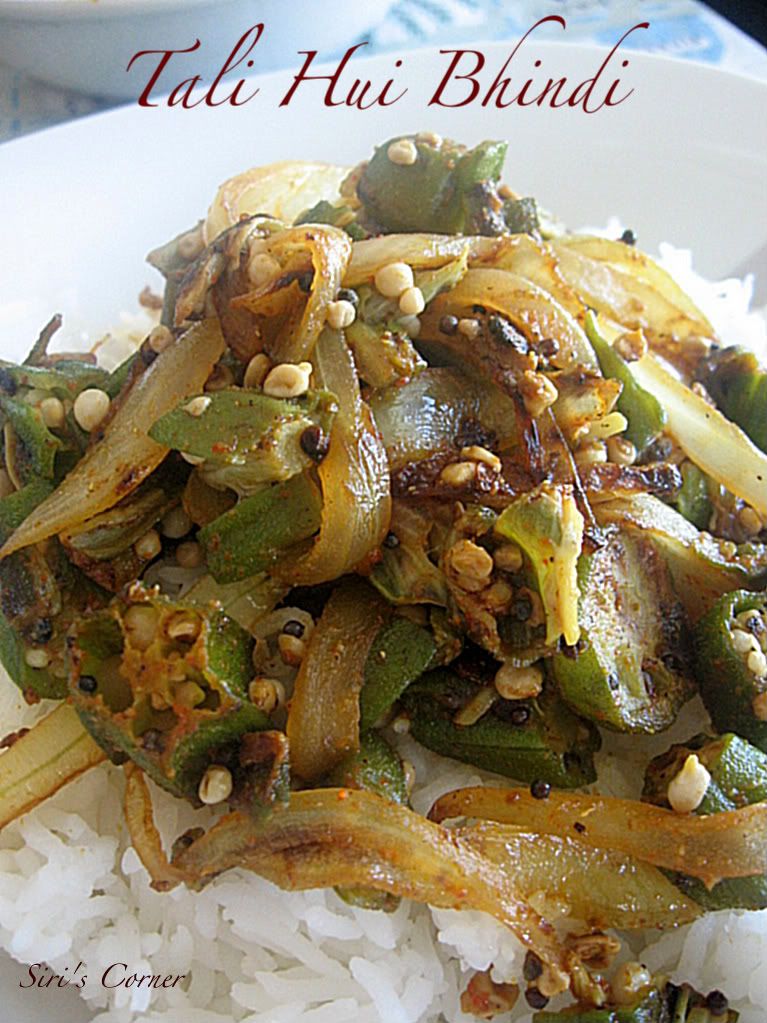 Adapted from
Madhur Jaffrey's 'World Vegetarian'
(Pg No: 254)
Ingredients:
Peanut or Canola oil for shallow frying
2 dried hot Red chillies
1.5 tsp whole (brown) mustard seeds (I used black ones)
1/2 pound Okra (See the note below)
1 smallish Onion, peeled, halved lengthwise and then cut crosswise into thin slices.
Salt & Pepper to taste
2 cloves Garlic, thinly sliced into strips (My addition)
Note: If using fresh Okra, choose young ones, tails & tops removed and then cut on a diagonal into 1/8inch-thick rounds.
I used 1 packet of frozen okra and to reduce its mucilage, placed the entire contents on a baking sheet and baked them for about 15-20 minutes at 400 deg. Believe me, this tip worked well and the subzi came dry and yummy!
Preparation:
1. Put the oil in a frying pan and set over a medium flame. When hot, put red chillies and garlic. Use a slotted spoon to remove and transfer them to a small bowl.
2. Put the mustard seeds into a long-handled metal cooking spoon, hold it with a dish towel or oven mitt, and lower it into the oil. As soon as the mustard seeds begin to pop, a matter of seconds, remove the spoon, pouring back as much oil as you can into the frying pan but retaining the mustard seeds. Put them into the bowl with red chillies.
3. Now put the Okra and onion into the same pan. Stir and fry for about 5 minutes. Turn the heat down just a bit and continue to fry until the okra and onion are crisp.
The frying should take about 10-12 minutes. Remove the okra and onion with a slotted spoon and drain well on paper towels before putting in a serving bowl.
4. Sprinkle with salt, black pepper and the popped mustard seeds. Throw in the red chillies, toss to mix, and serve hot!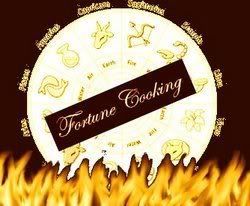 'S' is a scorpion and Okra is the veggie given for

SCORPIO

in Fortune Cooking Contest. Off this dish goes to Shriya and Nithu's event!

Likewise, there were 3 more boxes in Open Sesame contest, with a riddle in each of them... here they go!
Box 2: Riddle for Spice: Answer: Saffron
---------------------------------------------------
I am the queen or am I the King
A very little of me goes a long way
I am part of a team and we all cling
including me will make your dish yellow and gay
You can include me in all
All you have to do is to pinch and call
Tell me what you think of me and dont think twice
Cos I am royal spice of all and will cost u every single penny!
....Arundathi opted for Box 2 and BINGO, she get 25 points. Great job dear!
Box 3: Riddle for Grains - Answer: Millet
---------------------------------------------------

I am old and ancient and in many places a staple
health and longevity are wonders I wear like a lapel
My different forms give different taste
one form is enjoyed in the mornings - eaten in haste!
Another form is in form of soups and porridge
Or in forms of plain or stuffed breads
I thrive in the hot summers..But make you feel good and warm
I am good to people although many just use me for feeding birds and cattle in farms
I am just no mean and lowly grass with striking resemblance to maize
I have 'pearls' of wisdom to share if you want, to listen to me with grace
People with celiac turn to me
I give you fibre and irons, so rich i am for the world to see
Now sit tight and give it a hard thought - be clever be sane
to guess who I am, the highly nutritious and healthful whole grain.
...

Box 3

was the most popular one and the score card for this box is as follows:
Uma - 15 points
Cham - 25 points
Madhuram - 25 points
Rachel - 15 points
Srivalli - 20 points
... I know this was a bit tricky riddle gurls, but I must say, Hats Off to U all, for taking it so sportingly and guessing it till u got it right!!
Note: To know more about scoring pattern : Click here.
Box 4: Riddle for fruit: Answer: Banana.
---------------------------------------------------


I am golden yet not pricey
I can sometimes blush red but am no shy missy
I go green but i am not jealous
I know many like me for which I am over zealous
Cook me raw, eat me ripe
I give no room for gripe
People become me when they are mad or furious
Oh well, says not me, but Oxford and thesaurus
Every stage and every part of this being is put to use and for giving flavour
Be it the feet, the hands and me being the fruit of its labour
I am crescent shaped but am no moon
Dont delay, Think hard and tell me who I am, soon..
... Surprisingly, nobody opted for this Box..!!

I want to take this opportunity to thank my dear friend Dhivs, who wrote these cute riddles, which made

Open Sesame

more interesting. Thanks sweety..:)

Check out here,
- the yummy dishes whipped up by our participants with their surprise ingredients!
Coming up next in Open Sesame:


Voting will begin for each of these categories on

June 1st to June 5th 2008

(until midnight EST), where each of the Dining Hall forum members get to choose their favorites.
The winner and their prizes will be announced the following day!.
So, stay tuned folks.. there are lots of fun moments ahead!


Recipe Marathon Day 14: Menu
Srivalli is up with her famous LunchBox series.
Arudathi cooked up some yummy Mushroom Rolls.
Ranji made a yummy looking Eggplant curry today!
Known for her cool named recipes, Dhivya is up with one more today!
Its just a cup of Hot Chocolate, says Laks - a die heart fan of Chocolate.
Swati is suffering from IPL fever and check out what did she made today.
Divya whipped up a yummy looking Orange cake for us.
Raaga made a delicious looking Raspberry Raisin Ring today.

-----------------------------------------------------------------------------------------------------------------

Lets help Bri...
Have a great weekend ahead.
Siri