Finally I did it!.. I made the fluffiest and yummiest rotis ever.. All thanks to the tip -

of adding curd and bread slices to the dough!
... and here is the proof -

Palak Khasta Roti.
Off these rotis go to

Valli's
Roti Mela
- as promised in my
last post
!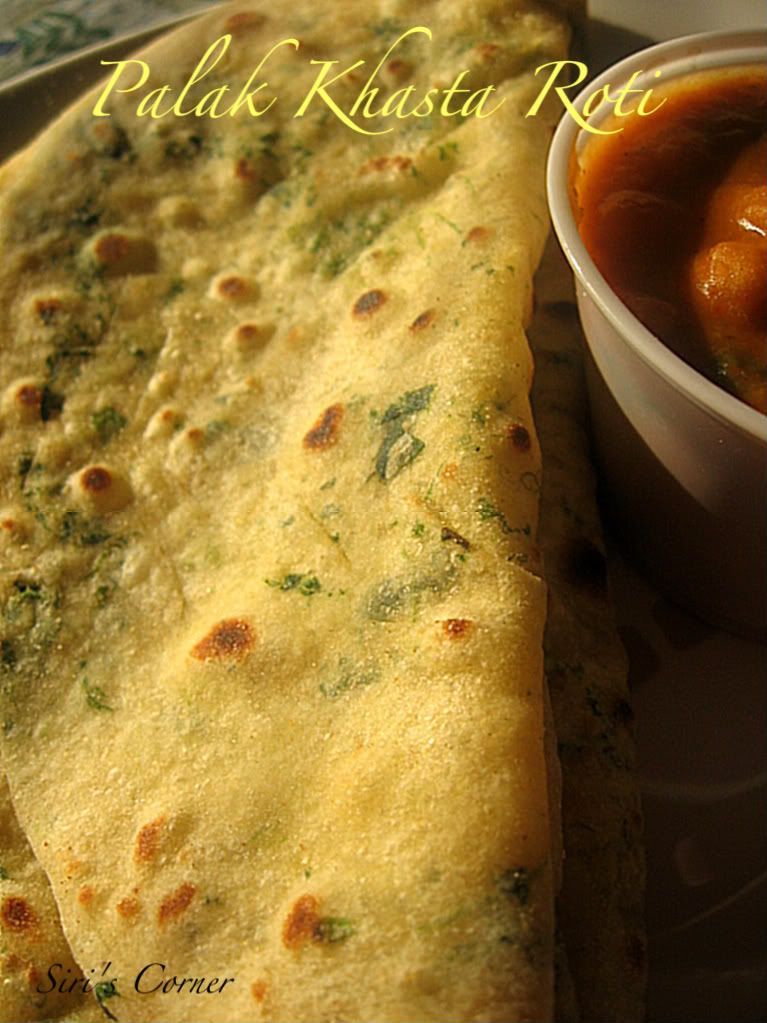 Palak Khasta Roti
----------------------
Adapted from here.
Ingredients:
2 cups Whole Wheat Flour
2 White bread slices, trimmed edges
3 tbsp Yogurt
1/4 tsp Baking powder
Salt to taste
1 cup blanched Spinach, chopped
water - to knead
Preparation:
1. In a small bowl, mix yogurt and bread slices, mash them into a smooth paste.
2. Mix the flour, yogurt mixture and rest of the ingredients. Knead into soft dough using little water. Rest the dough for about 15-20 minutes, covered.
Note: Addition of curd and bread gives a nice, soft texture to the rotis.
3. Shape dough into small balls and roll them out into circular shaped rotis.
4. Put a roti on a heated griddle and cook both sides with some oil. I used PAM spray just to cut down some calories.
5. These rotis taste divine when served immediately with any hot and spicy curry. Y.U.M.M.O!!
-----------------------------------------------------------------------------------------------------------------
Dear Uma bestowed me with

'Inspiration Award'

.. Wow.. feels so good to know that -
'I inspired someone!!. Thanks dear..:)
This beautiful award is started by dear
Jamie of Flavour Pantry
. What an awesome award, dear Jamie! In her own words:
This is given to bloggers whose stories and recipes inspire us. Whether it's to eat healthier, dive back into our past to conjure up something we ate as children, or just make the light bulbs in our brains go on with a new idea for a recipe.

As recipients of this award, please share with us what inspires you and then pass on the Inspiration Award to 4 other deserving bloggers.

Please let them know what the award means and what to do with it.

Feel free to post the Inspiration Award Logo on your site for the whole blogsphere to see. (logo photo taken by my inspiring friend and co-author of
Dueling Foodies
, Beth.)
The sole inspiration in my life have been my GOD, and nobody else! Yes.. he is the symbol of strength and the only one who exalts and gives me imperturbable strength to fight back and be true to my conscience!
As per the rule, I have to pass this on to 4 other bloggers who inspired me the most:
Dhivya
: for her ever lasting friendship and fo being my

BEST FRIEND

ever!.
Lathamma
: She is one motherly figure whom I adore the most!
Ashaji
: I admire her zeal and passion for delectable food!
Arundathi (Anu)
: Though, I have known her for a very short time, she ushered so much love and compassion that I see her as my

GOOD FRIEND

!
Have a great day ahead!
Siri