I am a proud

'Recipe Marathon'

runner who received a
gold medal
(beautifully designed by

DK

) for my successful run..*wink*. Thanks to RM, I found some amazing friends during the journey, had hearty laughs, enjoyable moments to be cherished for. Here I proudly showoff my

'gold medal'

..:)
Tara-root, more popularly called as Arvi in India, is one of my favorite veggies and when cooked properly (without the goey texture), it tastes heavenly. My mama used to make either a fry or a simple tadka version of it. I learnt about this arvi stew at my friend's place. I tweaked a little bit and am happy that it turned our really yummy and lip smacking!
Off this stew goes to
JFI:Tamarind
, guest hosted by lovely Sig!
Ingredients:
1 cup of frozen Colocasia/Arvi/Tararoot (If using fresh - boil, peel and cut into rounds)
1 medium Onion, chopped
2 tbsp Tomato puree
1/4 cup Milk
Salt to taste
2 tsp Tamarind paste
2 cloves of Garlic, finely chopped
1/4 tsp Turmeric
1/4 tsp Sugar
3/4 tsp Red Chilli powder
For Tempering:
2 tsp Oil
few fresh curry leaves
1/2 tsp Mustard seeds
1/2 tsp Urad Dal
2 whole Red Chillies
1/2 tsp Cumin seeds
Preparation:
1. Heat 1 tsp of oil, add chopped onion and tomato puree. Saute for about 3-4 minutes. Grind with milk into a fine paste. Keep aside.
2. In the same pan, put 1 tsp of oil, add in urad, mustard, whole red chillies, cumin, garlic and curry leaves. Let them splutter.
3. Add in frozen arvi/colacasia and cook for about 5-6 mins on medium-low heat. Mix in the ground onion paste and tamarind paste with little water if required. Cook for 5 minutes more.
4. Season with salt, turmeric and red chilli powder . finally add in some sugar.
5. Cook for couple of minutes, covered. Garnish with cilantro and Serve hot with rice.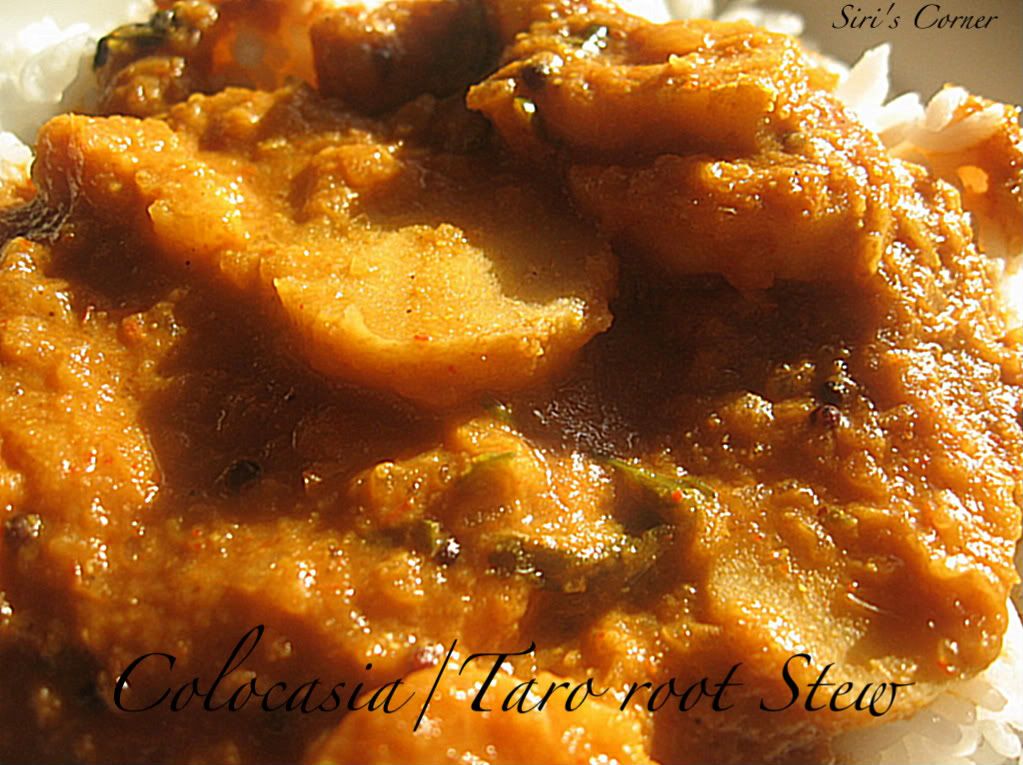 -----------------------------------------------------------------------------------------------------------------
My Food Blogger Finds

is my way to introduce to you all, those enthusiastic food bloggers whom I got to know pretty recently..:)
In this edition, lets welcome -

Hetal

of
Isha's Kitchen
. She is one bubly, a fun-to-be-with person who made her niche in the food blogging world and managed to bag
many awards
..Congratulations dear!!
...and In her own words.. she says...
Food plays a very important part in one's life.I always had the passion for cooking and trying out new recipes. I love experimenting with food. Being a foods and nutrition graduate, I am always keen on how to make a recipe more nutritious at the same time tasty.........because it is a general belief that what is nutritious is not good in taste!! This blog is a sincere attempt to change this belief.
I am not a great chef....but a simple full time homemaker,through this blog I just want to share my experiences in the kitchen with you all and also get to learn something new from you.It would be a great pleasure if I can help somebody in any way
through this blog
.
Its great to have you around Hetal!.. Happy Food Blogging...:))
-----------------------------------------------------------------------------------------------------------------
The second edition of
Open Sesame
is announced ..... and 25 enthusiastic participants..have already got cracking their riddles in the first 2 days and are having loads of fun...!!
Do u wanna join them.. then send in your choice of box to

ifl(dot)opensesame(at)gmail(dot)com.
For other rules of participation:
Click here
.

Note: Winner for Open Sesame 1 will be announced tomorrow!.. Stay tuned..:)

Have a great weekend ahead.
Siri