Before
the Spinach and E.Coli outbreak
, which created a havoc here in US, resulting in recall of tonnes of fresh spinach from the grocery stores could be soon forgotten, our

'Love Apples'

a.k.a

Tomatoes

are bitten by the bacteria bug!
As
The New York Times reports
- Fresh Tomatoes have been pulled off from stores like Mc Donalds, Wal-Mart, Burger King and many other popular food joints due to a bacteria called

Amid Salmonella.
Some notes about Salmonella:
Salmonella is a bacteria that lives in the intestinal tracts of humans and other animals. The bacteria are usually transmitted to humans by eating foods contaminated with animal feces.
Most infected people suffer fever, diarrhea and abdominal cramps starting 12 to 72 hours after infection. The illness tends to last four to seven days.
I strongly feel, its always better be safe than sorry. Be careful while consuming

'uncooked tomatoes'

for a while, atleast till the FDA determines whats the cause for this outbreak!
Now coming to today's recipe - its a combo of garlic, pureed chickpeas and spinach with some seasoning... what else can we ask for in a soup....:)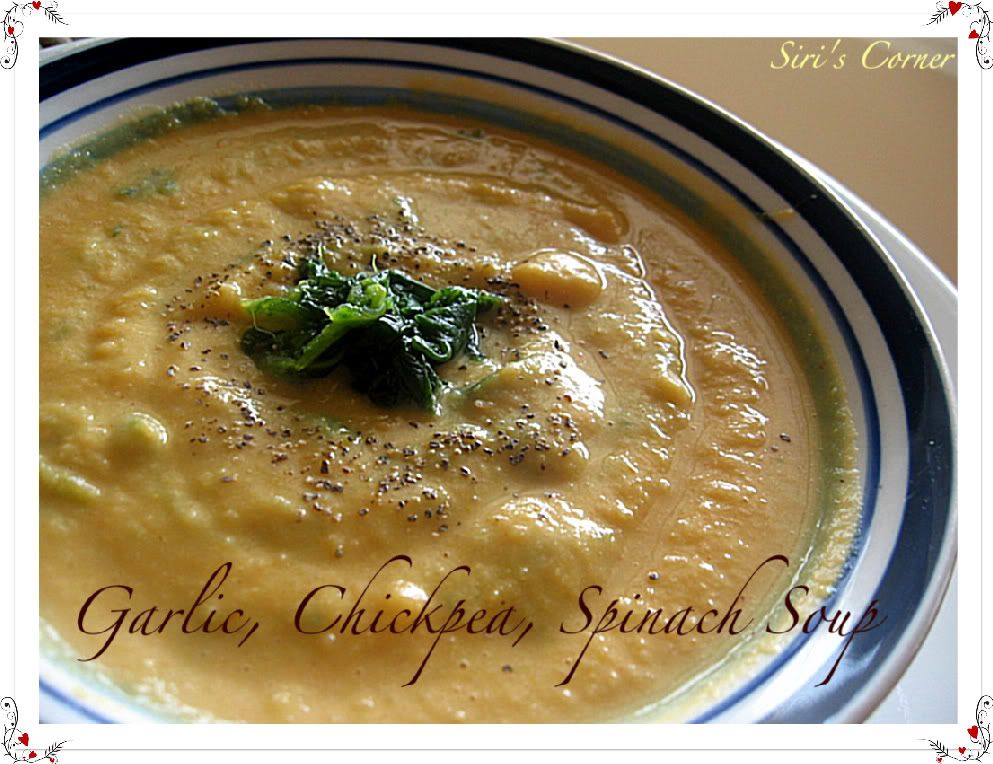 Garlic,Chickpea,Spinach Soup
-------------------------------------
Ingredients
1 can Chickpeas, rinsed
1/2 medium Onion, chopped
2 cloves of Garlic, minced
1 tbsp Olive Oil
4 cups Vegetable stock
1 tsp Cumin powder
1 tsp Coriander powder
2 tsp Cornflour
1 tsp Sesame paste (optional)
1 medium Potato, cubed
1 cup Spinach, blanched
Salt & Pepper - to season
Preparation:
1. Heat oil in a pan, add garlic and onion. Saute for 5 mins until golden brown. Add cumin powder and coriander powder. Cook for 1 more minute.
2. Add vegetable stock and chopped potatoes. Boil and simmer for 10mins. Add chickpeas and Cook until tender.
3. Mix in cornflour(with little water, make sure there are no lumps!) , sesame paste, seasoning. Cook for 2 minutes and blend together.
4. Add to soup with spinach. Bring to boil for couple of minutes. Season with salt & pepper.
5. Serve hot!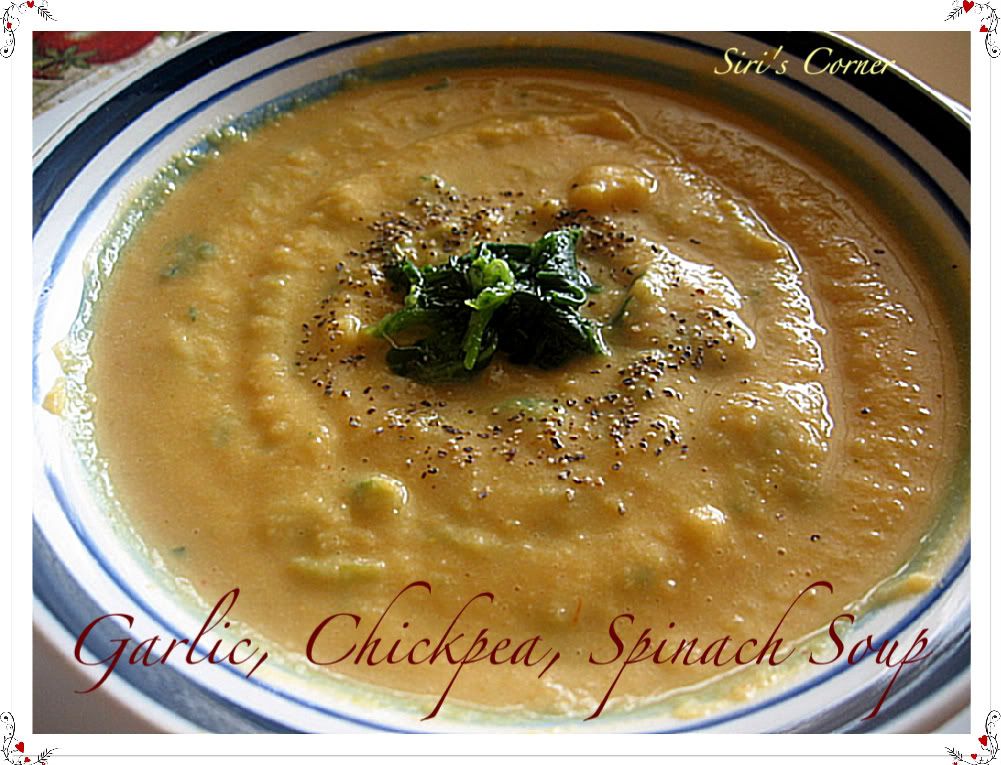 Off this warm soup goes to Lisa's No Croutons Required event, this month's theme is soups or salads featuring legumes.

-----------------------------------------------------------------------------------------------------------------

Pallavi of 'All thingz yummy' has tagged me for

'10 things I hate'

Meme: here goes the list...

1. I hate waking up early in the morning.. I am an owl - a night person!

2. I hate people who offer their unsolicited advices. typically I stay away from them, as I easily get influenced by other's remarks!

3. I hate being Lazy, but at times (or should I say most of the times!) I AM LAZY, even - to pick up a glass of water!

4. I don't like people who break their promises, unless they have a genuine reason. If u can't do it, then why create hope in others?.. Don't u see a point??

5. Smoking - this is one habit which gets onto my nerves.

6. I hate Indian Politics - I strongly feel, its a garbage full of leaders who are good for nothing, corrupted people!

7. Loud Music - I can't take music that too loud, esp the gaana-bajaana during marriages until early mornings!!

.. I guess, am done...can't think of any others right now!

By rule, I have to tag just 4, but am gonna tag all my fellow recipe marathon runners - Laks, Anu, Raaga, Dhivi, Ranji, Swati, Divya, Valli and Bhags for this Meme!

If any of you guys has already done this..give me the link ok.. I wanna know what u ppl hate the most!!! *wink*

Enjoi!!



Coming up next -

Palak Khasta Roti

for

Valli's Roti Mela

!



Siri