June 25th 2008
Knead...Rise...Knead...Bake... Dance....this is what I was doing yesterday- all day! U ask why? becoz I was trying to bake my first ever home made bread! I must confess, about my

'yeast-phobia'

that transpires into me from my mom! She never baked! Oh ya..Never Ever!!
But I desperately wanted to get over it! After all there is nothing deary and pleasurable than

'your own baked bread'

!
Isn't it!
and here I am with

'My Baking Ballyhoo'

- where I would share all of my 'baking' experiences with my dear readers - good or bad and its a promise! what we are doing here is not - 'creating some masterpieces' and its NOT necessary that your dough must always rise..and u will end up with a 'perfectly baked bread!'. Mistakes are bound to happen and we tend to learn a lot from them - like I did!
Yes, the first time I started off with 3.5 cups of flour with whole bunch of ingredients, kneaded and kept for its first rise. Alas! it didn't.... not even an inch!
this is how it looked after two hours of resting...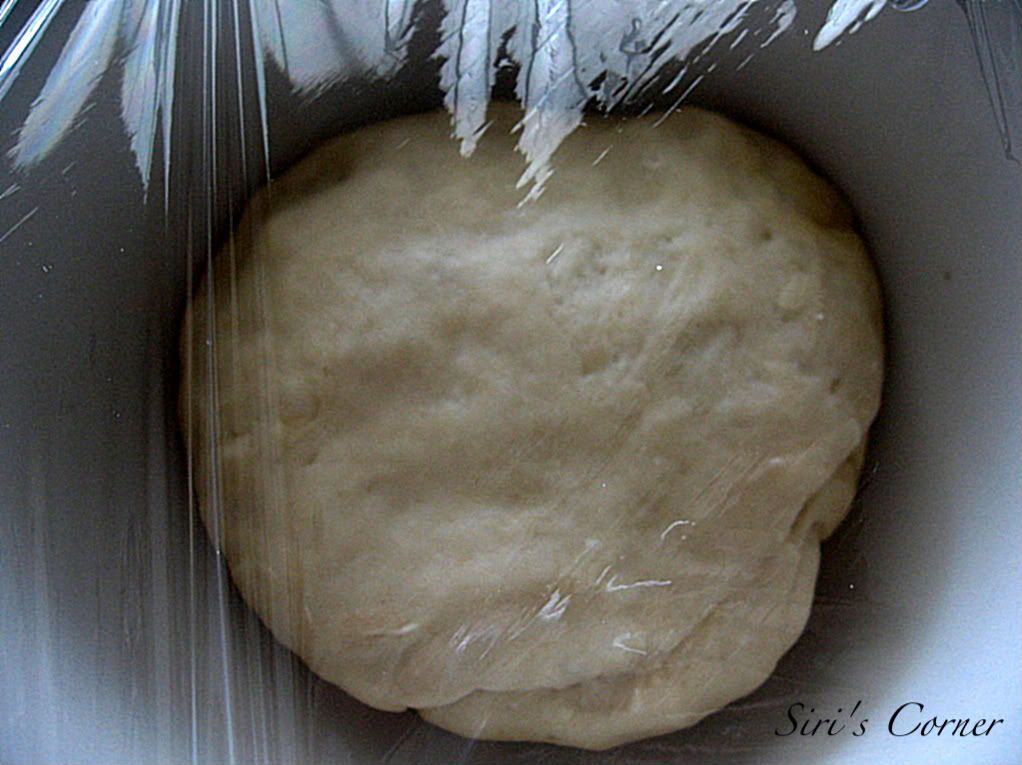 then I consulted one of my baking gurus and she gave me this lovely tip to warm up the oven for couple of minutes and then keep the dough to rise. the tip worked and I ended up with a beautiful looking bread! Yay Yay!
Here is the first look...
I must mention about
'The Fresh Loaf'
(TFL), an amazing community of bread bakers, where in they had
introductory lessons
for amateur bakers like me.
I referred to
Lesson 1
and its surely a nice way to begin the

'bread (b)making'

!!
My Notes:
1. I used 1 packet of
Fleischmann's Rapid Rise yeast
. I directly mixed it in the flour while kneading (no proofing in warm water required.)
2. I halved the ingredients presented in the Lesson 1 of TFL. this

'Simple Bread Loaf'

recipe calls for just 4 ingredients:

Flour, Yeast, Salt and Water!

My next experiment would be to add in more and make a flavorful bread.
3. 'Kneading' is an important part of the 'bread making' process and proper strokes help the bread rise - the right way!.
Click here to view some kneading techniques.
Lets bake the bread then....
Ingredients:
1.5 cups All Purpose Flour
1 tsp Salt
1 tsp of
Fleischmann's Rapid Rise yeast
3/4 cup of Water
Ingredients:
1.

Kneading:

Mix all the ingredients in a bowl with a wooden spoon. When the dough gets sticky, sprinkle some flour on your hands and knead the dough for minimum 10 minutes - squish..roll...squish..turn..roll..fold ...till the dough becomes silky and smooth. Drop the dough in a greased bowl and cover & let it rise in a warm place.
Tip: Its important to place the dough in a warm place for the yeast to act. If you fail to find one (like me), warm the oven for about a minute, turn it off and then place the dough into it!
2.

Rising:

Typically it takes about 45-90 minutes for the dough to rise and to double its size. It may take couple of hours at times, depending on the amount of yeast, time and temperature. So, not to worry. Keep checking for every 90 minutes. After its first rise, punch down the dough and knead for couple of minutes. Put back the dough into the greased bowl and leave it for its second rise.
3.

Shaping and Baking:

After its second rise, shape the bread by placing in a loaf pan or any baking dish. Dust the bread with some flour and place it in a greased dish! Scoring the bread (slice it with a knife or a fork) is necessary to release out the tapped gases in the bread dough. Brush some egg wash over it and place it in the center rack of the oven.
Bake for about 40-45 minutes at 375 F. Keep checking for every 15-20 minutes.
Tip: Pour some water in an empty baking dish and place it in the below rack, while baking the bread, for a golden rustic bread! (Use this tip at your own discretion! steam may result in a shortened life span of the oven.)
Cool it down and slice it up... !!!
...and to know how I felt after

'baking my first bread!'

..
Click here!
(.....nothing scary.. its just my joy and happiness!!)
...Another look...
P.S: U gotta check out Anu's First Bread too!! It looks beautiful!
I served with some yummy

Garlic Olive Oil Bread dip

(..recipe follows..). !!! Yummmy..:))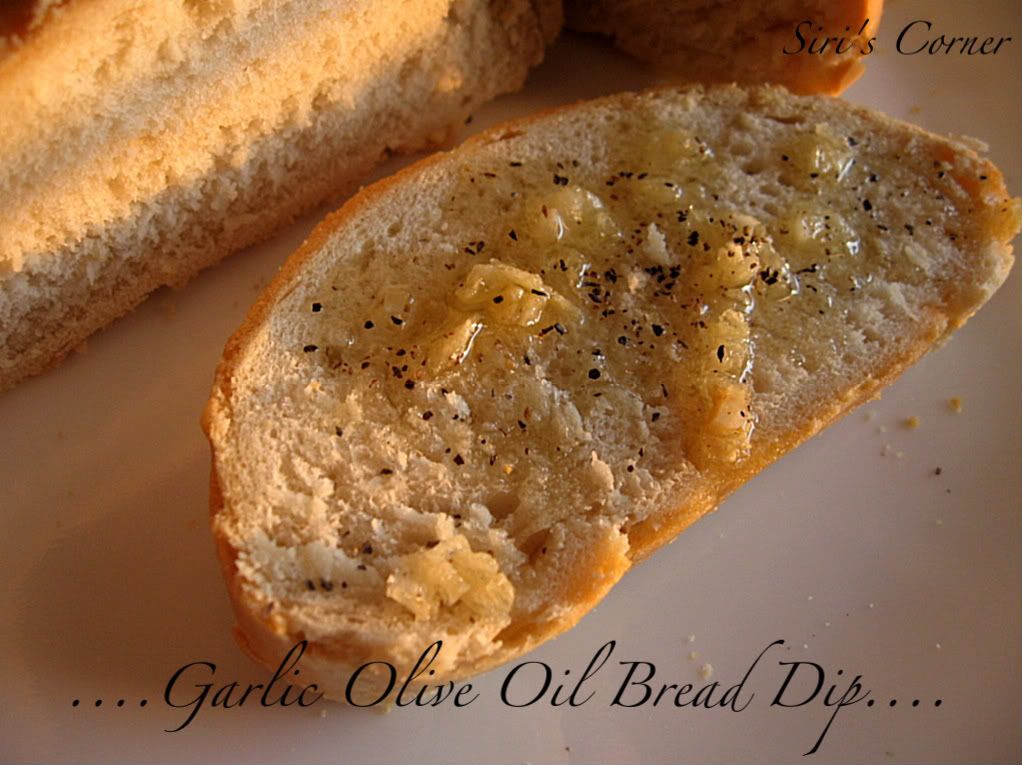 Garlic Olive Oil Bread Dip
-------------------------------
3 tbsp of Olive Oil
2-3 cloves of Garlic, finely minced, crushed
Salt & Pepper - to taste
1/2 tbsp Lemon Juice.
Microwave all the ingredients for 3-4 minutes on HIGH and Serve with a slice of bread!
Off this simple bread dip goes to dear Valli's
MEC: Bottled event
!
Thats it for now folks!.. will be back again with another adventure of

'My Baking Ballyhoo'.
...till then keep smiling!!!!
-------------------------------------------------------------------------------------------------
A hearty Thanks to one and all who participated in Open Sesame 2 and made it a huge success.

We are all waiting for your yummy entries now!!
To check the entries received up till now: Click here
To view the cumulative score card for Open Sesame: Visit here*
* the participant's details are added to the list as and when their entries for OS 2 are received.
Reminder:

Only

4 days

left

'Frozen Yogurt'

event! (details on the sidebar!).. :))
signing off for now,
Siri