Frozen yoghurt 'is ideally a frozen dessert made from or containing yoghurt or dairy analogues. Frozen yogurt is served as a low-fat or fat-free alternative to ice cream.
..but wait...the

'Frozen Yogurt'

... am talking about is a

cool, summer event

- to salvage ourselves from this scrotching summer heat!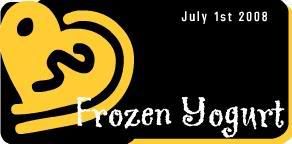 Yogurt/Yoghurt is called

Curd (in India), Dahi (in Hindi), Perugu (in Telugu)

....and
typically, it is perceived as a kind of health food which is high in protein, low in fat and rich in vitamins. It is good for those who are conscious of their body weight. To those who know, yogurt is actually a

"wonder food".
...and

We all love Yogurt

.. there is hardly anything else that can lighten up our days ..make them cool and refreshing..Isn't it!!
5 more reasons to include yogurt in our regular diet:
1.Eat your way to fat-loss. International Journal of Obesity indicates that adding one or two servings of yogurt to your daily diet can help you maximize loss of fat and minimize loss of muscle.
2.Calcium in yogurt makes this a bone-building food. Also, lactoferrin in yogurt increases the growth and activity of cells that build bone.
3.Regular consumption of yogurt is proven to reduce vaginal yeast infections in women.
4.American Journal of Clinical Nutrition indicates that full-fat dairy foods like milk, cheese and yogurt may considerably reduce the risk of colorectal cancer. These dairy products are rich in a number of cancer preventing factors.
5.Consuming less than half-a-cup of yogurt twice a day, reduces the level of hydrogen sulphide that is responsible for bad breath. It also eliminates tongue-coating bacteria and reduces dental plaque formation, cavities, and the risk for gum disease.
..To reap the goodness of Yogurt, I came up with this idea of organizing an on-off event -

Frozen Yogurt!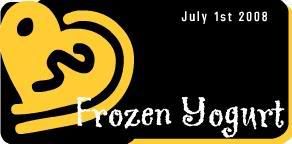 Some simple rules...
1.

Whip up any Vegetarian dish with

'Yogurt'

as its key ingredient

and post it on your blog in the month of June 2008. Last date for submission is

July 1st 2008 (midnight, EST)

. Multiple entries are more than welcome!
Note: Previously posted entries are allowed, if you create a NEW POST linked to this announcement.
2. Please link back to this announcement in your write-up and feel free to use the logo above.
3. All bloggers and non-bloggers, send me in -

Your Name, Blog Name, Permanent link to the recipe and a 300 X 300 pixels

photo to info(dot)siri(at)gmail(dot)com.


I know there are lots of events going on.. but if you do whip up something with Yogurt..u have an event to send it to and hope u will have loads of fun..

...thats main idea of this event: to have some refreshing Yogurt dishes all at one place. Lets get cooking then..:D

P.S: My posts typically don't show up on TOI, due to some feed problem. It would be appreciated if you would let others know about 'Frozen Yogurt' event..:)

[EDIT] Thanks to JZ for reminding me the fact - mine is a vegetarian blog.. please do send only vegetarian entries!

Siri