This is probably *
the best
* combination of veggies I ever had ( Ok, I hear some saying -
NO WAY!!
. Some do have a
love-hate relationship
with this curry! ).
... But, I love the subtle and beany flavor of Indian broad beans ( a.k.a Chikkudukaya/ Surti lilva) combined with that of Eggplant, which gives a very different and distinct flavor to this dish. Believe me, ever since my mama made this dish for me ( probably when I was in my 5th standard...), the entire bowl of this curry made is JUST FOR ME...!!! After I came to US, I hardly could find some fresh beans, Thanks to *frozen food*, I quickly grabbed a pack of frozen beans last weekend and made my favorite curry, almost an year later...!! Served with hot rice and a dollop of ghee, the taste of this curry enhances multi fold...:DDD
Ingredients:
1 frozen pack of Indian Broad Beans
4-5 medium sized Eggplant
2-3 tsp Oil
2-3 cloves of Garlic
3/4 tsp Red Chilli powder
Salt to taste
1/4 tsp Turmeric
fresh coriander leaves
3 tbsp grated coconut (optional, but enhances taste!)
For Tadka/Seasoning:
1 tsp Mustard seeds
1 tsp Urad dal
1 tsp Jeera/Cumin seeds
a pinch of hing/asafoetida
few red chillies
How to prepare:
1. Heat some oil in a pan, add in all the ingredients listed for 'Tadka' one by one until they splutter. Add the finely chopped garlic and saute until brown.
2. Then add in frozen beans ( which infuses some moisture into the curry) and let them cook for 2 mins until soft. Later, add the chopped eggplant and let the veggies cook for a while.
3. Season with salt, turmeric and red chilli powder. Mix the contents well.
4. Finally sprinkle some grated coconut over the top and cook for 2 more mins.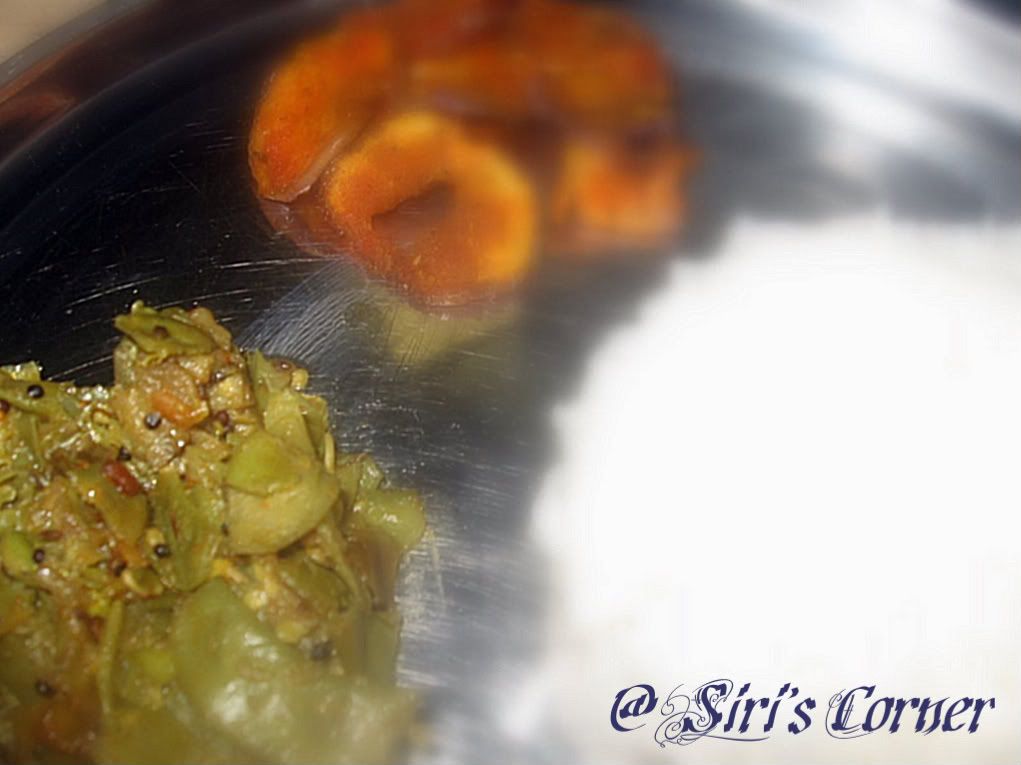 I served this dish with hot rice and
spicy eggplant discs
!! Yumm-O..:)
There are many variations to this curry, Some add jaggery, sesame seeds/powder, mustard powder etc etc. But, I like to have this basic curry as I don't want to add in stuff which can overpower the distinct taste of
my beans
!
I love the addition of
garlic
to this dish. So, off this goes to
JFI: Garlic
hosted by dear Mathy!
- Siri