The soul of typical Mexican cooking lies with the infinite number of *

peppers

* they have. Sweet or spicy, they are as brilliant as glistening jewels when fresh, but turn darkly mysterious, hinting at complexity and nuance when dried...:D
So, when Dhivs of
Culinary Bazaar
announced her
A.W.E.D event
with a Mexican theme, I knew whats my first entry would be -

PEPPERS

!!
Off I went for pepper-hunting last weekend. My initial idea was to get some Poblano peppers, but I ended up with some gorgeous looking -

Green Bell Peppers

.
...in Mexican cuisine, I love

Grilled Stuffed Chili Rellenos

and this was a perfect opportunity to try them out (for the first time.. yipeee) in my kitchen and of course to impress some souls around.. hehhee..:D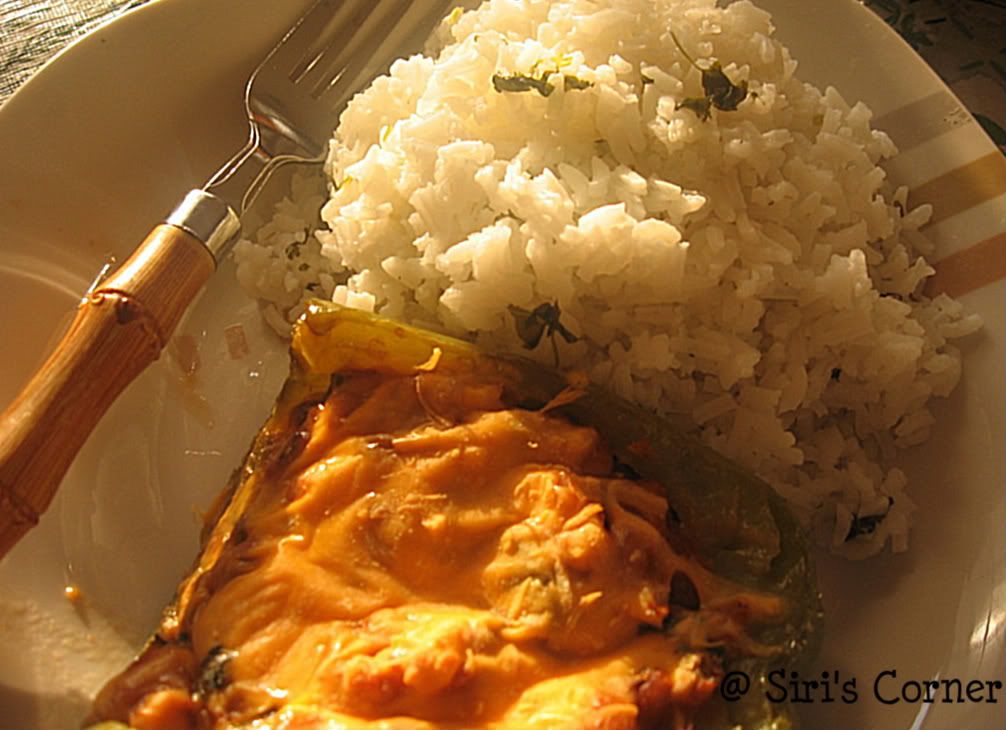 I made few variations from the original recipe, made it more spicy (hey! we all love spicy food, don't we..:D ). The recipe called for some baked beans, instead I used some

black eye beans

(my favorite of all beans) with shredded potato!!! The taste was absolutely divine and I am so sure that I would end up making this dish again and again! All thanks to Dhivya's Worldly Delight, I have got to try something new and delish!!!
Adapted from
here
Ingredients:
2 Green Bell Peppers
2 tbsp Olive Oil
1/2 cup fat-free shredded Cheddar Cheese
For the bean filling:
1 can Black eye beans
2 jalapeño peppers
1/4 cup chopped Onion
2 cloves of Garlic (grated)
3 tbsp crushed Tomatoes
1/2 cup shredded Potatoes (boiled and peeled)
1 tbsp Red Paprika
Salt to taste
Fresh Cilantro
Preparation:
Cut
the bell peppers into two halves, remove the seeds. Preheat the oven for 300 deg.
Rub some olive oil on the peppers and bake them for 8-10 minutes.
To prepare the filling
, in a wok, heat oil, add garlic, chopped jalapeño peppers and onions. Saute until brown. Now add in crushed tomatoes and shredded potatoes. Mix well and cook for couple of minutes.
Finally add the cilantro, beans and season with salt and red paprika. Cook for 4-5 minutes until done. Turn off the heat and mix 1/2 the cheese into the mixture.
Spoon
the mixture into the baked peppers.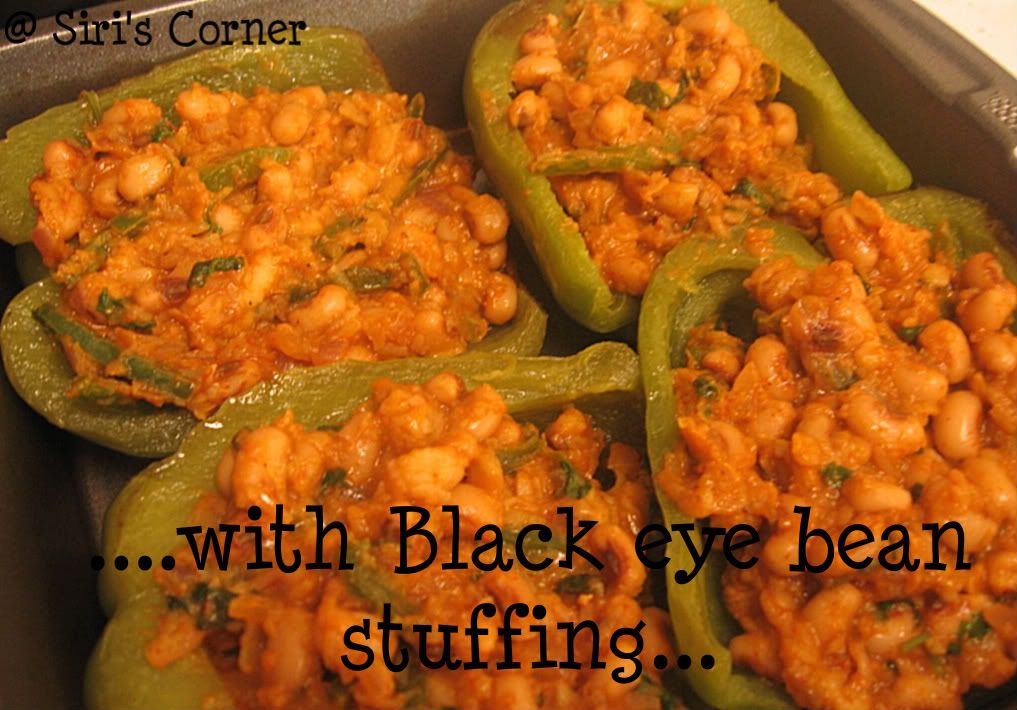 Sprinkle
the left over cheese on the stuffed bell peppers.
Preheat
the oven fro 375 deg and
bake
these for about 10-15 mins until the cheese melts.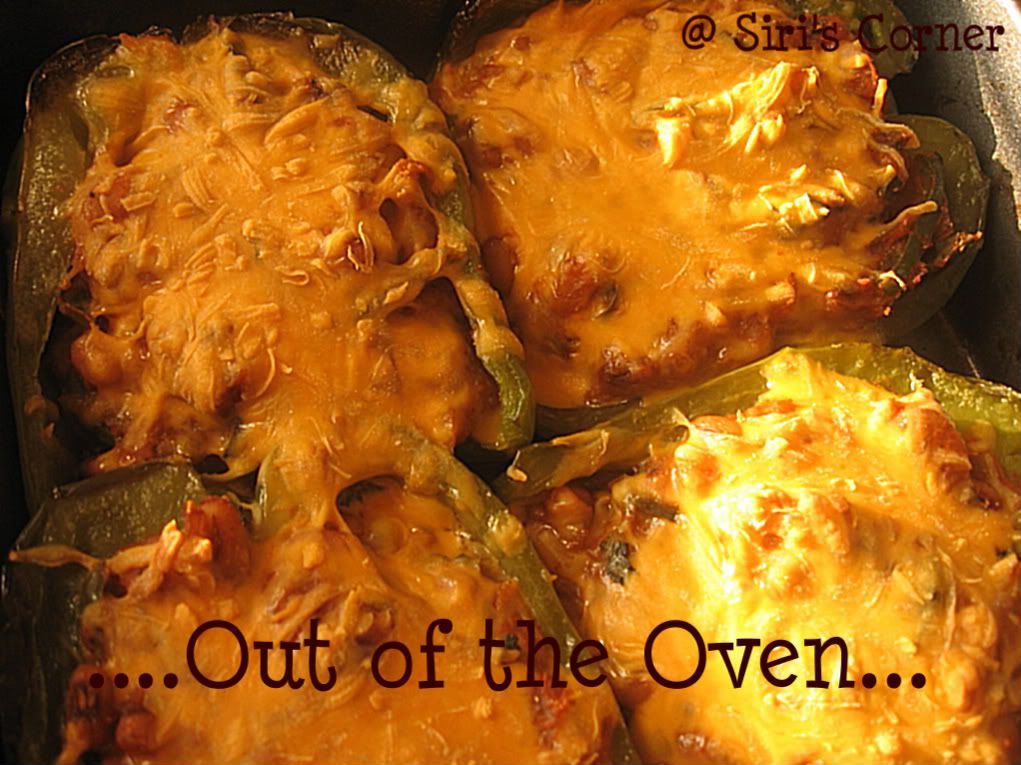 To make it a sumptuous dinner bit, I served these with some Coriander flavored rice - Just dropped in few fresh Cilantro leaves with a tsp of oil and some salt while cooking up rice.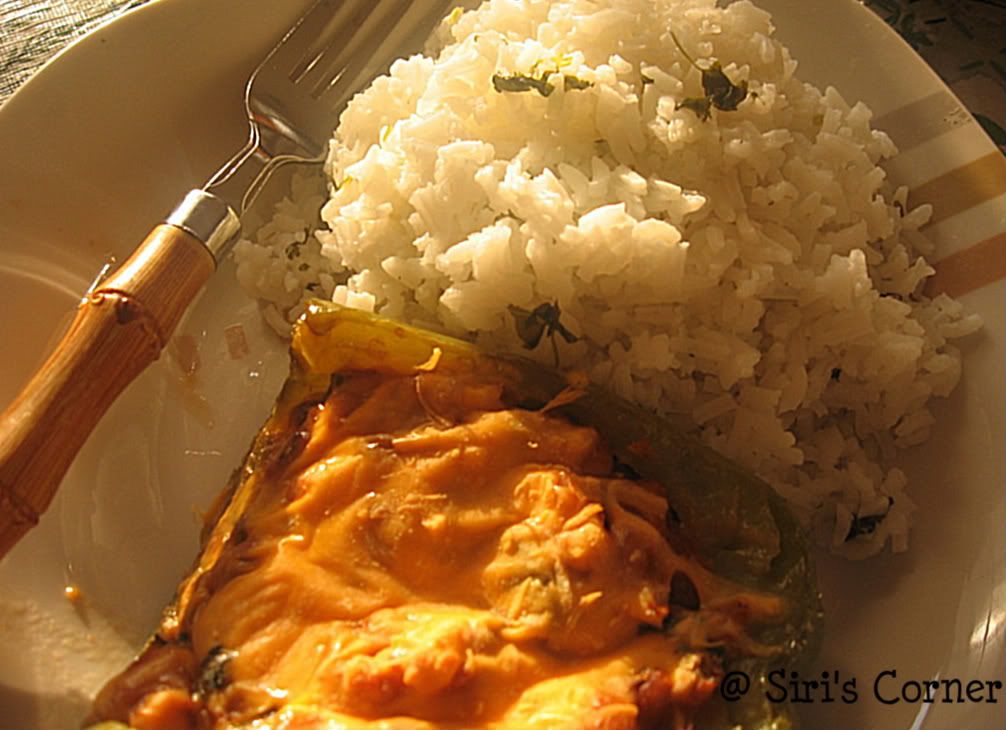 Stuffed Peppers served with Coriander flavored Rice
Hope you have a great week ahead!!
- Siri