Wondering whats the title is all about? - '
Straight Out Of Puck's Oven
'.
Prologue: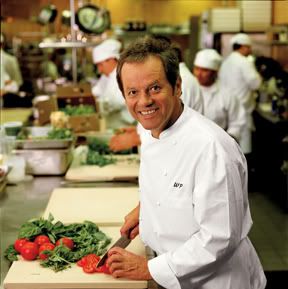 Wolfgang Puck
is one of the popular chef restaurateurs in America and presides over a US$ 300 million food empire, which includes everything from restaurants and catering to prepared foods and pots and pans. He is well-known for his remarkable restaurants, including the famous
Spago restaurants
, Chinois on Main, Postrio, Granita, Trattoria del Lupo, and the Wolfgang Puck Cafes. Some of his famous cookbooks include '
Modern French Cooking for the American Kitchen
' , '
The Wolfgang Puck Cookbook
' , '
Adventures in the Kitchen with Wolfgang Puck
' , '
Pizza, Pasta and More!
' and '
Live, Love, Eat
' .
The Austrian-born Puck is well-known for blending French flavors with American style of cooking which soon became a phenomenonal success and also Puck, re-defined the modern day American whimsical casual dining saga.
I first got to know about this culinary legend through Food Network's
Chefography
and soon became a huge fan of his innovative and inventive recipes.
Inspired by them, I thought of starting a weekly series which features some of Puck's vegetarian recipes (mine being a vegetarian blog!) and its aptly named - "
Straight Out of Puck's Oven
".
Also all of my recipes from Puck's book go to Kalyn's
Weekend Herb Blogging
, as a token of admiration and appreciation for her dedicated effort toward food blogging. :)). and Tadah..this week's recipe is..
Straight Out of Puck's Oven # 1: Couscous Salad
-----------------------------------------------------------------

Adapted from
here
- a vegetarian oven-baked version.
Ingredients:
1 Eggplant
1 Green Bell Pepper
1 Tomato (unseeded and then chopped!)
1/2 Cucumber
5 oz Couscous
1 1/2 cup of Vegetable stock
2 tbsp Olive oil
Salt & Pepper
Fresh Cilantro

Preparation:
Any kind of veggies would go perfectly well with this salad. Chop all the veggies and take them in a shallow baking dish.Sprinkle some olive oil and season the veggies with salt and pepper.
Preheat oven at 375 deg and bake the veggies for about 10-12 minutes. Bring the stock to a boil. Add couscous to it and cover it up for 5 minutes.
Fluff couscous with a fork and mix in the baked veggies.
Garnish with fresh cilantro and Serve.
Off this goes to
this week's WHB
host: lovely Susan, 'The Well Seasoned Cook'.
Have a great Sunday ahead!
- Siri