"So much to do, so little done, such things to be."
- Lord Alfred Tennyson 1809-1892, British Poet
For me, cooking is a journey where you have no idea whats gonna happen next?.. Confused??. I mean, one has no idea whether the *outcome* would be good or bad..in spite of that known, we always try .. put in our best to get the dish right..
...'
Making a Dosa
' is one such a thingy for me since a long time. . Hey, I always had these instant dosas.. which are so cool and damn easy. Though, I started *proper cooking* (..not bachelor cooking) just a couple of months back, I never dared to venture into the *
DOSA
* area.
What if the batter turns out too thin ?
What if they taste bad and I end up throwing up?
What if...
What if...
Thanks to Srivalli's
Dosa Mela
which pushed me to actually soak some rice and grind to make my first ever dosa...
....drumroll please...
Tada Tadah...Here I present people .. 'MY FIRST DOSA'... Yey Yey!!!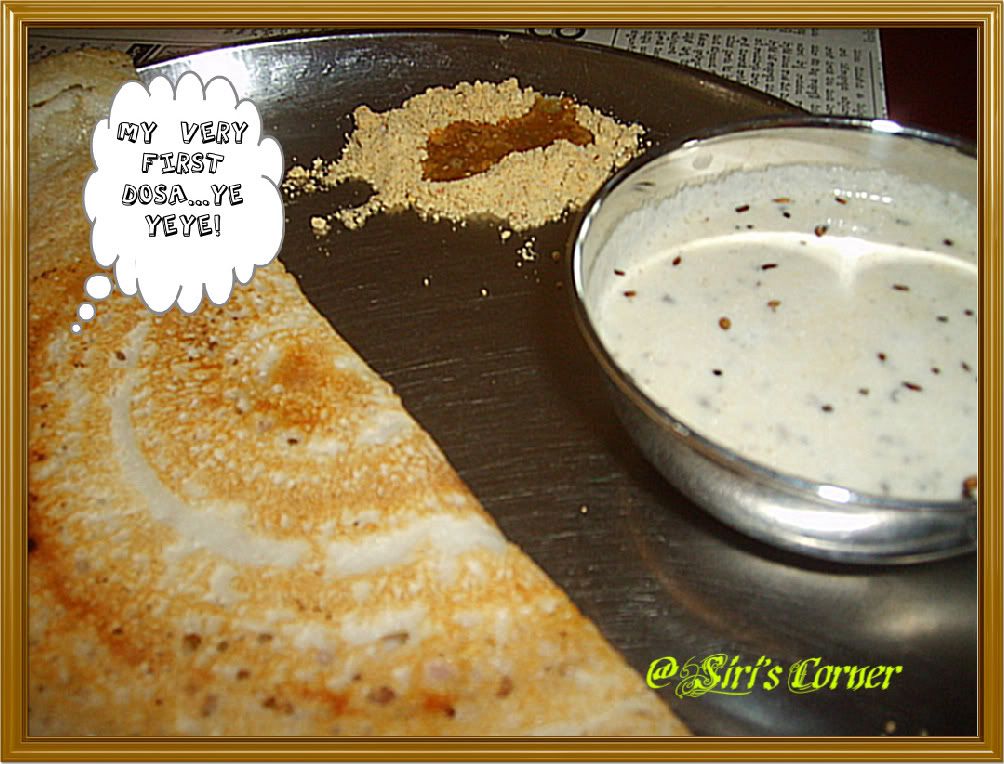 I was super happy when they turned out good and my happiness had no bounds when I put the first piece (dipped in coconut chutney) into my mouth..:D
Ok guys.. enuf of my rambling, I will get to the recipe first. my mom also sent me this amazing 'Dosa podi' recipe which tasted just out of this world..
Dosa Batter:
-------------
3 cups of rice
1 cup split urad daal
1/2 tsp fenugreek seeds
Salt to taste
How to make:
1. Soak rice, urad dal with fenugreek seeds overnight.
2. Next morning, drain the water and grind to a smooth-slightly grainy paste, adding little amount of water.
3. Pour the paste into a bowl and add enough water to make a batter.
Consistency test: The batter should thickly coat a spoon dipped into it..:D
4. Now add salt and keep the batter aside, covered for an hour.
5. Heat a nonstick pan and spread the batter and make our usual dosas out of it!!
6. I served with some coconut chutney and dosa podi.
Coconut chutney:
-----------------
1 cup shredded coconut
2-3 Green chillies
1/4 cup Roasted Chickpeas (dalia/putnalu)
small Ginger very finely chopped
For tampering:
1 tsp mustard seeds
1 tbsp urad daal
2 dry red chillies
5-6 curry leaves
Salt to taste
2 tbsp oil
Preparation:
1. Grind all the ingredients listed (except for 'Tampering) into a fine/coarse paste in a food processor. Add water if desired.
2. Heat oil in a small pan and add in the tampering ingredients.
3. Add to the coconut paste and stir the contents well.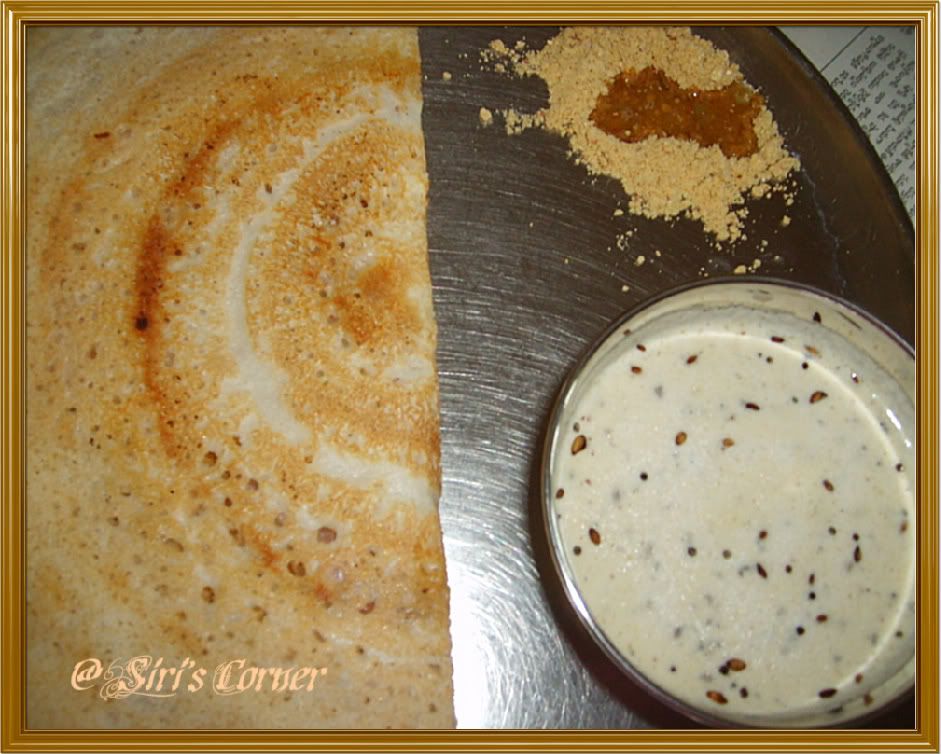 Dosa Podi:
----------
1 cup Fried, skin removed Peanuts
1 cup Roasted Chickpeas (putnalu)
2 tbsp Fried Coriander seeds
2 tbsp Jeera/ Cumin seeds
3-4 Red Chillies
1/2 tsp Fenugreek seeds
1/2 tsp sugar
Salt - to taste
2-3 Crushed dry garlic (for flavor)
How to make:
Mix all the above listed ingredients and Powder them into a coarse powder in a grinder. Store it in an air-tight container to stay fresh months.
Recipe Source: My Mom..:)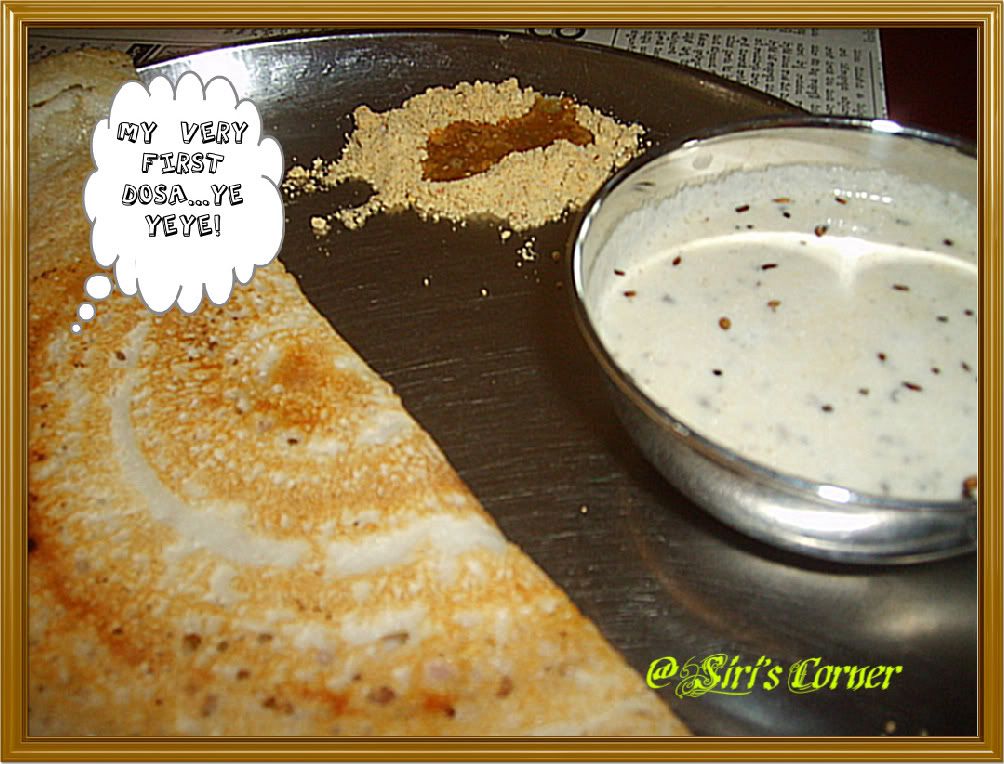 Hope you all enjoied my 'DOSA' adventure. Any suggestions/tips/tricks to make yummier dosas are always welcome. To keep safe them, I will update this post with ur tips. Being an amateur in making these, I would love to incorporate them next time around..:))
*********************************************************************************
...Invite me to your Inbox...
********************************************************************************