Do you know the fact that just
1 cup of brown rice provide about 88% of daily value for manganese
, which in turn helps produce energy from protein and synthesizes the fatty acids. How about, if I say one who eats brown rice over white rice will weigh less ..Interesting huh?
A study published in the American Journal of Clinical Nutrition underscores the importance of choosing whole grains such as brown rice rather than refined grain, i.e., white rice, to maintain a healthy body weight. In this Harvard Medical School / Brigham and Women's Hospital study, which collected data on over 74,000 female nurses aged 38-63 years over a 12 year period, weight gain was inversely associated with the intake of high-fiber, whole-grain foods but positively related to the intake of refined-grain foods. Not only did women who consumed more whole grains consistently weigh less than those who ate less of these fiber-rich foods, but those consuming the most dietary fiber from whole grains were 49% less likely to gain weight compared to those eating foods made from refined grains.

[Source: WHFoods]
Such is the goodness of brown rice which typically takes a back seat when compared to white rice especially in our Indian households. (Correct me, if I am wrong!).
Once I knew, how to cook brown rice-
the right way
, brown rice became an integral part of our diet and here is one recipe which often included in our usual menu...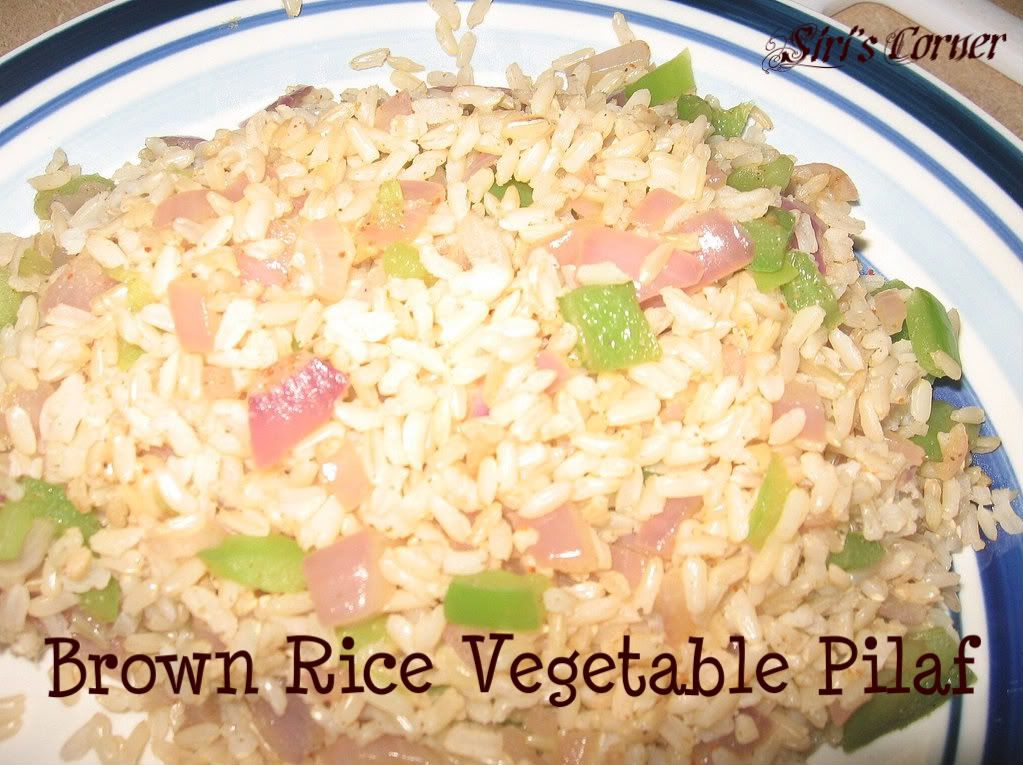 Ingredients:
2 cups Brown Rice
1 medium Onion (chopped)
2 Green Bell Peppers
1 tbsp All spice powder (Substitute: Garam Masala/Biryani Masala)
3.5 cups of Vegetable stock
Salt to taste
2-3 cloves of Garlic
PAM spray (or) 2 tsp Oil
How to prepare:
1. In a pan, bring vegetable stock to a boil and cook brown rice, coveredL with the stock. When done, let it rest for 5mins , fluff the rice and Keep aside.
2. Heat some oil in a wok, add garlic and chopped onion. Cook for 3-4 mins on medium heat until golden brown. Now, add in chopped bell peppers. Stir the contents well and cook for few mins.
3. Season the mixture with salt and all spice powder.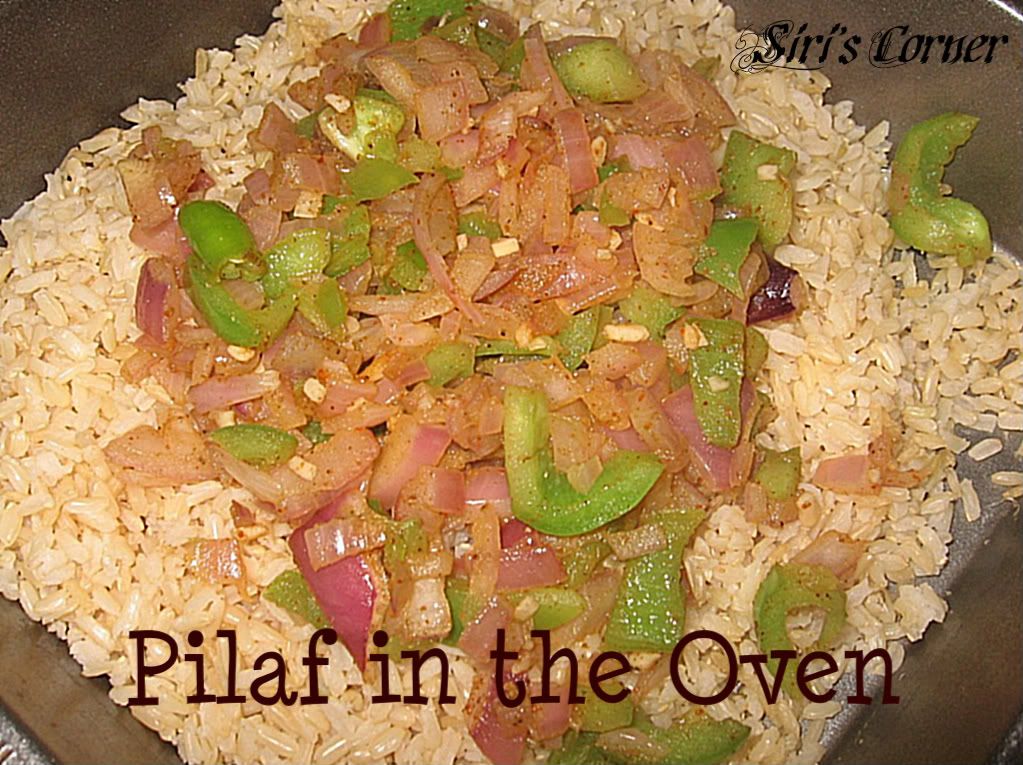 4. Preheat the oven to 300 deg. In a baking dish, layer the rice at its bottom and then spread the vegetable mixture evenly. Cover it with foil and bake for 10-15 mins.
5. When baked, toss up the contents well. To give it a cheesy flavor, one can sprinkle some Parmesan cheese and bake for 5 more mins until the cheese melts.
6. Serve hot.
The choice of veggies is entirely optional and I just had some left over bell peppers and onions in my pantry, so used just that. The goodness of the veggies make this dish, an excellent and nutritious One pot meal.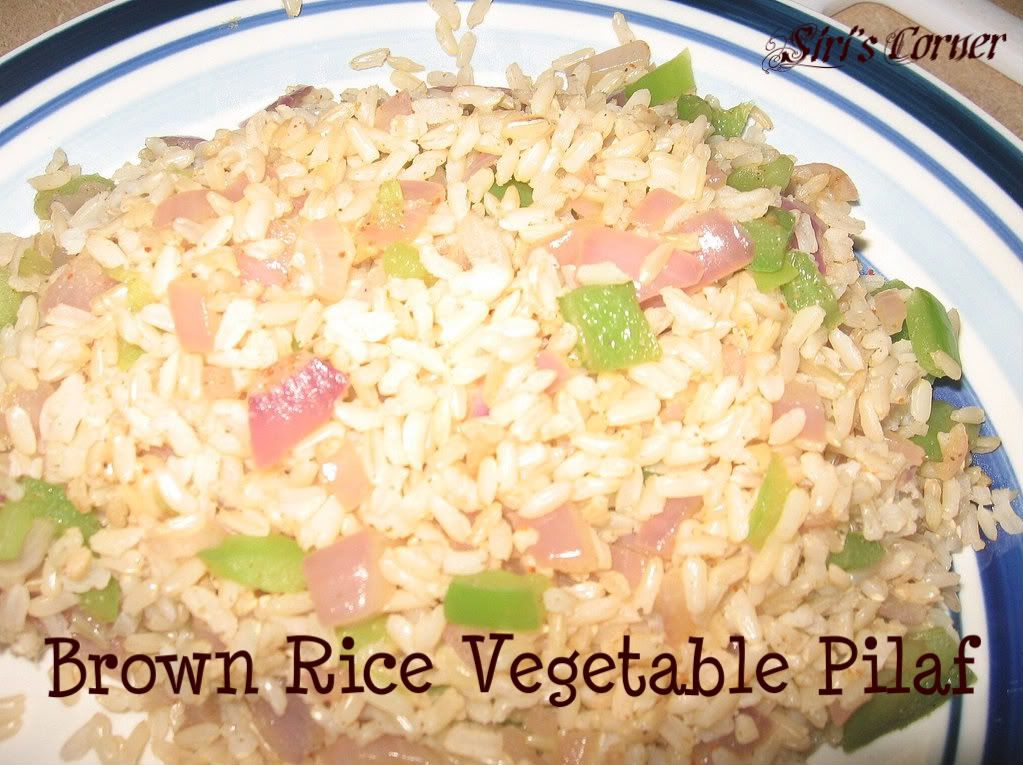 This week's
Weekend Herb Blogging
, initiated by wonderful
Kalyn
arrives at
Jugalbandi
. Off my Brown Rice Vegetable Pilaf goes to dynamic duo -
Bee and Jai
!
Also Enjoi:
Baked Broccoli Rice Supreme
- Siri