When I was back in India, I didn't know about Halloween, and now when I am here, I wonder "Why do we celebrate Halloween?" "Where did it come from?"... So, I googled and finally found my answer...:D..
....
The history of Halloween goes back 2000 years. Many believe that Halloween's origins are found in the Celtic festival of Samhain. The Celts, who were located in Ireland, the UK and the northern parts of France, celebrated their New Year on the first of November. Samhain was celebrated the night before the New Year.
The New Year, Celts believed, marked summer's end, harvest time, and the start of dark, cold winter months. Those winter months were associated with death by these people. On October 31, the night before the New Year, the Celts celebrated Samhain. This day, they believed, was when the ghosts of the deceased returned to earth because the boundaries between the living world and the dead world blurred....

But, Why do we wear the scariest possible costume on Halloween?.. because....
...
dressing in costumes has a couple possible origins. European and Celtic people both felt winter was a frightening time. It was cold, it was darker, and the possibility of running out of food was great. When they reached the time when they thought the dead returned, they thought they might encounter these ghosts whenever they left their houses. The wearing of masks and costumes grew from these people donning masks so the ghosts would not recognize them!...
hahahaha.. How intriguing..:)
Hmmmm, now I know the soul purpose of celebrating Halloween and the secret behind the weird, scary costumes...and here is a cute little poem for all of u..:))
Halloween pumpkin carved with a smile..
The candle inside flickers, every once in a while...
He sits by the doorway watches the kids go by..
Every once in a while he sees bats fly by..
Feeling kind of sad cause tonight's Halloween..
tomorrow he'll probably be pie topped with whipped cream....:)
" A Nightmare of the Kitchen" Meme
Ashaji
tagged me for "Nightmare of the Kitchen" Meme which was orignally started my dear Lakshmi. Curious to know their Memes first.. here they are:
Ashaji's
Mexican Fried Icecream
Lakshmi's
Wicked Wicked Choclate

Now my turn....
We, gurls during the initial days of cooking, try to impress our (would be) better halves by cooking those which they like the most.. that is/was the case with me too.. I love when 'S' says - "Wow, Lovely... this is better than what my mom makes".. hehehe.. honestly, I look for such a response every time I cook.. :DD..
One fine morning, when 'S' was about to leave for work, he said - "
I love Jowar Rotis...my mom makes them so well....not everybody can make them...they are hard to make..
."...that day, I was determined to make some nice, fluffy Jowar Rotis and prove him wrong.
Next day, when we went to Indian stores for groceries, I picked up Jowar Flour. ( Ofcourse, 'S' gave a scoffing look to me.. which by the way I didn't care for.. remember I had a point to prove..)
The very next day, when 'S' left for work, I started my research about whats the easiest way of making these "Rotis". I found
this
and
this
as my guiding forces and got on to work. As the posts said, the mixed the flour with luke warm water .. made a dough .. took a small ball to make a roti. Grrrrrrrrrrrrrrr.. I couldn't.. becoz it was so soft like a pudding.. tried for the second time... No luck... Guess, how many times did I try - 52 times for almost 1.5 hours.. I tried and tried.. All my effort in vain...Finally 'S' came home.. and bursted out in laughter..Why?..- I was muddied with flour all over my face, my hands, on the kitchen floor...:(...Booooo.. But, I did manage to take a shot of a cute little roti which I made with lots and lots of hardships..Here it is: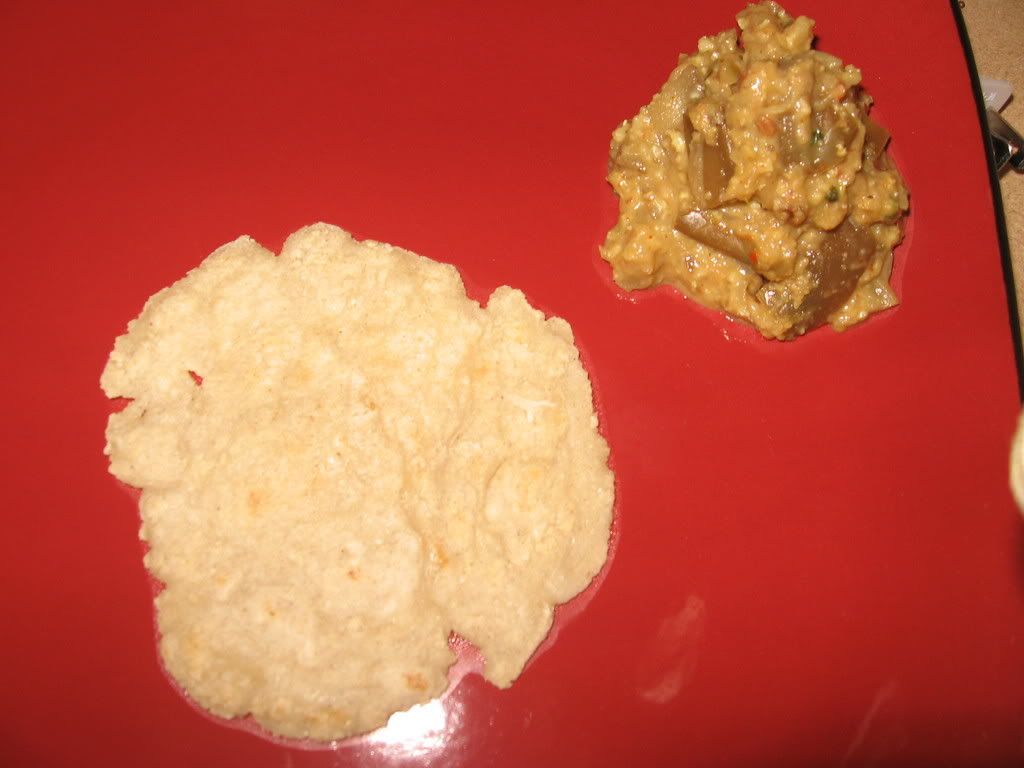 Then what did I do?... any guesses..- I mixed lots of wheat flour into the jowar flour batter and made normal chapathis...Intelligent me...:))

But, I did gave up making Jowar Rotis for now and learnt a good lesson that '

not all recipes come by just enthusiam.. experience also matters

'. Probably, I will try making these after few years. when I am 30 or so..till then, I will ask 'S' amma or my mom to make some for us.. hehehe

Thats my story for the latest edition of "Nightmare in the Kitche

n"..

Its time for tagging..I have so many to tag but to mention a few,

Seena

,

Srivalli

,

Sirisha

and

Sunita

to share their "Nightmares in the Kitchen" will all of us..:D

Adieu for now gurls and Happy Halloween!!!!

WHY DO WE CELEBRATE HALLOWEEN?