Dussehra
is a festival of triumph of good over evil. There are numerous legendary stories associated with this festival. Here is one such interesting story from the epic Ramayana.
STORY:
When Ravana, the king of Lanka abducted Lord Rama's wife Sita, and held her hostage in Lanka, a fierce battle ensued. Although there were huge casualties on both sides, Ravana could not be defeated. So Rama decided to seek the blessings of Shakti or Goddess Durga in order to defeat the 10-headed demon.
But Rama needed 108 blue lotuses for the worship of the Divine Mother, while Rama had managed to procure only 107. He was on the verge of laying one of his eyes that was lotus-shaped and blue in color at the Goddess's feet when Shakti, satisfied with the measure of his devotion, granted her blessings. And the righteous eventually triumphed.
Another well-know story is the defeat of the demon, Mahishasura at the hands of Goddess Durga.
All stories have the same moral of - "Victory of Good over Evil". It teaches us to destroy the 10 ugly faces of - deceitful, hypocritic, treacherous, malign tendencies and march forward in the path of righteousness and morality.
WHAT'S COOKING
Ok, with no further delay, Let me show what I did I cook on such an auspicious day: Aloo Pulao, Palak-Methi Paneer with Carrot Halwa.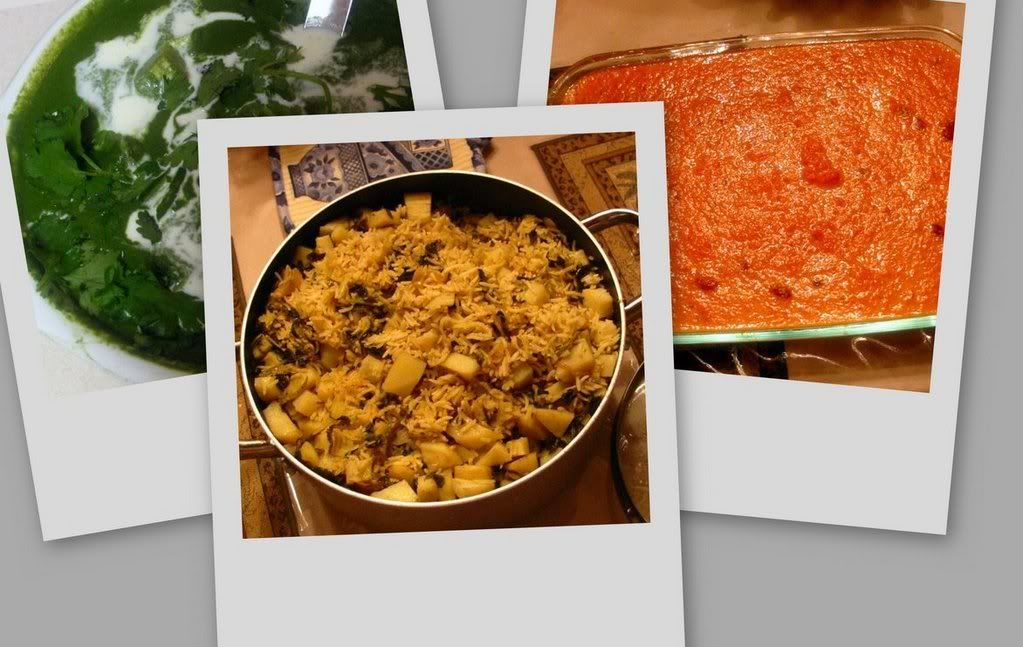 Aloo Pulao

: Its one such savory mostly cooked, when one observes fasting on Navratri.
Ingredients:
2 cups of Basmati rice
3 potatoes peeled,diced and boiled
1 bunch pudina leaves
1 bunch methi leaves
2 tbsp garam masala
1 tsp Dhania powder
1 tsp Jeera
1 Onion - thinly sliced
Salt - to taste
Oil/Ghee - 2 tbsp
Preparation:
1. Cook rice with 3 cups of water. Try not to overcook. Keep aside.
2. In a pan, heat some oil/ghee, Saute jeera and onions until brown.
3. Now add potato, pudina & methi leaves, salt, garam masala and dhania powder. Mix well and let it cook for few minutes.
4. Then add rice, mixx well. Cook the contents on low-medium heat for 5-7 minutes.
5. Garnish and Serve hot.
Palak-Methi Paneer

:

Ingredients:
2 cup Palak/Spinach
1 cup Methi/Fenugreek leaves
1 Onion-finely chopped
2 Finely chopped Green Chillies
1 cup Paneer pieces
3 tbsp Oil/Ghee
1/2 tbsp turmeric
1 cup cream (or milk)
Salt - to taste
For Ground Masala:
1/2 medium onion
1 tomato- pureed
1/2 tbsp Ginger-Garlic paste
1 tbsp coriander powder
1 tbsp cumin powder
1/2 tbsp garam masala
1/2 tbsp chilli powder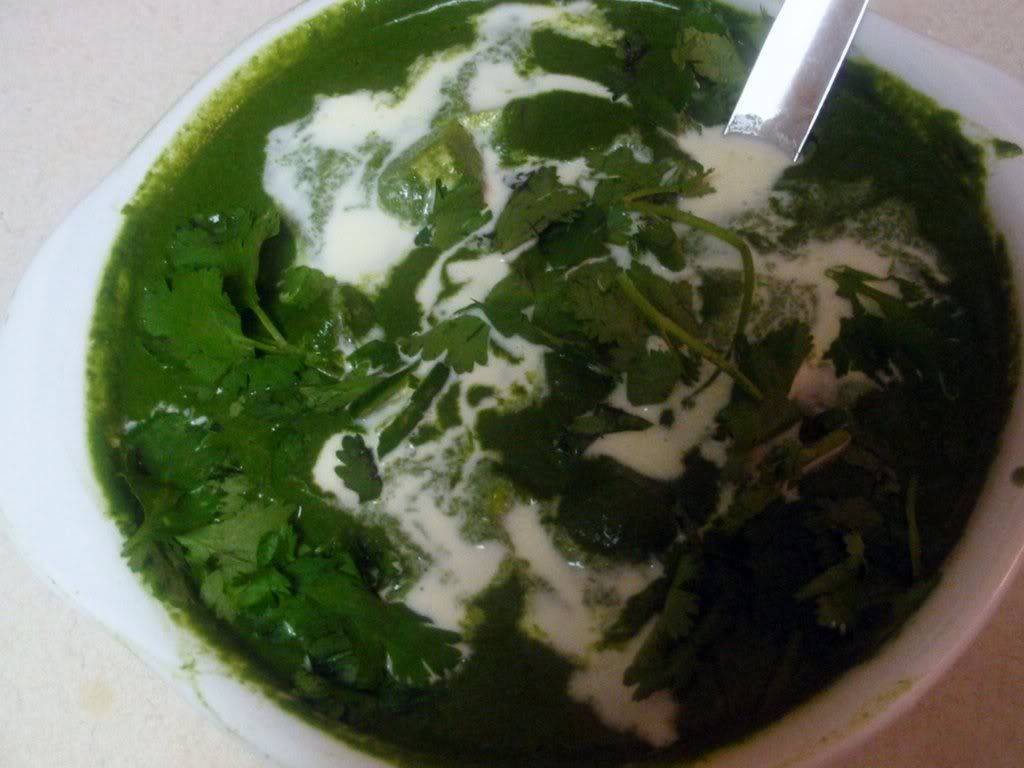 Preparation:
1. Cook palak and methi leaves with some salt and water till wilted, on low flame. Cool it down and then puree. Keep aside.
2. Grind all the ingredients listed for 'Ground Masala" with some water/milk.
3. Take some oil/ghee in a skillet, saute onions untill brown, add green chillies and ground masala. Cook for 2-3 mins.
4. Add pureed palak and methi leaves; Mix well. Cook for 2 minutes.
5. Then add salt, turmeric and cream. Stir the contents well and let it simmer on low heat for 5-6 minutes. Finally add paneer cubes. Cook for 3-4 mins so that they are finely coated and soaked in the masala..:)
Not: Adding 1 tbp of corn flour to thicken the gravy.
6. Garnish with cream or coconut milk. Serve hot.
Carrot Halwa

: This simple and quick carrot halwa would be an awesome dessert after cooking an elaborate spread.
Ingredients:
2 cans of sweeteneed condensed milk
2 cups of milk (to thin it out)
1 lb grated carrots
Nuts and Raisins
Note: Sugar is not needed as condensed milk already has it..:D
Preparation:
1. Boil condensed milk and milk together until its little thinned in consistency.
2. Add grated carrot. Stir the contents well.
3. Cook for about 15-20 minutes.
4. Fry some nuts and raisins, also some cardamom powder.Add to the halwa for nice flavor.
This is my entry to JFS:Dussehra event hosted by dear Vee of
Past,Present and Me
and also Viji's
RCI: Tamil Festivals
.
Off I am to lofty

Smokies

this weekend... see ya next week with loads of beautiful pictures and the adventures I did..:DD