'Vegetable Pot Pie' is a meal in itself. It becomes a beauty when its savory aroma tempts a hungry family to the table with all its luscious taste and flavors. I make this all the time; hence, I can assure this as a well-tested-successful recipe.
I added Paneer in my potpie instead of mozzarella/cheddar cheese which is optional of course if you are concerned about excessive calories.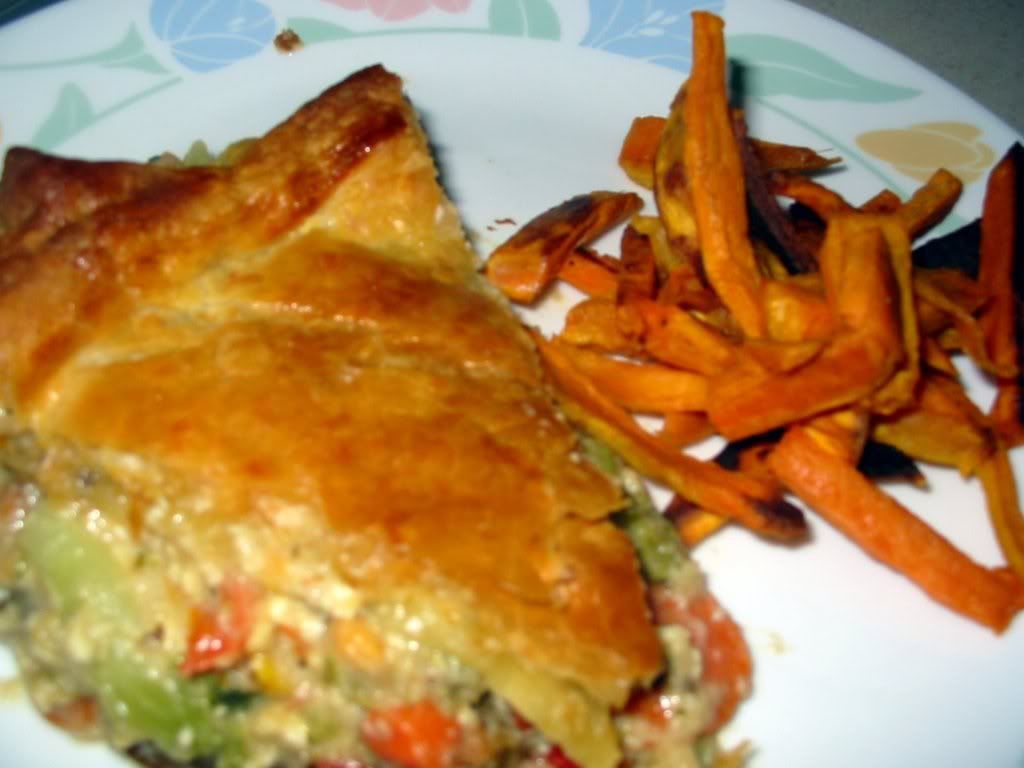 Preparation time: :20 minutes
Cook time: :20 minutes
Bake time: :45 minutes
Ingredients:
1. Eggplant - 1 small
2. Broccoli - 2 tbsp
3. Pastry Puff sheets - 1 sheet
4. Onions - 1
5. Red Capsicum - 1
6. Green Bell Pepper - 1
7. Sweet Potato - 1 ( or normal potato)
8. Carrots - 1
9. All purpose-flour - 2 tbsp
10. Milk - 1.5 cups
11. Paneer - 1/2 cup ( instead of Parmesan/Feta cheese)
12. Butter - 3 tbsp
13. Nuts - 2 tbsp
14. Egg - 1
15. Olive Oil - 2 tbsp
16. Salt & Pepper - to taste
17. Bay leaf - 1
How to make:
1. Heat some olive oil in a pan, add all the chopped vegetables one by one and cook properly. Season with salt and pepper.
2. I made a classic cream sauce (Rue sauce) for this pie. For that, melt some butter in a pan and add bay leaf. Now, add flour over medium high heat. Mix until the mixture looks like dough - "RUE". Slowly add milk stirring rapidly until the desired consistency. Finally add the nuts and cook for 2 mins and keep aside.
3. Beat the eggs in a bowl and add to the vegetable mixture over medium-low heat.
4. Now, add the rue sauce and mashed paneer to the vegetable mixture and cook for few minutes.
5. Brush the round pie dish with melted butter or oil and then spread the vegetable mixture evenly in it.
6. Cover the pie dish with the long strips of pastry puff sheets ( roll it with a belan if needed) and press the edges to seal.
7. Coat the top of pastry sheet with egg mixture for nice texture.
8. Cut out shapes from pastry top to allow steam to escape or simply punch small holes in the pastry sheet.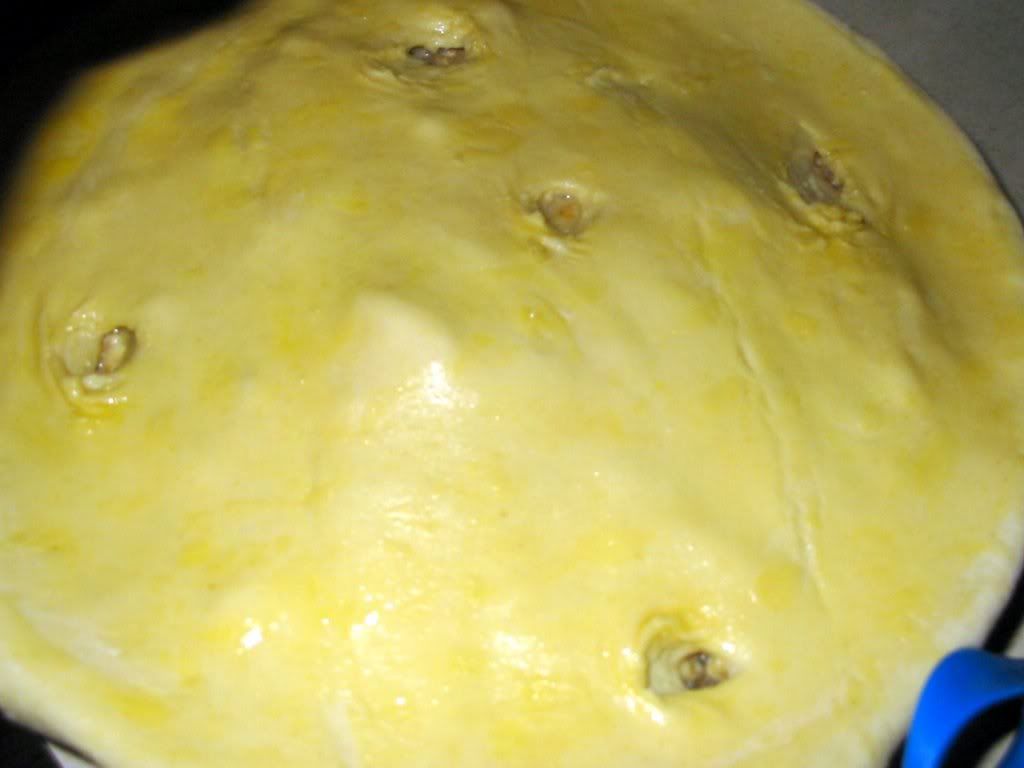 9. Bake for 35-40 mins or until the pastry is golden brown and puffed.
10. Cut into pizza like pieces and serves hot. I served with some baked sweet potato fries..:D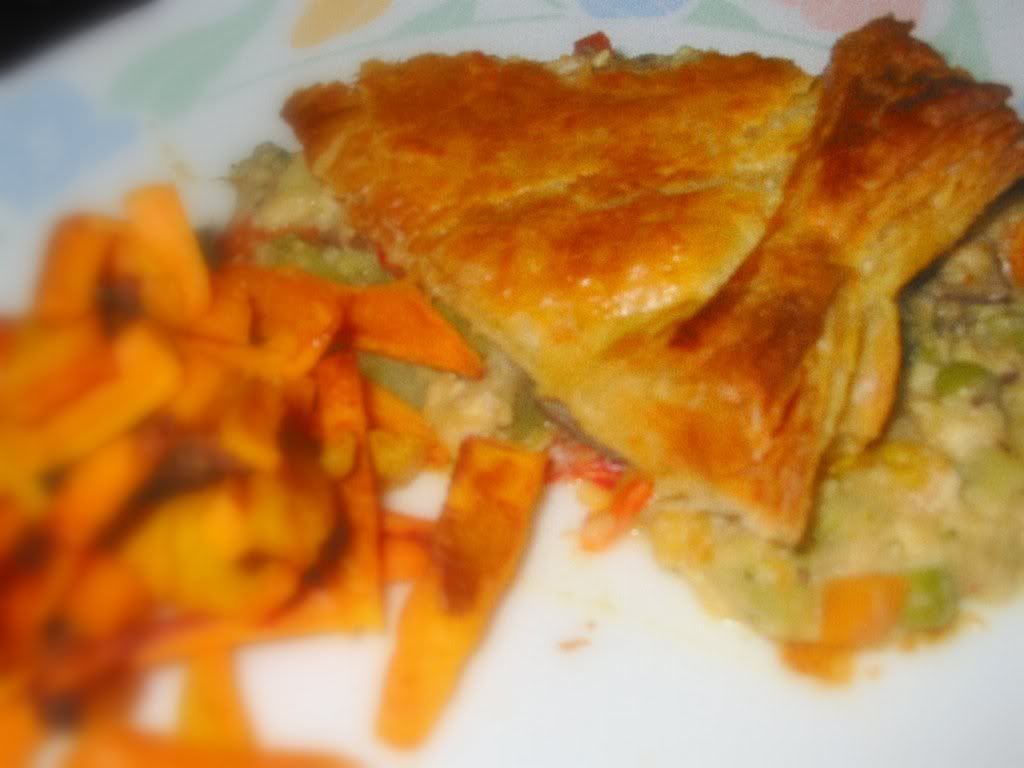 Spring, Summer or Winter - 'Vegetable PotPie' is a mouthwatering meal.. Enjoi..:D
October being a 'Vegetarian Awareness Month' - this is my entry to VAM event hosted by dear Coffee and Vanilla. For details of the event - Click here.
-
Shriya
UPDATE
: One can use Phyllo dough instead of pastry puff sheets, but remember to use a bunch of them (phyllo dough sheets) with a brush of butter between them..:)