Do you like desserts?.. I can hear most of you saying 'Yes Yes !!', so thought why not make some lovely, simple recipes for you all. and I am not a kind of a person
"
who will hang curd in a thin cloth, wait till all the water gets drained of....... then make Shrikhand
"...
I like things to be easy and fast.. and these are two such recipes.. Hope you all will like them..:D
Mango Jello
Ingredients:
Mango pulp 1 can
Sour cream 8 oz or 200 gms approx
Sugar (optional)
Unflavored Gelatin
1 packet
How to make:
1. In a pie pan, Pour 3/4th can of mango pulp, add sour cream and heat in MW for about 3 minutes. Add sugar if desired.
2. Take the remaining 1/4th of mango pulp in a bowl and add a packet of unflavored gelatin. Beat the contents well and make sure there are so lumps formed.
3. Mix both the contents well in the pie pan and refrigerate for about 45 mins.
This time may vary, so check it from time to time till it get a jelly type texture.
4. I drizzled some choclate syrup over it and garnished with some sour cream and choclate chips.
Shrikhand:
Traditional way: The yogurt is tied in a thin cloth and hung until all the water has drained off to get a thick and creamy yogurt. Add sugar, cardamom powder and saffron. If you mix 'mango' to Shrikhand, its called - "Amrakhand".
Ingredients:
Sourcream 16 oz
1 canned fruit/ fresh fruits
Confectionary Sugar - 1 cup ( adjust depending on our taste)
Elaichi powder
Saffron Strands - few
Nuts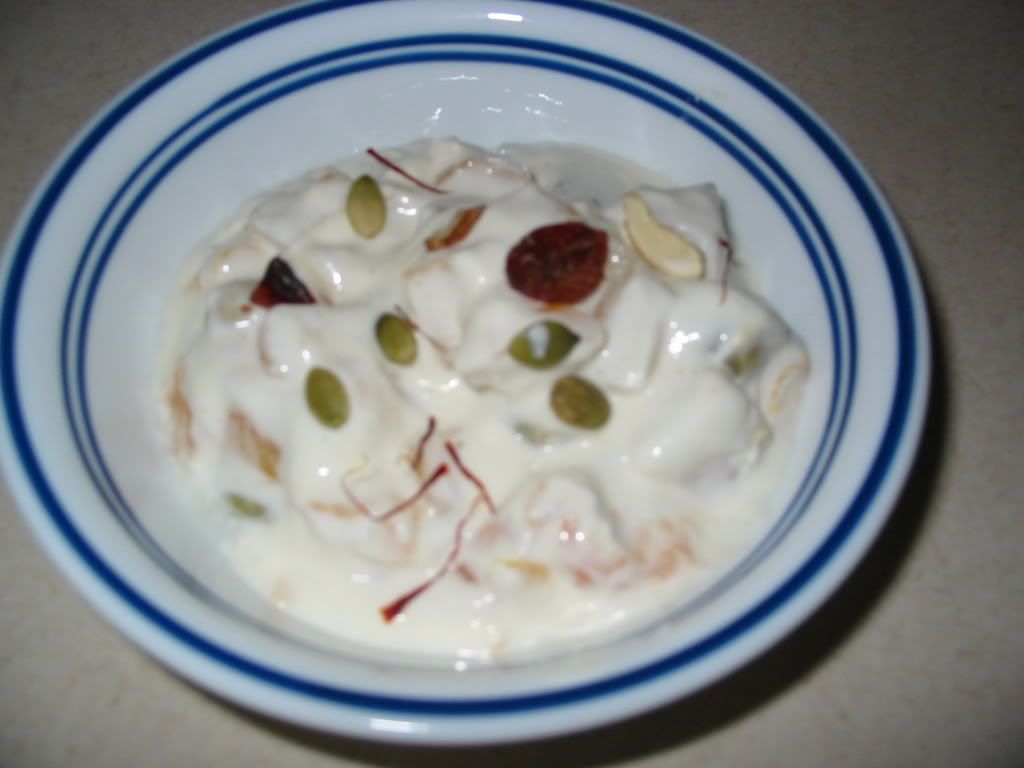 To make Shrikhand: Drain the canned fruits. Mix all the ingredients and garnish with nuts and saffron strands. Serve chilled..:D
Another view....