It is one such cold, chilly evening when my tummy wanted to have a big bowl of hot, simmering mixed vegetable curry for dinner, but with a twist of tomato. As you wish my 'aaka' (master) said my heart, and here it is - " Mixed Veggies dipped in Tomato Sauce".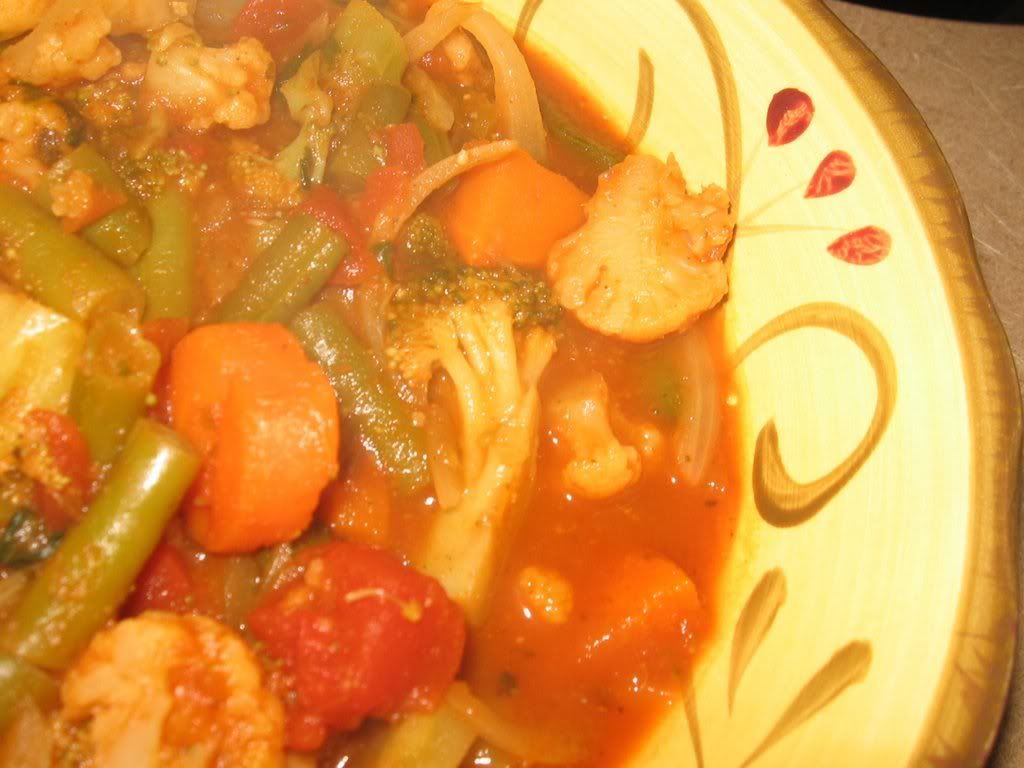 There is something very soothing and comforting about having a big heap of hot rice and a pot of creamy vegetable curry on a cold, chilly and gloomy winter night. Isn't it !!
and today I am in a mood of experimenting with some known flavors like veggies and spaghetti sauce. Wondering where this spaghetti sauce came from... hmmmmm.. thats the secret of the tomato sauce of my version of mixed veggie curry. Read on to find out how...!!
I promised Suganya of '
Tasty Palettes
' to make something exclusively for her '
Vegan Ventures
' event, November being a Vegan Month. Forwarding this recipe to you dear and will try to make more in coming days..:)
Ingredients:
1. Veggies whatever u can find - I used cauliflower, broccoli, carrots, beans, potato
2. 1 big Tomato (chopped)
3. 1 medium Onion ( finely chopped)
4. 1/2 cup spaghetti sauce ( or tomato puree will do !!)
5. Salt - to taste
6. 1/2 tbsp Chilli powder
7. 1 tbsp Oil
8. 1/2 tbsp Garam Masala ( for that Indian kick !!)
9. Water - if needed
How to make:
1.
HEAT
oil in a skillet, add finely chopped onion and fry until golden brown.
2.
ADD
tomatoes, par-boiled veggies and mix well. Cook for few minutes.
3.
POUR
a good amount of spagetti sauce over the veggies. Add salt, chilli powder, and garam masala one by one.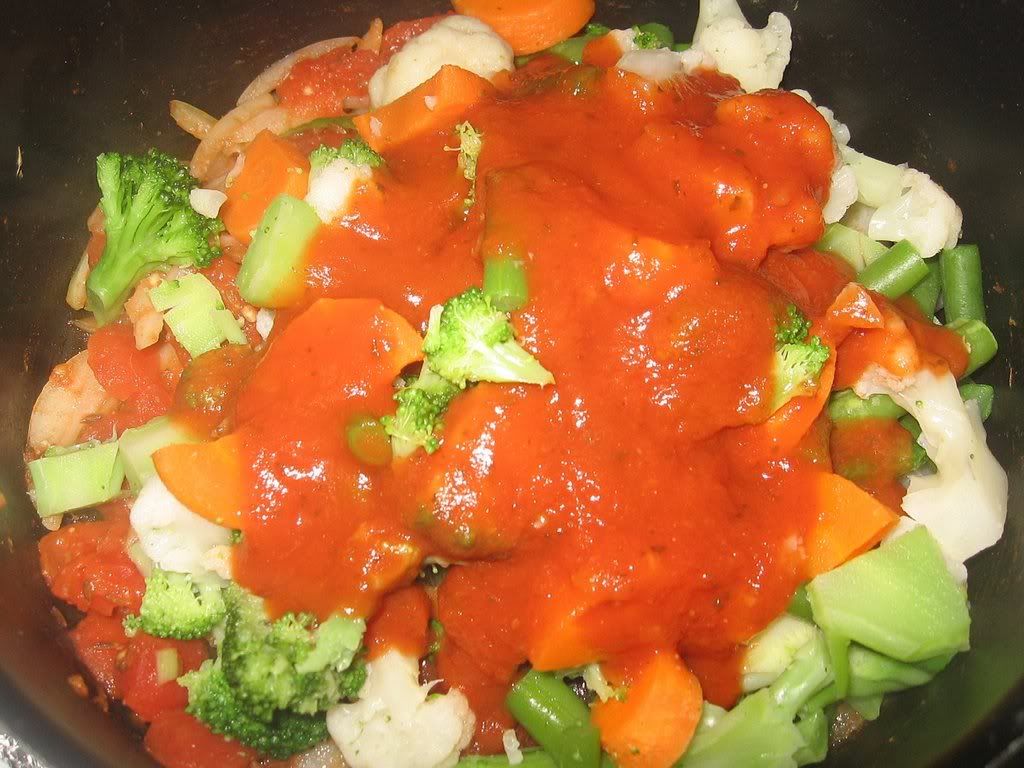 4.
MIX
the content well. Cook for 7 to 10 mins until the veggies are nicely dipped into the tomato sauce and soaked with its flavors...:)
5.
GARNISH
with coriander leaves or a big dollop of cream and ENJOI with hot rice or as it is..:DD
Another Look....
Also sending this to Sra's '
Grindless Gravies
' Event..:))
A Big Thank You for all you wonderful fellow bloggers who visited my blog often - as it crossed a 10,000 visitors mark with this post. Thank You dearies..:DD
-----------------------------------------------------------------------
In the news:
Hidden Music in Da Vinci's 'Last Supper'
Google casts a shadow over Firefox
Antique Fridge could keep Venus rover cool
-----------------------------------------------------------------------