....Rich in its historical traditions and ancient splendor, the culturally rich Bihar has derived its name from "Vihar". It was called the land of "Viharas" for its having a good number of recreational sites where people enjoyed activities in serene surroundings by the side of ponds and lakes. Endowed with a rich cultural and religious heritage, Bihar was a seat of power of the vast and powerful Magadh Empire, whose might had checked further onslaught of Alexander the Great. Bihar was cradle of civilization and nerve centre of religious activities of Hindu, Boudh, Jain, Sikh and Islam....
Bihari cuisine is predominantly vegetarian with bhaats, dals, subzis, chokhas and tarkaris. So, for Sangeeta's
RCI: Bihar
event, I managed to whip up couple of recipes from a typical Bihari Cuisine -
Besan (Gatte) ki Sabzi, Tadka Dal and Cabbage Raita
. This was my second attempt to make Gattes - which I am happy to say came out delish and yummy! Phew!!
All these three recipes were made at different times, So here is a virtual Bihari Thali for all of u ...:))
Besan (Gatte) ki Sabzi
-----------------------------------
Adapted from:
here
Ingredients:
For gattes:
1 cup Besan (Chickpea flour)
Salt
1 tbsp Red Chilli powder
2 Green Chillies
1 tbsp Coriander powder
For Gravy:
1 chopped Tomato
1 medium Onion chopped
Salt - to taste
1 tbsp RedChilli powder
3 tbsp Yogurt
1 tbsp Cumin seeds
1 tbsp Mustard seeds
2 Red Chillies
1/2 tbsp Ginger Garlic paste
2 tbsp Vegetable Oil
a pinch of Asafoetida
few Curry leaves
Water
Preparation:
1. Mix besan, chopped green chillies, salt, red chili powder, oil with some water.
2. Make kabab shaped gattes out of the besan dough.
3. Put them into boiling water and boil for 10 minutes.
4. Take them out the water and cut the besan rounds into small pieces. Keep aside.
5. Now, to prepare the gravy, heat oil in a skillet and then add cumin, mustard seeds with a pinch of Asafoetida. Then add ginger garlic paste with onions, tomatoes, salt, turmeric, curry leaves, red chilli powder and garam masala. Add water if needed. Cook for couple of minutes.
6. Add yogurt and stir the contents well.
7. Finally, put the gattes to the gravy. Slow cook for about 10 minutes.
8. Serve hot with rice or roti.
Tadka Daal
---------------
To make Tadka Daal:
Cook 1 cup of Toor dal. In a skillet, heat some oil, add urad dal, mustard, cumin seeds, hing with few red chillies. Add garlic and curry leaves. Finally add the cooked toor dal and season with salt, turmeric and red chilli powder. This simple dal is such an awesome comfort food in these long, chilly nights. Isn't it!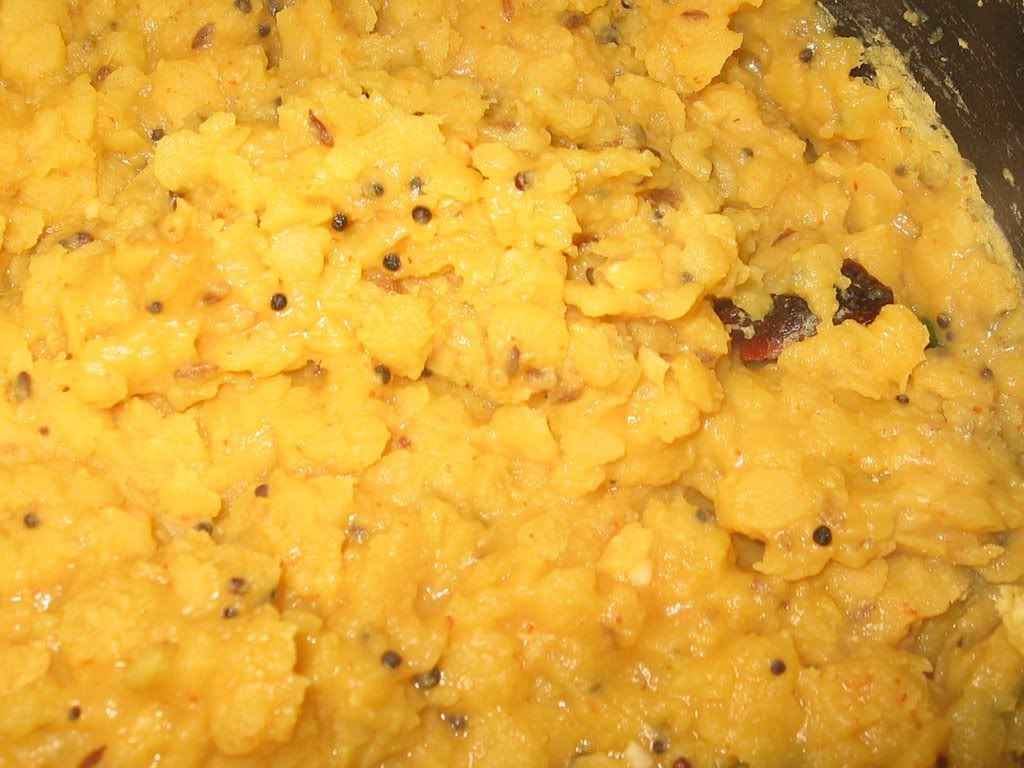 Cabbage Raita
-------------------
Cabbage Raita is one of our favorites, especially when we are bored of having plain yogurt. One can substitute
Snake Gourd
instead of cabbage.
To make this simple raita: Microwave 2 cups cut cabbage with little water for about 7 minutes until its not completely mushy. Add 1 cup yougurt and a normal tadka (oil + mustard seeds + urad + cumin + curry leaves + green chillies ) to it. Mix the contents well. Thats it, a simple yet yummy cabbage raita is ready to serve.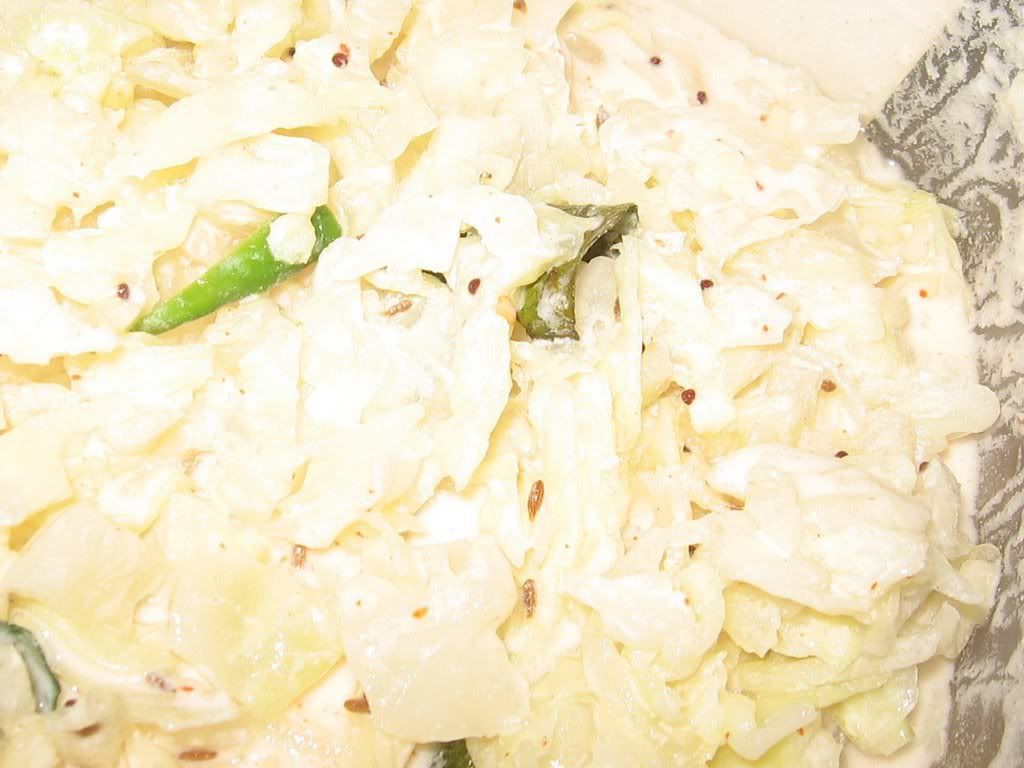 Hope you all enjoied these recipes. Take care and Have a great weekend!
Technorati Tags: