With so many events happening in the blogosphere right now, it so difficult to catch up with them. Sometimes, I decide upon a XYZ recipe for PQR event, and then I totally forget about the deadline...Phew!!
But, I make sure to submit atleast one entry to Sri's
MEC event
, as its so much fun to play around with what can be made with our own everyday Microwave. and ever since she started her
MEC event
, I am making an optimum use of my MW (unlike just reheating stuff..;) ). Thanks to
her
!!
What if, one fine day we are out of gas, and we have only MW to save our day!!
I made this tamatar chutney couple of hours ago with just 3 tomatoes as a pilot recipe, curious to know how does it taste with panchporan.
Guess what, 'S' and I liked it so much that we are planning to make a potful of this chutney with a big batch of big, ripe tomatoes this weekend! ..:))
We just loved the twist of panchporan powder...:)
So, here is the simple recipe of my 'Bengali Tomato Chutney' as my entry to Sri's
MEC: Sidedish
event!

Ingredients:
3 chopped tomatoes
1/2 tbsp chopped garlic
Salt to taste
1 tbsp Panchporan powder
1/2 tbsp Turmeric
1/2 tbsp Red Chilly powder
2 tbsp Oil
2 Red Chillies
1/2 tbsp Cumin seeds
1/2 tbsp Mustard seeds
a pinch of asafoetida
few Coriander leaves
How to make:
1. In a MW safe bowl, take some oil, garlic, Cumin seeds, mustard seeds, red chillies and asafoetida. MW for about 2 to 3 mins.
2. Then add chopped tomatoes. MW for about 7 mins untill tender.
3. Mash the cooked tomatoes with an eggbeater and season with salt, turmeric, red chilli powder and panchporan powder. Mix the contents well. MW it for about 5 to 6 mins.
4. Garnish with coriander leaves. I ate this chutney with hot rice and ghee. Amazing taste I must say!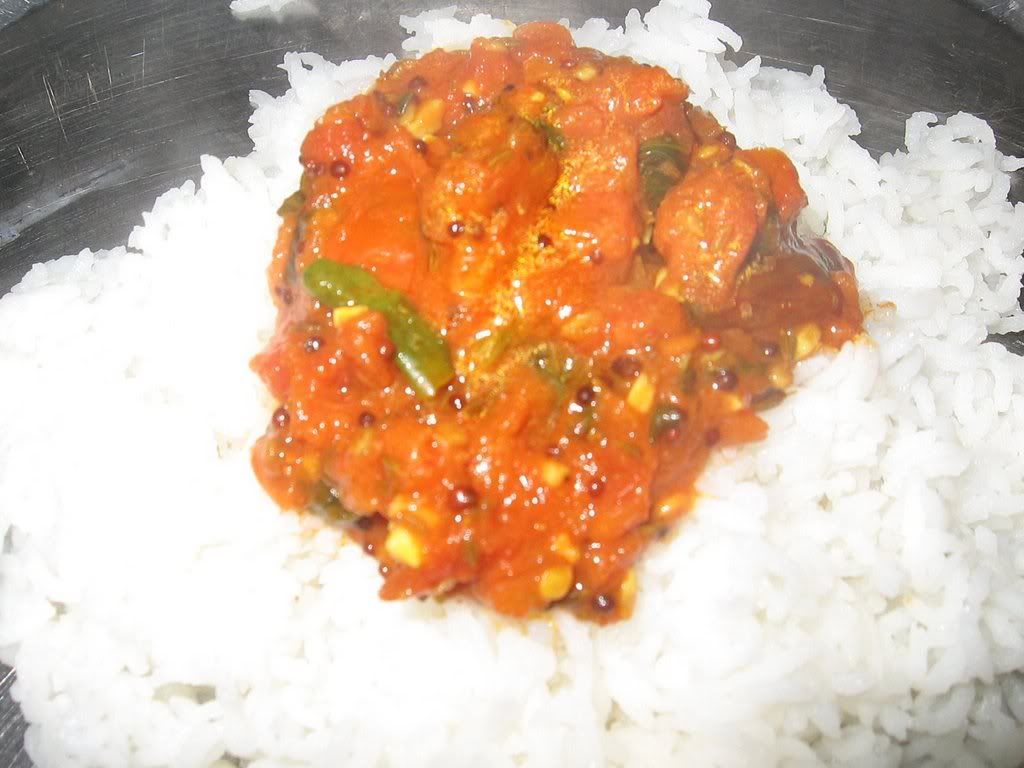 Enjoii!!
~ Siri
Technorati Tags: