November 14th is observed as 'World Diabetes Day' by International Diabetes Federation (IDF) - to raise awareness about diabetes and its complications around the world. Over 240 million people are suffering from diabetes worldwide and IDF predicts that in 20 years the number will be 380 million. Early education about type 1 and type 2 diabetes helps in reducing the risk of millions of lives. Now, Its time to make a difference !!
...The theme of this year's '
World Diabetes Day
' campaign is Diabetes in Children and Adolescents. Diabetes is one of the most common chronic diseases of childhood. It can strike children at any age, including pre-school children and even toddlers. Yet diabetes in children is often diagnosed late, when the child has diabetic ketoacidosis (DKA), or it is misdiagnosed completely. In many parts of the world, insulin, the main life-saving medication that children with diabetes need to survive, is not available (or is available but remains inaccessible for reasons of economy, geography or constraints on supply). As a consequence, many children die of diabetes, particularly in low and middle-income countries. Those closest to the child - family, school staff, family doctor - may not be aware of the ominous signs. The World Diabetes Day 2007 and 2008 campaigns set out to challenge this and firmly establish the message that 'no child should die of diabetes'....
- A message from International Diabetes Federation (IDF)
Now, the question is "What can I eat if I am diagnosed of Diabetes?". The answer according to American Diabetic Association - " Eat anything you like, as long as the blood glucose is under control and you fit in into your daily meal plan with some regular exercise !!". :)
I made few such yummy recipes (with respective nutritional values and diabetic exchanges) which can be included in your everyday meal. and with some careful planning, "All food can fit into yours.."..:)))
Vegetable Pilau served with Curried Idaho Potatoes
Vegetable Pilau
--------------------
Ingredients:
1 cup Long grain rice (uncooked)
1 Onion (finely chopped)
1 Green Bell Pepper ( We can also add Red/Yellow Pepper to make it more colorful)
1 Tomato (finely chopped)
2 Green Chillies
1 tbsp Cumin seeds
1/2 tbsp Chilli powder
Salt - to taste
1/2 tbsp Biryani Pulao Masala/Garam Masala
1 tbsp Vegetable Oil
1/4 tbsp Cayenne Pepper
Water - to cook rice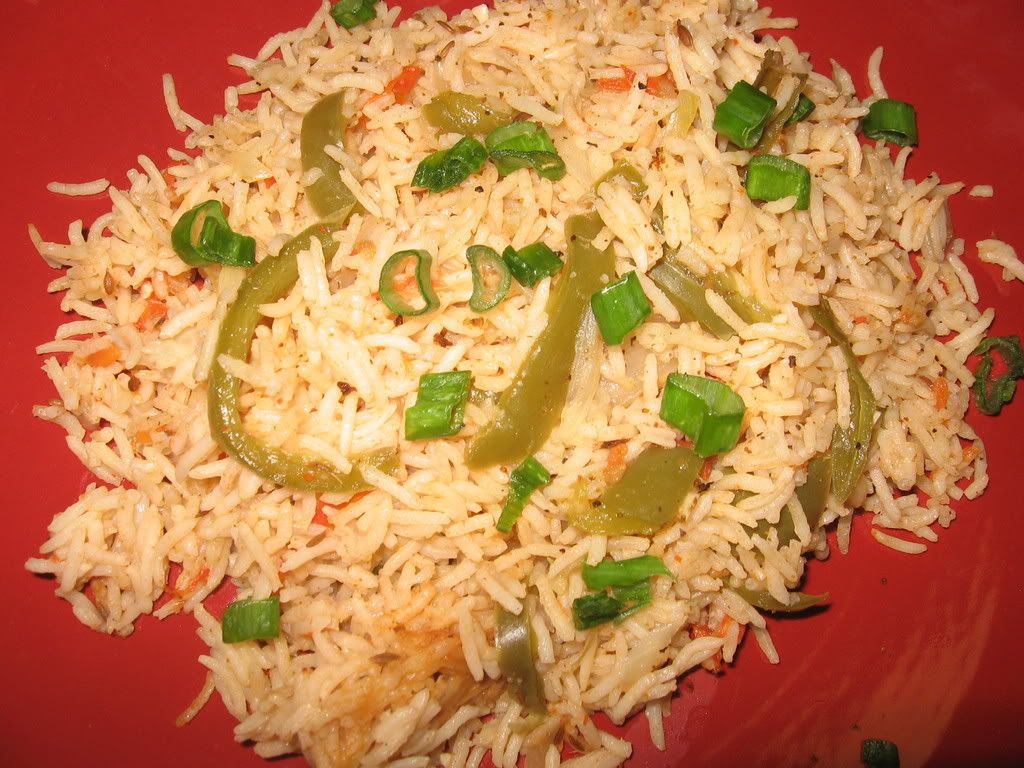 Preparation:
In a large skillet, heat some oil, add onion and. Sauté for few minutes, or until onion is golden brown. Now, add remaining ingredients except rice, Mix well and cook for 5 minute. Then, finally add rice. Cover and simmer until rice is properly cooked. I garnished it with some spring onions. Enjoii !!
Nutritional Values: Per Serving:
200 Cal
2g Fat, 39g Carb
3g Fiber, 284mg Sodium
0mg Cholesterol, 4g Protein

Diabetic Exchanges:
2 Bread
2-1/2 Vegetable
1/2 Fat.
Curry Roasted Idaho Potato Wedges
---------------------------------------------------
Ingredients:
2 Large Idaho Potatoes ( or any baking variety)
1 tbsp Oil
1 tbsp Curry powder
Salt & Pepper
1/4 tbsp turmeric
Preparation:
Preheat Oven to 450F. In a bowl, take all the ingredients listed below except potatoes and mix well. Cut the potatoes into wedges (with skin if desired). Marinate them with the mixture of curry powder and keep aside for few minutes. Take a baking tray and spray some PAM (or apply some oil) at the bottom. Arrange these potato wedges and bake for 1 hour or until they turn golden brown and crisp; Switching trays (moving lower tray to upper position) after every 30 minutes. Serve hot.
Nutritional Values:
261 calories, 7 g fat, 0 mg cholesterol, 122 mg sodium, 4 g protein, 47 g carbohydrates
----------------------------------------------------------------------------------------------
November 14th is also Chacha Nehru's Birthday which is celebrated as '
Children's Day
' back in India as a tribute to his immense love for children.
Wishing All my readers a very Happy Children's Day..:))
Wanna donate some Rice grains to needy people on this day:
Then play a simple vocabulary game and donate 10 grains of rice for every correct word at
FreeRice.com
. Thanks to
Sheela
, as I came to know about freerice through her blog.