When Linda of Out of the Garden announced her JFI: Toor Dal event, I thought of making something which I never made before.
Toor Dal, being a staple food in our household is used mainly in various dals, sambhar or rasam. But, I never made a gravy-type-curry out of Toor dal.
'
Dal Dhokadi
' is basically a vegetarian Gujarati dish made out of toor dal and rotis. Yes, Rotis cut into small pieces and dipped into the gravy of toor dal. Interesting huh!. Here is my version of a tried, tested and tasted Dal Dhokadi.
Ingredients:
150 grams Toor Dal,
100 grams wheat flour,
3 green chilies
1 medium chopped Onion
50 grams Groundnuts
25 grams Cashewnuts
1 tbsp. Turmeric powder
1 tbsp. Mustard seeds
2 chopped Tomatoes
1 tbsp. Tamarind
Salt - to taste
1 tbsp Garam masala,
1/2 tbsp Cumin seeds
2 tbsp Butter/Ghee
2 tbsp Red chili powder
a pinch of Asafetida
Water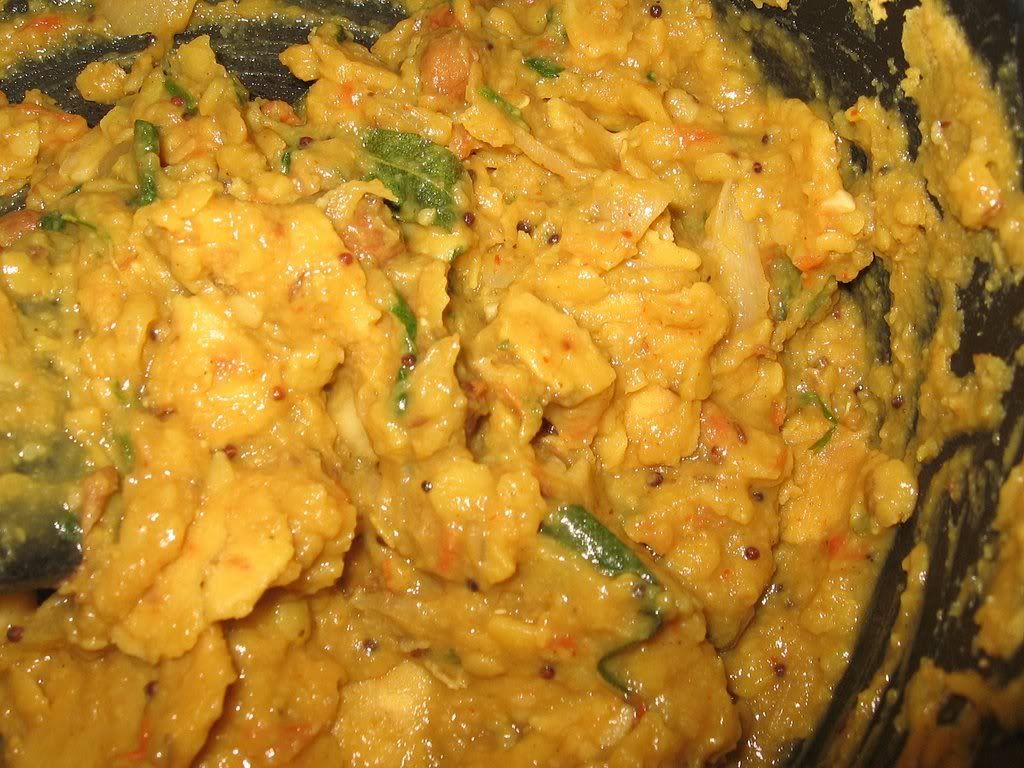 Preparation:
1. Knead wheat flour, salt, turmeric , red chilli powder and oil into roti like consistency with little water. Make rotis and cut into small pieces.
2. Wash toor dal and pressure cook for 2 whistles with two drops of oil.
3. Heat butter in a skillet and add mustard seeds, cumin seeds, chopped onion, curry leaves, green chillies and Asafetida. Cook until onion turn golden brown.
4. Now, add tomatoes, toor dal, tamarind pulp, turmeric, salt, groundnuts, cashewnuts , garam masala with 2 cups of water. Mix the contents well and Cook for few minutes.
5. Finally, add roti pieces and cook for 5 to 6 minutes.
6. Serve with hot rice.
This simple curry tasted divine and surprised me with its exceptional flavor.
Technorati Tags: