Being a working mom is not that easy, especially when you have two kids to take care of. My mom did it! Every single day she managed to cook up whatever we ask for..:)..
Nonetheless, there were those days when she used to feel extremely tired...and within minutes my mom wud make this yummy, tangy masoor dal which tastes no less than heaven. Today, I came tired from office and had zero patience to cook an elaborate meal, so thought to give my mom's simple dal a try!
Verdict:

Its a simple yet one of yummiest dals I ever had..:D

Miss you mommy..:(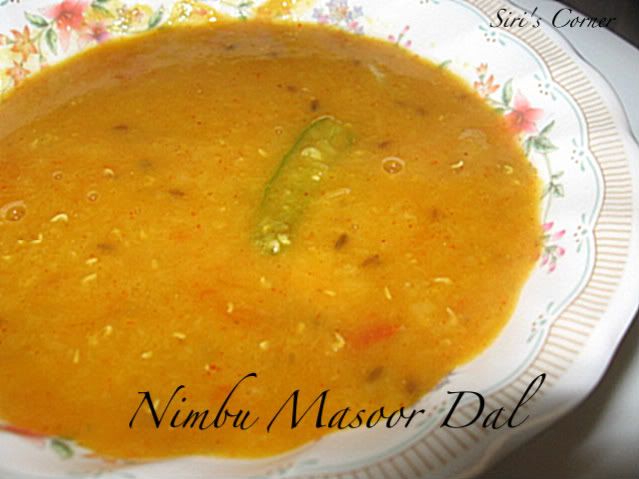 Nimbu Masoor Dal
Ingredients:
1 cup Masoor dal (split)
2-3 tbsp Lime juice
1 Tomato, whole
1/2 medium Onion, chopped
2 Green Chillies
1/2 tsp Chilli powder
Salt to taste
1/8 tsp Turmeric
1 tsp Cumin seeds
1 clove Garlic, minced
2 tsp Butter (or) Oil
Preparation:
Step 1: Give masoor dal couple of washes, - the water must turn clear. Transfer the dal into a pressure cooker with 2. cups of water and a whole tomato until two whistles. Let it cool.
Step 2: Melt butter in a saucepan and saute cumin seeds, chopped onions with garlic. Mash the whole tomato in a bowl and add the mixture with cooked dal. Cook for 3-4 minutes on medium-low heat.
Step 3: Add slit green chillies and season with salt, turmeric and chilli powder. Turn off the heat and finally add the lime juice. Mix the contents well and Serve with hot rice or roti.
Off this goes to deat

Sra's
My Legume Love Affair: Fourth Helping
event, a brainchild of lovely
Susan
.
Enjoi..:)
Cheers,
Siri