As promised in my previous post, this is what I made yesterday as a part of my Sunday brunch! I got to know about these -

Garlic Home Fries

at my friends birthday party. They tasted sinfully tasty and were an instant hit!
...I have never used 'dried parsley' before and its a bit stronger than the fresh one. Nevertheless, the aroma of these was simply yummy and will make this again for sure!
Off this goes to
WYF: Party Food
hosted by lovely

EC

of
Simple Indian Food
.
Here is the recipe...
Garlic Home Fries topped with Cheese
Ingredients:
3 large Potatoes, sliced
1 tsp Olive oil, to drizzle
1/2 cup Mixed Cheese
For Garlic Sauce:
2 large Garlic cloves, finely mince
1/4 cup Olive Oil
1-2 tbsp Cornstarch
2 tsp dried Parsley, finely chopped
Lemon juice for taste
Salt
Water, if needed
Preparation:
Step 1: Preheat oven for 400 F. Place the sliced potatoes on a baking sheet and evenly drizzle some olive oil over them. Bake for 20-22 minutes, until they soft and golden brown.
Step 2: In a small bowl, whisk in the ingredients listed for 'Garlic Sauce' and keep aside. Transfer the baked fries into a mixing bowl and stir in the garlic sauce. Set aside for 5 minutes, to blend in the flavors.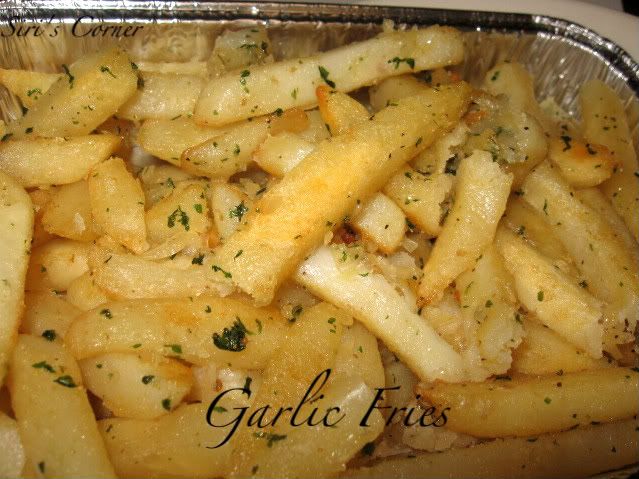 Step 3: Now, in a small baking dish, spread a layer of garlic fries and top with some mixed cheese. Bake until the cheese melts.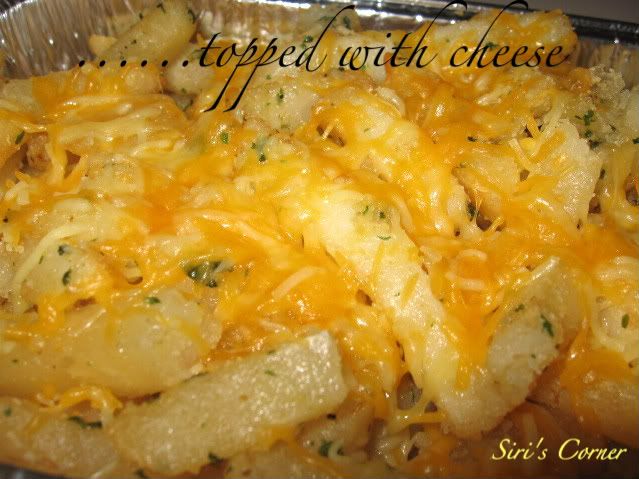 Serve hot!
Enjoi!
signing off for now,
Siri