Origin of Cookies:
"
Early English and Dutch immigrants first introduced the cookie to America in the 1600s. While the English primarily referred to cookies as small cakes, seed biscuits, or tea cakes, or by specific names, such as jumbal or macaroon, the Dutch called the koekjes, a diminutive of koek (cake)...Etymologists note that by the early 1700s, koekje had been Anglicized into "

cookie

" or "

cookey

," and the word clearly had become part of the American vernacular. Following the American Revolution, people from other parts of the country became familiar with the cookie when visiting New York City, the nation's first capitol, a factor that resulted in widespread use of the term...During the seventeeth, eighteenth, and nineteenth centuries most cookies were made in home kitchens. They were baked as special treats because the cost of sweeteners and the amount of time and labor required for preparation. The most popular of these early cookies still retain their prize status. Recipes for jumbles, a spiced butter cookie, and for macaroons, based on beaten egg whites and almonds, were common in the earliest American cookbooks...Because it was relatively inexpensive and easy to make, gingergbread was one of the most popular early cookies...As kitchen technology improved in the early 1900s, most notably in the ability to regulate oven temperature, America's repertoire of cookie recipes grew.
"
---
Oxford Encyclopedia of Food and Drink in America, Andrew F. Smith editor [Oxford University Press:New York] 2004, Volume 1 (p. 317-8)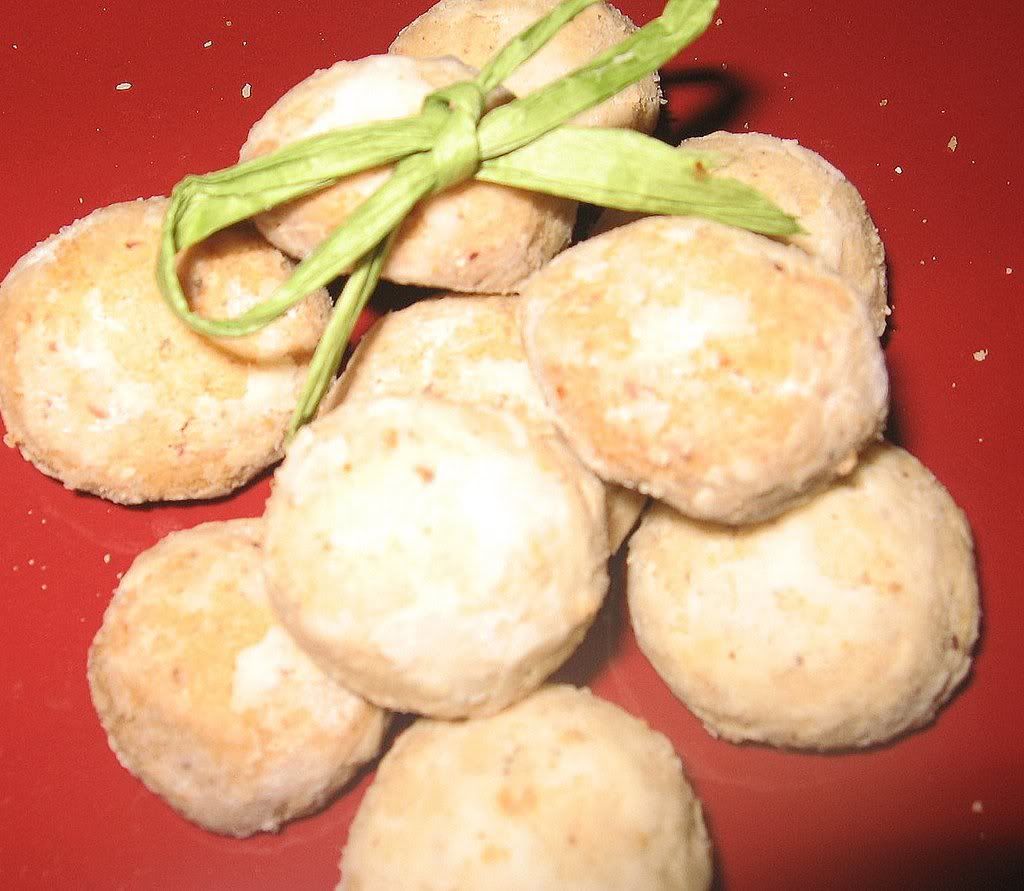 I made these tweeny yet yummy Mexican Wedding Cookies couple of days for 'S' birthday. These cookies are adapted from
Martha Stewart's Baking Handbook
.
Serving: 12 cookies
Ingredients:
1 cup Pecan halves
2 cups Confectioners sugar
2 cups All purpose flour
1/4 tbsp salt
2 sticks(1 cup)unsalted butter (room temperature)
1 tbsp pure vanilla extract
1/2 tsp almond extract
How to make:
Preheat the oven to 350F w/racks in the upper and lower thirds. Line 2 large baking sheets with parchment paper. Set aside.
In a food processor combine pecans with 1/4 cups sugar. Pulse nuts until they are finely ground. In a bowl, whisk together sugar-nut mixture, flour and salt. Set aside.
Beat the butter and 3/4 cup sugar using an electric mixer with paddle attachment on medium speed until light and fluffly for few minutes, scraping down the sides. Beat in vanilla and almond extracts.
Add the flour mixture and beat on low speed until the dought just comes together.
Roll dough into 3/4 inch balls. Place about 2 inches apart on the baking sheets.
Bake, rotating halfway through , until cookies are pale and lightly browned.
Lift with a spatula to check after 10 to 12 minutes.
Transfer the cookies to a wire rack to cool completely.
Place remaining 1 cup sugar and roll cookies to coat the cookie completely.Cookies can be kept in an airtight container and can be eaten for days... Yumm-O!!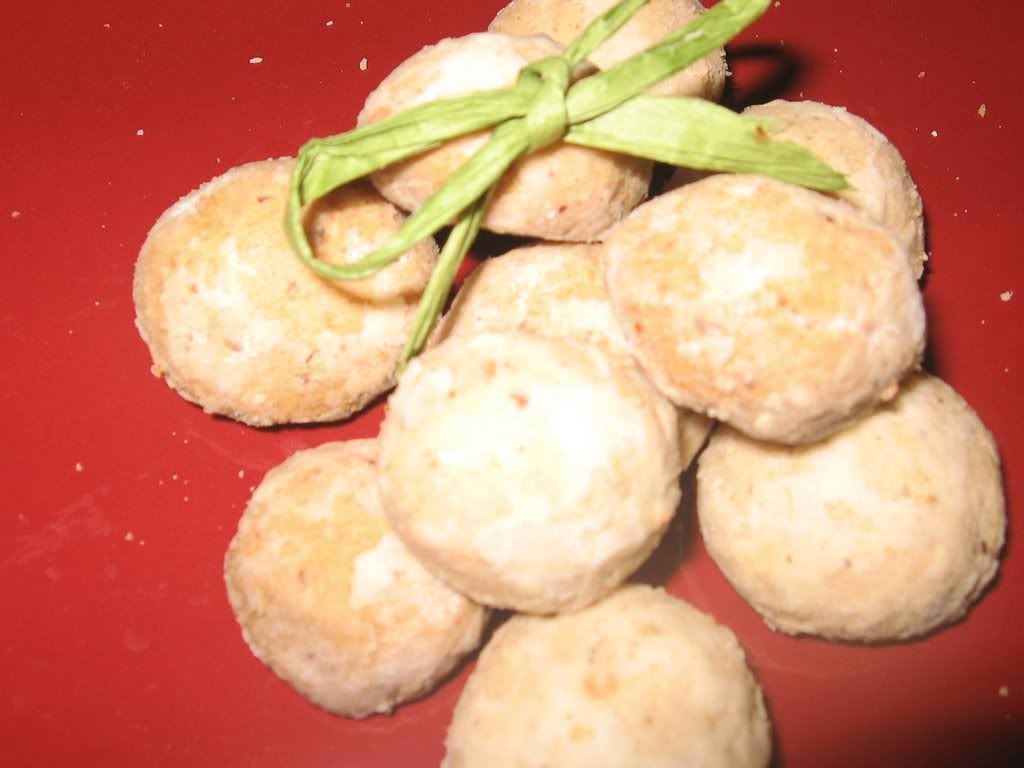 These cookies are so soft that they just melt in your mouth!!
I am bringing along these cookies to Peabody's Housewarming Party..:))
Enjoii!!
Also, part of these go to Cate's
ARF Tuesday
# 100th week.. Congratulations dear!..:)
~
Shriya
[
UPDATED on December 15th 2010
]: This post was though written by me, the cookies were made by my lovely sister-in-law
Shri
who blogs now as '
Tasty Touch
'.
Check out her blog
for more such tasty holiday goodies. She is an excellent baker, I must say!
Technorati Tags: