Its time for me to reveal the recipe for 'Guess Who am I' post...:) here it is...
Sometimes,

'things that ought to be!'

are not actually

'things that turn out to be!'

. and this recipe is one such perfect example. On a lazy sunday evening, I was all set to make some yummy

'Cabage Kofta Curry'

. Unfortunately, that didn't happen as I chopped the cabbage a bit coarsely and I couldn't form a perfect ball out of it for deep frying.:(..So, I made these cutlets instead and Oh boy! I was not at all disappointed. I loved the crunchiness of cabbage with a perfectly cooked layer of egg.. Yumm!!!
Ingredients:
1/2 Cabbage, finely chopped
1 carrot, grated
3-4 tbsp Chickpea flour
Salt to taste
1 tsp Red Chilli powder
1/4 tsp Turmeric
1/2 tsp Garam Masala
2-3 eggs, well beaten
Preparation:
1. In a bowl, mix all the above mentioned ingredients, except eggs. Keep aside for 5-10 minutes.
2. Meanwhile, heat a pan, drizzle some oil. Make a patty-shaped cabbage mixture and dip it in the beaten egg. Shallow fry it, both sides on medium-low heat for 2-3 minutes each.
3. Serve hot with ketchup.
-----------------------------------------------------------------------------------------------------------------
Now for some exciting news about

Open Sesame 2

:
Anjali Damerla
, a fellow entrepreneur of spice extracts (
www.Suprespice.com
) has agreed to sponsor two prizes* for the winners of OS 2.
In

Anjali's

words, about these goodies:
"All my products are pure, concentrated Spice Extracts. They contain no preservatives or chemicals and have long shelf life. My Spice extracts contain the volatile oil of the parent spice and a permitted emulsifier to keep it free flowing. That's it. No other ingredient.
You might ask - why use extracts instead of whole spice. Whole spices lose flavor and fragrance and do not have long shelf life. Extracts are free of any contamination, do not lose flavor, fragrance and lets you customize the spice according to individual taste."
.... and her spice extracts are definitely an answer for our everyday needs.
She further says:
"For example, say you feel like having masala tea but your husband wants ginger and your mother-in-law wants plain tea. You then just make one pot of tea and just add 1 drop of tea masala extract in your cup & ginger extract to your husband. Another advantage of my products is that all extracts are concentrated and 1 bottle contain abt 150 - 160 drops and that makes them very economical. For example- 1 drop of cardamom extract = 1 pod of cardamom. So my extract bottle is equivalent to 150 -160 pods of cardamom ( no peeling, no grinding and full of flavor)".
Wowy! thats sounds so cool!.. Isn't it!!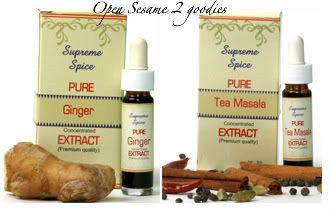 So, what are you waiting for? Check out
the entries of OS 2
and
vote for your favorite
!
All the best to participants of OS 2 and May the best one win!!
*shipping of spice extracts is restricted to US continent. winners from other parts of the world will receive a surprise gift from us!
Last but not the least, I have taken up this month's

NaBloPoMo challenge

!
Oh ya, that means you can see my post
in your Google Reader
, every single day of July . I am all set with some yummy recipes in my drafts.
Are you all set for the ride with me!!!
Cheers,
Siri