..the moment I came to know that
Jaya
has extended the deadline for her '
repost event
', I was all excited & ready to try my first recipe, ever posted on my blog '
the Vaangi Ulli Theeyal
'. Truth to be said, when I tried my hand the first time on this recipe, I was not impressed with the outcome. Yes, the taste was good & edible but there was no 'W.O.W' factor involved.
..I wanted to get that this time..so the next thing I did was - I researched and finally landed on
Sig's blog
- '
Eggplant Theeyal
'. and was truly impressed!...my motto was to get the 'brown sauce' she mentioned in her post.
...well the result is below -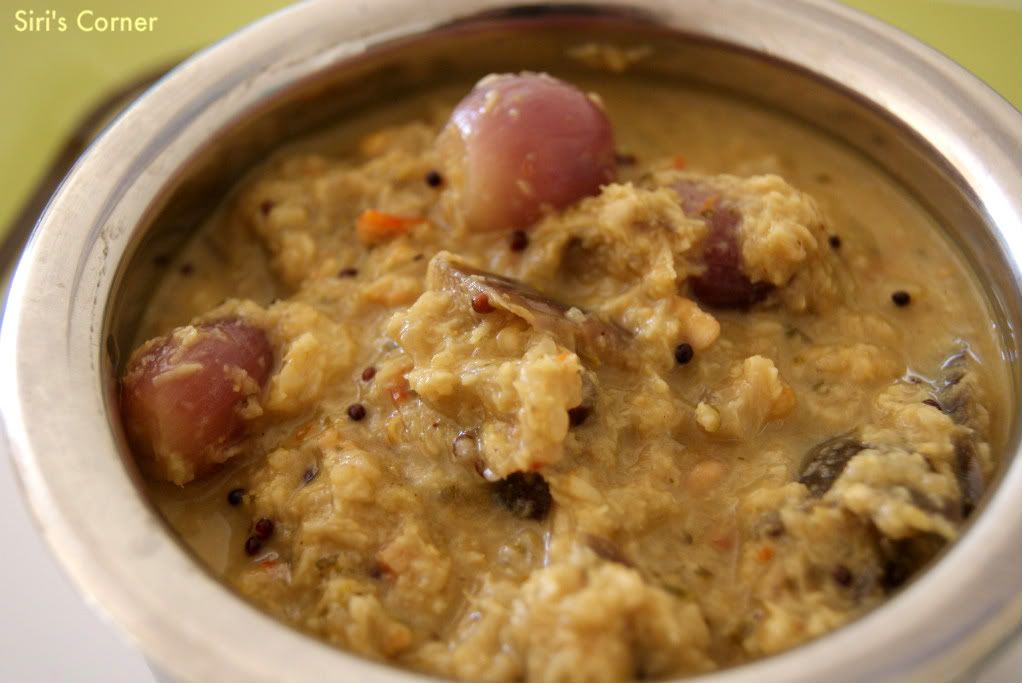 ..no brownness as expected becoz - I added too much of coconut! :(.. I love grated coconut in gravy-based dishes, so out of that habit, I added I guess a tad bit more than expected. I was too depressed to even blog about it but the verdict my roomies gave while their taste-testing was very encouraging. They loved it! C'mon who doesn't love coconut. :).. So, I am happy now..am gonna try this again, add 'right amount' of roasted coconut with spices & get the 'brown sauce' into it! :-).
..and as many of you all know, we had a very heavy spat of snow from past two days here in DC area. Normally I love snow but I hate anything 'too much of it'..:(.. All of us were literally stuck at home and thank goodness we did our errands on Friday itself!
..in such depressing times, our minds automatically trigger for some serious 'indulging & comforting food' and my roomie, P made one such dish. As per her, there was no particular name for this, so we came up with one - '
Fried Cauliflower
'. Paired with some simple Jeera rice & above Theeyal on the side, it was pure heaven! Thank you P for brightening our long, boring, snowy days with this awesome recipe. :)
P says - She was asked to make this dish for almost every potluck party until now and it is always gone in minutes!..After tasting this, I am not-at-all surprised by that! :-)
Hope you all have a wonderful week ahead!
Chao,