*Vegetable Biryani, Aloo Kurma, Tofu Kurma*
"
She is an innovator, an experimenter, a missionary in bringing the gospel of good, healthy cooking to the home table..
"..
*She* is none other than my dearest Mom, who is an awesome cook, ..for her cooking is not a grueling task..She does that with such ease that amazes me everytime and mind you, all of her dishes turn out delectable and yummy .
She, as a cook has a great fan following - me, my dad, all my uncles n aunts, her office colleagues, my dad's office colleagues, my friends.. Phew, the list goes on and on and on...
One day, (...when I was missing my mom terribly,) I got reminded of her "
Vegetable Biryani and Kurma
" so badly, that I actually asked her to send me her recipe and also a photograph if possible....:DD
...U all know 'How sweet mothers are..!".. She made these and sent them the following day.. So, here I am presenting my mom's
Vegetable Biryani and Aloo Kurma
(drumroll please....)and this is my way to keep safe her recipe on my blog for ever. Love U Mom.. U Rock!
I still have to try this out in my kitchen, which I am planning to do this weekend.. (*fingers crossed*)...:)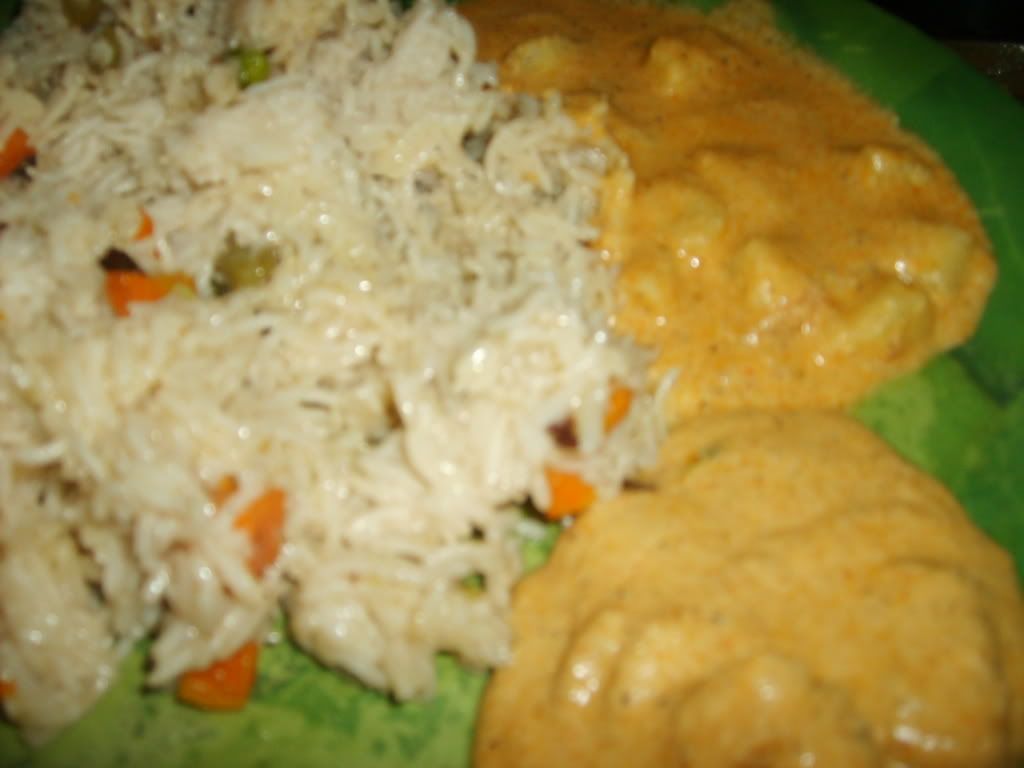 Vegetable Biryani
-----------------------
Ingredients:
Basmati Rice 2 cups
Chopped Onion 1/2 cup
Mint leaves - few
Chopped Carrot, Beans, Green Peas 1 cup
Ginger Garlic Paste - 1 tbsp
Biryani Masala - 1 tbsp
Oil - 4/5 tbsp
Water - 3.5 cups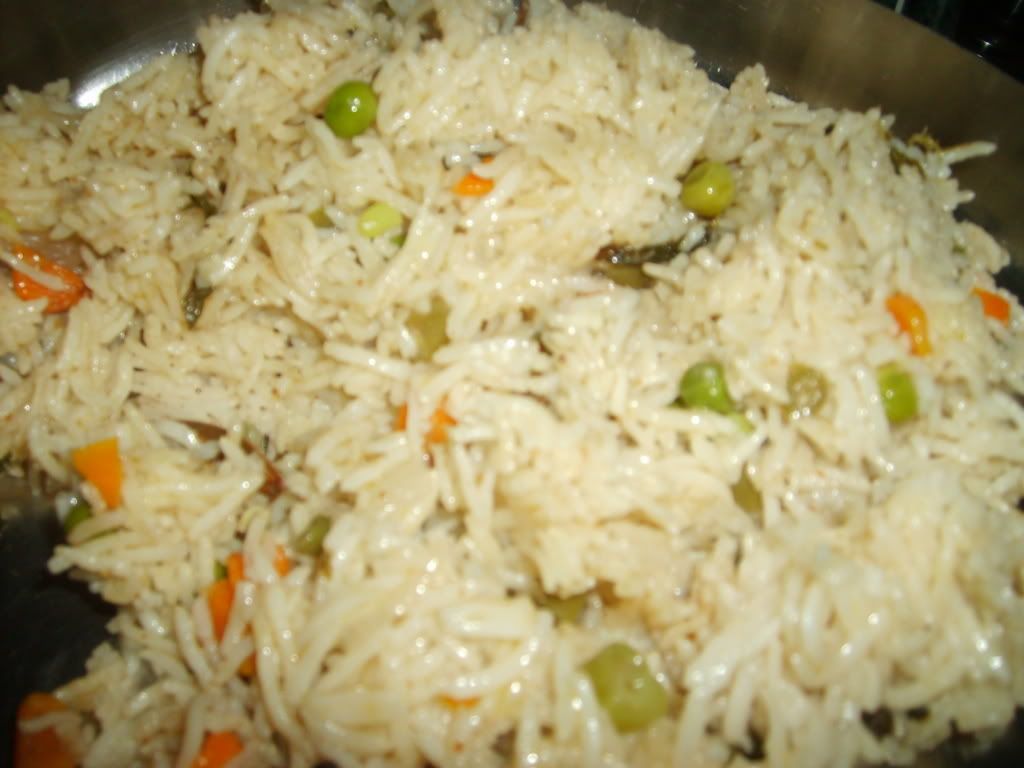 *Vegetable Biryani*
Preparation:
1. In a flat bottomed pressure pan, heat oil, add Onion, mint leaves, Ginger Garlic paste and fry these for 2 mins.
2. Now, add in biryani masala, vegetables; Cook these for 2 mins.
3. Season with salt, add rice and cook for a minute.
4. Finally add the water and cook until 3 whistles.
5. Serve hot with any spicy kurma and raita.
Now, coming to Kurma, my mum prepares a standard gravy for almost all Kurmas and adds in choice of vegetables like Potato (or) Brinjal (or) Cauliflower (or) Tofu.. etc etc.
Here is the
recipe for the Gravy
and then halved to make Aloo Kurma and Tofu Kurma as in the photograph!..:DD
Ingredients:
Fresh Coconut - 1 cup
Roasted Sesame seeds (Telugu: Nuvvulu) - 2 tbsp
Onions - 3 tbsp ( or 2 medium ones)
Peanuts - 1 tbsp
Roasted Yellow Bengal Gram (Telugu: Putnala Pappu) - 1 tbsp
Tamarind taste - 1 spoon
Oil - 2 tbsp
Garam Masala - 1 tbsp
Ginger Garlic paste - 3/4 tbsp
Salt - to taste
Red Chilli powder - 1 tbsp
Turmeric - 1/2 tbsp
Yogurt - 1 tbsp (optional)
Preparation:
1. Take a tbsp of oil in a pan, on a low flame add in sesame seeds, 3/4 of onions, peanuts, yellow bengal gram, ginger garlic paste and fry these for a 2 mins.
2. Then add tamarind water and finally coconut. cook for a minute.
3. Grind these to a fine paste and keep aside.
4. In a wok, take left over onion, add in the ground masala and cook for couple of minutes. When the oil starts to separate, season with salt, turmeric, red chilli powder and garam masala.
5. Finally, add some yogurt and stir well.
6. You can in your choice of vegetable in Step 4.
7. Goes well with any biryani, naan or roti.
*Aloo (Potato) Kurma*
*Tofu Kurma*
Off this
Aloo kurma
goes to Sia's "
Ode to Potato
" event and also to Dhivi's "
The Potato Fe(a)st
" (Thanks to Dhivi for accepting my late entry way after deadline!...cho chweet of u!).
Hope you all enjoied my mom ka khaana as much as I did (.....cherished!.. Miss u Mom!)...:DD
[UPDATED 8/12/2010] - I am sending this as an entry to Alka's LYRO:Potato event.
- Siri