Green Tea
(scientific name: Camellia sinensis) is one such drink to which I am totally addicted to. I make this once a week and store in my refrigerator to drink in when ever I am bored to just water. And its numerous health benefits makes this addiction of mine even more worth while..:))
Research says that the Green tea has high amount of essential anti-oxidants that help to prevent atherosclerosis, particularly coronary artery disease. Also it lowers total cholesterol and raises HDL ("good") cholesterol. Moreover, this tea has such properties that lower the risk of various types of cancers like Bladder Cancer, Breast Cancer, Ovarian cancer etc.
...Surprised to know how much goodness can this simple tea can give us. Even I am , as I was not aware of these health benefits when I got ADDICTED to it..:DD. Now, that I know....'I am even more happy!!!'..:D
.. A usual green tea can be made even more flavorful by adding every day ingredients such as ginger, mint and lemon. Here is one such 'Lemony Green Tea' recipe which I am forwarding to Coffee's
JFI:Lime/Lemon event.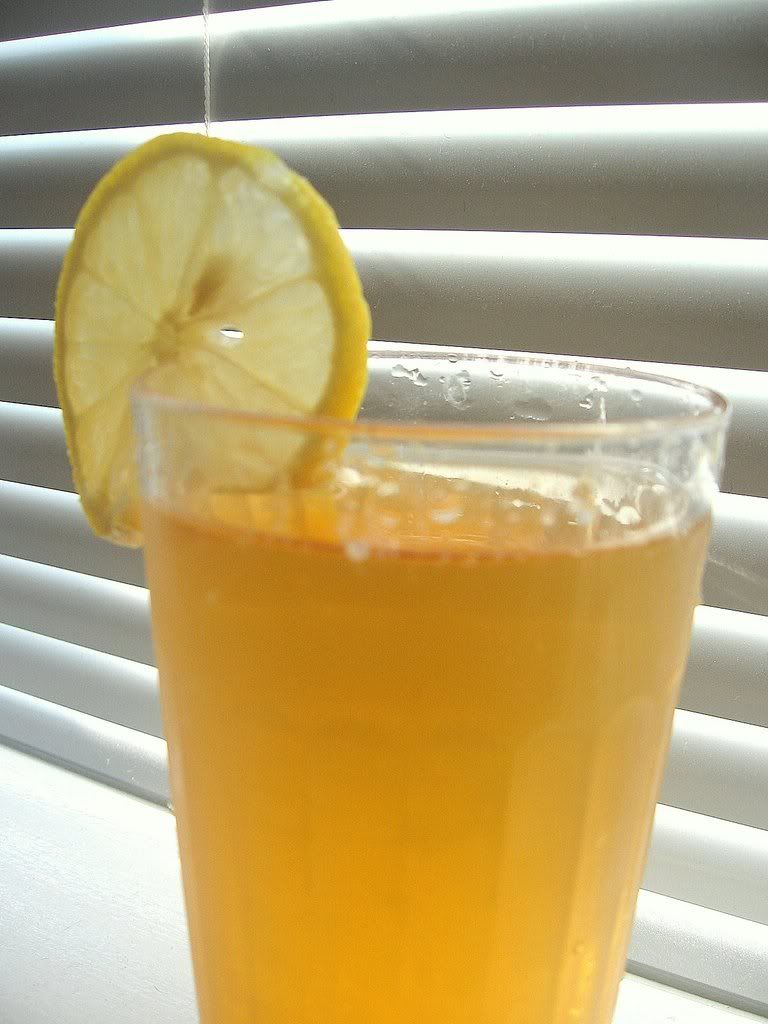 Adapted from
here
.
Serves: 6
You need:
6
Green Tea bags
3 ounces of Ginger - peeled and thinly grated
few Mint leaves. ( I am not big fan of Minty flavor, so used very few of them!)
1/2 cup Honey
2 tbsp Lemon juice
Water
How to make:
1. In a flat saucepan over high heat, combine the ginger and 6 cups of water and bring to a boil.
2. Remove from heat and add the mint and tea bags.
3. Cover and let steep for 15 minutes. Strain the liquid into a large pitcher.
4. Now, add the honey and lemon juice. Stir the contents well.
5. Chill in the refrigerator and Serve when desired.
Due to its anti-oxidant properties as mentioned earlier in the post, this also qualifies for Cate's
ARF:Tuesday
event!
~ Siri