Onion Chutney ( Telugu: Ullipaaya Chutney) is my entry to this month'
JFI:Onion
hosted by lovely Radhika of
Radhi's Kitchen
.
To be honest with you all, this is not my recipe. This chutney is one of the favorites of 'S', so he was very picky about the way it should be made. Atlast, I gave him the charge and he made this amazingly looking and tasting Onion Chutney.. Last time I ate, was made by mom couple of years ago. To my surprise, his version was completely different that of my mom's. Hence, all credit for this Onion chutney goes to 'S'. Drumroll please....:))
Ingredients:
Onions - 3 medium size
Red Chillies - 3 or 4
Oil - 1 tbsp
Tomatoes - 1
Green Chillies - 2 or 3
Fresh Coriander leaves - few
Curry Leaves - few
Urad Dal - 1 tbsp
Chana Dal - 1 tbsp
Cumin seeds - 1 tbsp
Salt - to taste
Turmeric - 1/4 tbsp
Peanuts - 2 tbsp
Water - 1/4 cup
P.S: No Mustard seeds as the above ingredients are to be ground to a fine paste, so mustard gives a bitter taste.
Preparation:
1. Heat oil in a wok, add Urad dal, Chana dal, Cumin seeds, Peanuts and Red Chillies. Roast for a while. Thenn add curry leaves and chopped Onion pieces. Cook for 2 or 3 minutes.
2. Then add chopped green chillies and tomatoes. Mix contents well and Cook for few minutes.
3. Add turmeric, salt and then grind the contents with fresh coriander and water till desired consistency. ( coarse or smooth paste).
4. This can be served as a side dish for any snack or also as a yummy spread.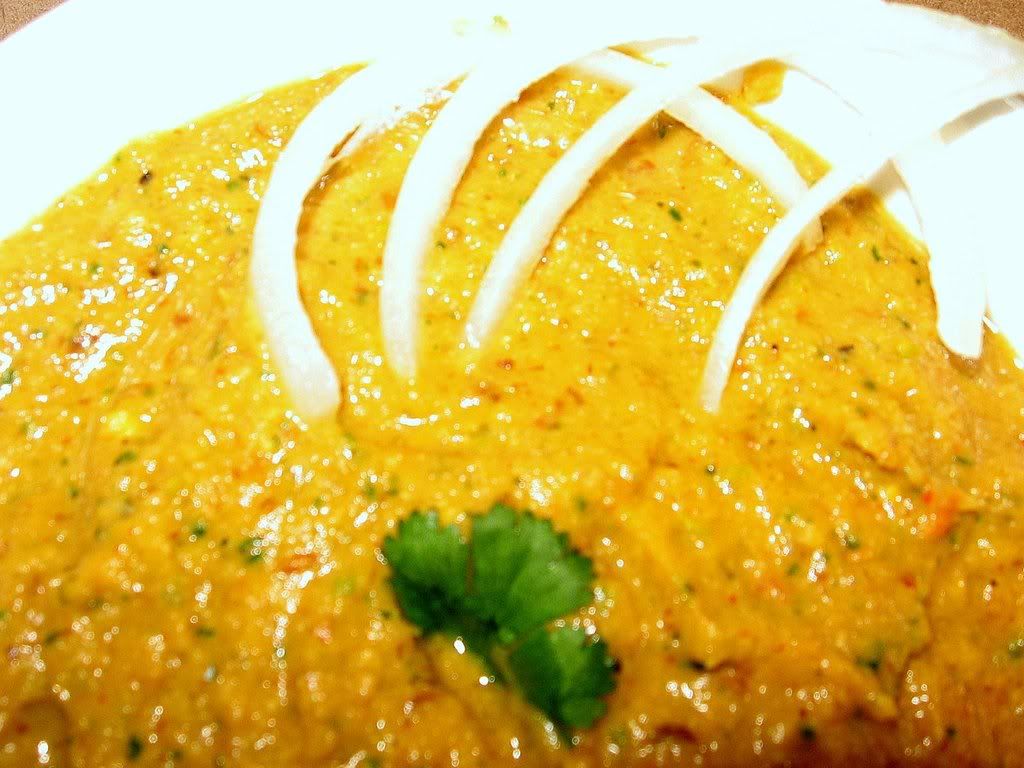 Enjoiii!!
Also check out Onion Chutney made by
Indira
Nupur
VKN of My Dhaba
TBC
Note: To know more about ongoing food events: visit - Events n RoundUps!