I am back from my more than a month-long India trip yesterday and I must say, this was my best. - I did everything I wanted to right from meeting some fabulous
blogger
friends
to roaming (& shopping) around all the new malls that sprang up in Hyderabad in my absence to relishing thoroughly my mom-ka-khana to of course, enjoying the initial few days of being a 'married woman'. Oh gosh! the latter sounds so big and 'responsible' for me. Thanks to S, I don't have to be like that, for atleast for some more years as he is so loving and lets me be, the way I want to be. :).
Isn't it true that - We, daughters after a certain age seldom be open about our lives with our dads. Thats the case with me too. But, when I saw my dad filled pride and happiness during my wedding, I kept wondering how much he loves and misses me. I love you dad and miss you terribly :(.I can't wait for my next trip back home. Hopefully end of this year. *God are you listening* :).
For some snippets about how my India trip & more, don't forget to check out
my photo blog
. I outta to mention about my new look. I have always been a great fan of
Lena's work
and this is one more example. Her freebies &
pre-mades
though limited are very unique in style and render a brand new look everything single time. I hope you all like it and please let me know if you have any loading issues.
..the recipes in this post are a tribute to my mom who for me is the world's fabulous cook. I mean, she can whip n number of dishes, when she is in her ironed cotton saree which she wore to work and without an apron & a single stain on it. Everyday she used to make a new variety especially for me and all I used to do was gobble them up without even thinking of sharing with my naughty sister. (
please read that as a fight for food contest ;)
).. Here I present 3 such recipes which I managed to resist and take pics. :D
1. Coconut-Mango Chutney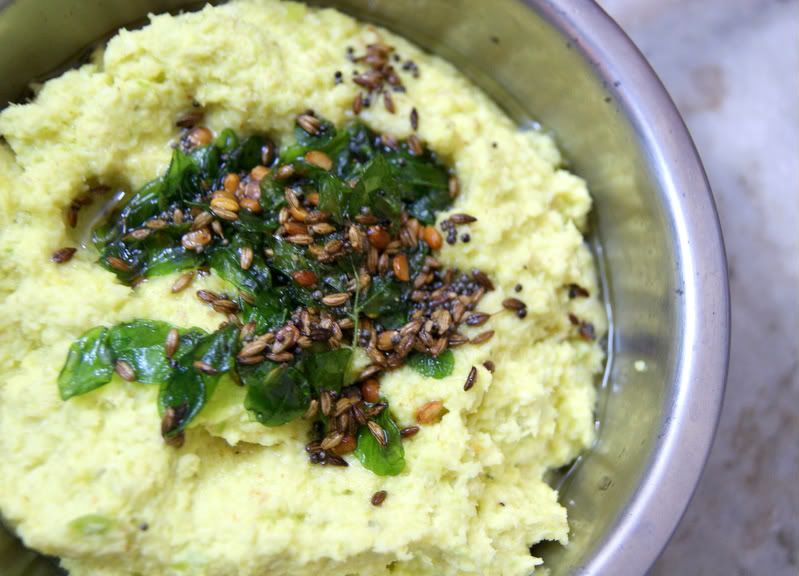 Recipe:
1/2 fresh coconut, cut into small pieces
1/2 raw mango, cut into small pieces
8 green chillies
curry leaves
salt - to taste
turmeric
usual tadka mix - urad, jeera, mustard seeds, hing
Grind - coconut pieces, mango, salt, turmeric and green chillies until chutney-like consistency. Heat oil, fry tadka ingredients with curry leaves until brown. Mix into chutney.
2. Vegetable Biryani with Babycorn Kurma
Recipe - For biryani and the gravy, follow the same recipe as
mentioned in this post
and finally fry the baby corn & add to the gravy! Yum :)
[Update] - I just received a pair of beautiful pot holders from my dear friend -
Nupur
. Thank you so much dear. I loved them & you definitely made my day! That's why I always say -
"Blogging & Blogger friends are the best things that happened in my life".
Hope you all had a fun spring break.
cya all soon,